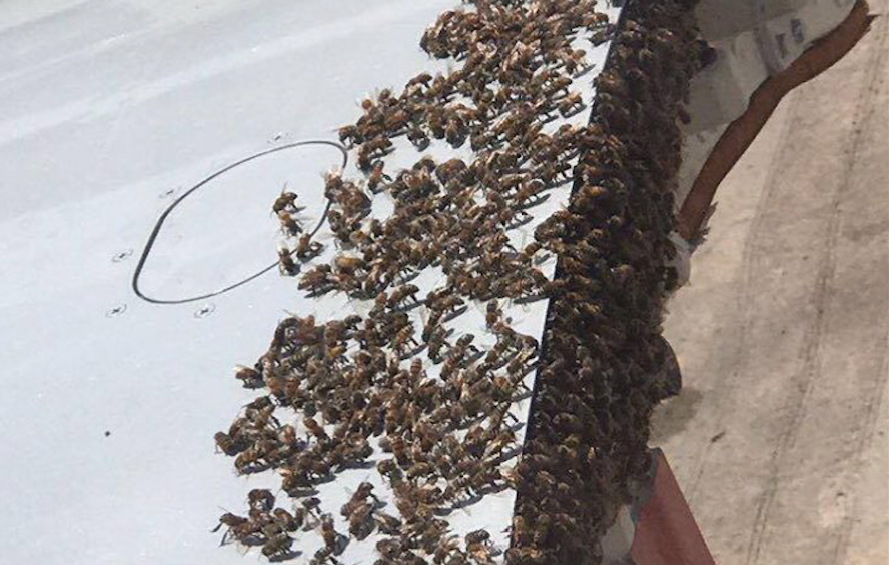 Bees on a plane! Flight delayed after "thousands" of bees cling to aircraft
A plane out of Miami International Airport was buzzing on Monday as curious passengers gathered around cabin windows to get a glimpse of a giant swarm of bees clinging to the side of the aircraft.
It was as if the plane was serving as a giant honeycomb for the flying insects.
"[There] must have been thousands of them," passenger Jonathan Gilinskii, who snapped a picture of the scene, told CBS News. "I've flown over 2 million miles and have experienced almost everything — so I thought!"
Passengers on the American Airlines flight heading to New York City's JFK Airport at 1:08 p.m. on Monday deplaned while flight attendants called for backup.
"The bees were in the area where they load the cargo, putting the employees at risk," Alexis Aran Coello, American Airlines spokeswoman, told CBS News. "Because the bees were there, they couldn't load the bags. We had to take care of the situation."
In order to safely remove the bees from the cargo hold area, airline officials reported the incident to Miami Dade County. After several hours, the city sent a beekeeper to assess the situation and carefully remove the bees from the aircraft.
Gilinski said he heard the beekeeper got stung "several times" in the process.
The airline said the beekeeper took longer than usual to arrive at the airport, thus resulting in a four-hour flight delay.
"We brought [passengers] gate-side amenitites — snacks and drinks — to feed them while they took care of the bee situation," Aran Coello said.
While some argued the plane should have just taken off with the bees attached, Aran Coello explained that is not protocol and could have put people at risk.
"Obviously, you don't want the bees in the air," she said. "We wanted to get the situation under control as soon as possible."
"You want to nip it in the bud as soon as you see it," she added.
Despite the delay, Gilinski said most passengers were good sports.
"Everybody requested free honey," he joked.
Thanks for reading CBS NEWS.
Create your free account or log in
for more features.