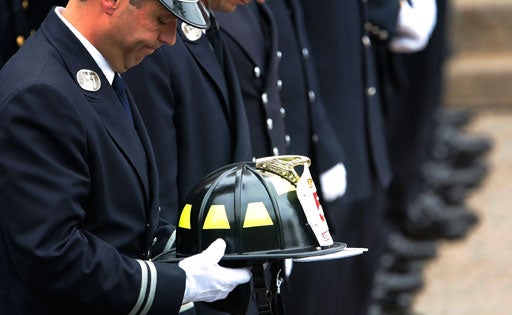 Beatles' 'Helping Hand' Shuns Fame
Had it not been for a then-15-year-old suburban Washington, D.C. girl in 1963 and CBS News, you might never have heard of The Beatles.
According to the Washington Post, Marsha Albert saw a piece about the British rock 'n roll band on the CBS Evening News in late 1963, liked what she heard, and begged a local disk jockey to get and play one of their records.
A group of friends, family members and associates of the Beatles Friday were announcing a nationwide search "to find the teenage girl whose simple request to her local D.C. radio station quite literally jump-started Beatlemania 40 years ago."
Marsha Albert would rather remain unfound. She was less than pleased when the Post contacted her, and asked that her married name not be used in the story. Her family is sworn to secrecy.
Embarrassed? No, but Albert simply sees herself "kind of a footnote, a little asterisk."
Beatles historian and author Bruce Spizer, whose "The Beatles Are Coming! The Birth of Beatlemania in America" was being published Friday, disagrees.
"Marsha Albert's actions forced a major record company to push up the release date of a debut single from an unknown band during the holiday season, a time when record companies traditionally released no new product," Spizer said.
Capitol Records at first didn't find the Beatles "suitable for the American market."
But with Beatlemania sweeping Britain in 1963, Alexander Kendrick, CBS News' London bureau chief, put together the first major television news story and interview with the Beatles to air in the United States.
A short version aired on Nov. 22, on The CBS Morning News, with a full version scheduled to air later that day on The CBS Evening News With Walter Cronkite.
President Kennedy's assassination knocked it, and all other regular programming and advertising, off the air for the next 55 hours. The longer piece didn't run until Dec. 10.
WWDC-AM disk jockey Carroll James and Marsha Albert, a ninth-grader at Sligo Junior High School, both were watching.
"It wasn't so much what I had seen, it's what I had heard," Albert recalled. "They had a scene where they played a clip of 'She Loves You' and I thought that was a great song."
She wrote to James, who remembered the report, and obtained a copy of "I Want To Hold Your Hand," hand-carried from Britain by a flight attendant.
Albert was allowed to announced the record on James' show: "Ladies and gentlemen, for the first time on the air in the United States, here are the Beatles singing 'I Want to Hold Your Hand.'"
Capitol had passed on releasing earlier Beatles hits, and small independent labels hadn't had much luck with them, but when James played "I Want to Hold Your Hand," the WWDC switchboard immediately lit up.
Capitol had thought to wait for the Beatles' already-scheduled appearance on the "Ed Sullivan Show" on CBS before releasing "I Want To Hold Your Hand." However, with the success on WWDC, Capitol decided to press a few thousand early copies for the Washington market but otherwise stick to the Jan. 13 release date.
But James had made tapes for DJ friends in Chicago and St. Louis, and the song was a hit there, too, so Capitol moved the national release up to Dec. 26.
Even so, Capitol misidentified everyone but Ringo Starr in its first promotional photographs of the group.
The Beatles arrived in the U.S. on Feb. 7, 1964, and appeared on Sullivan two days later. Two days after that, they arrived in Washington by train. James and Albert were there to greet them.
"I got in a limo and rode to the Coliseum with John Lennon's wife and George Harrison's sister," Albert told the Post. "They had a news conference inside and I was there."
And on the air, in a mobile WWDC studio, they said, "Thank you, Marsha." She also got their autographs.
And James, who died in 1997, gave her the hand-delivered British copy of "I Want To Hold Your Hand."
She still has it.

Thanks for reading CBS NEWS.
Create your free account or log in
for more features.