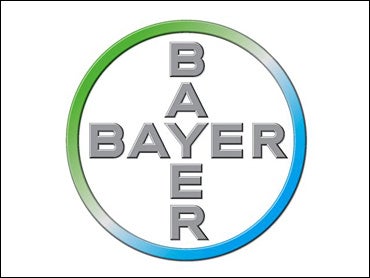 Bayer Sold HIV-Risky Meds
Chemical and drug maker Bayer AG said Thursday it acted "responsibly, ethically and humanely" during the 1980s in selling a blood-clotting product that stopped potentially fatal bleeding in hemophiliacs but was linked to the risk of HIV infection.
The company's statement was in response to a New York Times report that it sold millions of dollars worth of an older version of the medication in Latin America and Asia while marketing a newer, safer product in the United States and Europe.
Bayer division Cutter Biological continued selling old stocks of the medicine for more than a year after it introduced a version in February 1984 that was heat-treated to kill HIV, according to documents obtained by the Times.
The medicine, called Factor VIII concentrate, can stop or prevent potentially fatal bleeding in people with hemophilia, a genetic condition that prevents blood from clotting normally.
Early in the AIDS epidemic, the medicine was made using plasma from 10,000 or more donors. There was not yet a screening test for HIV, the virus that causes AIDS, so even a small number of HIV-positive donors could taint a large pool of plasma recipients.
As a result, thousands of hemophiliacs became infected with HIV. Bayer and three other companies that made the concentrate have paid about $600 million to settle more than 15 years of lawsuits accusing them of making a dangerous product, the newspaper said.
The documents from that litigation, examined by the Times, include internal memos, minutes of marketing meetings and telexes to foreign distributors.
Bayer, based in the western German city of Leverkusen, said Cutter continued selling the older version because some customers doubted the new one's effectiveness, and because some countries were slow to approve its sale. It said there were initially concerns that heat-treating might make the drug less safe or less effective.
"Bayer has always behaved responsibly, ethically, and humanely to provide lifesaving products for the global hemophilia community," the statement said.
"Decisions made nearly two decades ago were based on the best scientific information of the time and were consistent with the regulations in place. They cannot be judged on the information available today."
The Times said at least 100 hemophiliacs in Hong Kong and Taiwan alone contracted AIDS after using the older product, and that many have since died. Li Wei-chun said her son, who died in 1996 at the age of 23, was among the victims.
"They did not care about the lives in Asia," she said. "It was racial discrimination."
Cutter also sold the older medicine in Argentina, Indonesia, Japan, Malaysia, and Singapore after February 1984, according to the documents. The newspaper said Cutter shipped more than 100,000 vials of unheated concentrate, worth more than $4 million, after it began selling the safer product.
The sales continued partly because of Cutter's desire to deplete stocks of the older medicine, and partly because of fixed-price contracts, for which the company believed the older product would be cheaper to make, the newspaper said.
In March 1983, the federal Centers for Disease Control warned that blood products appeared responsible for AIDS among hemophiliacs. Three months later, Cutter sent a letter to distributors in nearly two dozen nations saying that AIDS was "the center of irrational response in many countries."
In late 1984, as Hong Kong hemophiliacs began testing positive for HIV, some doctors wondered whether Cutter was sending "AIDS-tainted" medicine into less-developed nations.
But the company assured its distributor that the unheated product posed "no severe hazard" and was the "same fine product we have supplied for years."
In May 1985, Dr. Harry M. Meyer Jr., the Food and Drug Administration's blood-products official, called the companies to a meeting, believing they had broken an agreement to stop selling the older medicine, the Times said. But Meyer decided to handle the matter quietly instead of notifying the public, the newspaper said.
By David McHugh
Thanks for reading CBS NEWS.
Create your free account or log in
for more features.