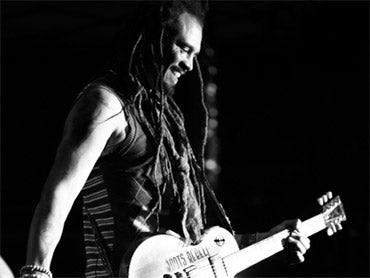 Barefoot Singer Aims to Give Shoes to the Needy
It's hard to believe, but 300 million children around the world go barefoot because they can't afford shoes. Tonight, CBS Early Show weather anchor Dave Price has the story of a man who's out to change that with heart, sole and "The American Spirit."
---

It's said that before you judge a man, you should walk a mile in his shoes. That makes forming an opinion on musician Michael Franti a bit tricky - since he doesn't wear shoes, ever.

"You learn a lot when you're barefoot," Franti said. "The first thing is every step you take is different."

Different is one way to describe how the artist has chosen to highlight the fact that an estimated 1.5 billion people - many of them children - do not own a pair of shoes.

To submit an idea for The American Spirit send us an e-mail.

"I started 10 years ago playing music on the street in countries where kids couldn't afford to wear shoes," Franti said. "So I decided to go home to San Francisco and for three days I was going to go barefoot in order to toughen up my feet."

That three-day show of solidarity has turned into 10 years, and he's got the treadmarks to prove it.

Franti said his feet are "well-cracked and well-worn."

In partnership with the not-for-profit Soles 4 Souls, Franti's barefoot concert series is on a campaign to collect 100,000 pairs of shoes for families in need.

"When someone can't afford to wear shoes, it's not just about them not having shoes on that day," Franti said. "It's about a cycle of poverty that exists within their community."

Considering that Americans have about 1.2 billion pairs of shoes in their closets, Franti has no problem asking fans to leave their shoes at the door. They've had almost 15,000 donations so far.

On stage, Franti sometimes tells the crowd that they don't need shoes. Then he has to dive out of the way because "people will start throwing them on stage."

"Can you change the world?" Price asked.

"I don't know if it's so grand that I can change the entire world, but I know that I can help one person," Franti said. "So that's the goal."

He's pursuing that goal one barefoot step at a time.
Thanks for reading CBS NEWS.
Create your free account or log in
for more features.