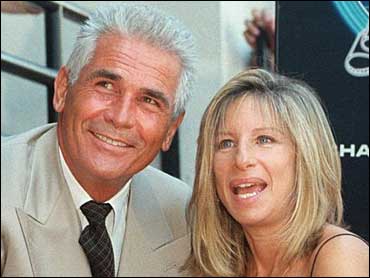 Barbra Streisand: What You Never Knew
Barbra Streisand is among the world's biggest stars and has been for the past 45 years. She is a singer, actress, director, producer, and has won just about every major award.
A new unauthorized biography traces her eventful life, chronicling everything from Streisand's painful childhood to her long list of romantic conquests. The book is called "Barbra — The Way She Is" and author Christopher Andersen joined The Early Show Wednesday to tell more about his findings.
Asked by co-anchor Harry Smith whether Streisand would like the book, Andersen admitted that the star would be less than pleased.
"She said once that 'If God wrote my biography I wouldn't like it,' " he said. "She's a control freak."
Andersen's book reveals the painful past that Streisand had to overcome on the road to stardom. Her father died of undiagnosed epilepsy when she was just a year old, leaving her in the hands of what Andersen describes as a "mean stepfather."
"Louis Kind is emotionally abusive. He introduces his daughters Roslyn and Barbra as beauty and the beast," he told Smith. "One of the touching things is when Louis takes them out for ice cream and turns to Barbra and says, 'You're too ugly to have ice cream.' The mother wasn't much better. She said she wasn't pretty enough or talented enough to be in show business."
Streisand is fiercely protective of her privacy and Andersen said it was difficult to find people who would speak about her on the record.
"There are many people who were afraid," he said. "They want to work in Hollywood. They want to work with Barbra again."
One of his most important sources, he said, was Barry Dennen, who was Streisand's boyfriend in New York during her early years.
"He really molded and shaped her as an artist when they were both young actors starting out in Greenwich Village," Andersen said. "He is the person who taught her about art and music and shaped her approach on stage and convinced her to sing. She did not want to be a singer. She said, 'I'm an actress, not a singer.'
"He made her enter this talent contest and her career then took off. Turned out he was gay. They did not get married, as they had planned. And he has sort of been, I think, left in the dust, as it were."
When Streisand became a star, she quickly became one of the most powerful women in Hollywood, but not always the most popular. Andersen told the story of her relationship with Walter Matthau during the filming of "Hello, Dolly."
"He hated Barbra Streisand," he said. "He had just won an Oscar for 'The Fortune Cookie.' She was running the show. She was telling the director, Gene Kelly, how to direct that movie. Walter Matthau went to the head of the studio, Richard Zanuck, and Zanuck said, 'I'd love to help you but this is not 'Hello, Walter' we're making.' "
But even if Matthau didn't like her, plenty of other men did. Her first husband was the actor Elliott Gould.
"He said being married to her was like a bath of lava. It lasted seven years. She eclipsed him and he couldn't take it," said Andersen.
Streisand's current husband is James Brolin and Andersen says it looks like a good match, in spite of his odd nickname for her.
"He calls her beazer, which is a nickname I find fascinating because it means schnoz. I don't know if she knows that or not. He has confessed that she wears the pants in the family. But I think she is happily married to this guy," he said.
As for her other romantic relationships, Andersen said Streisand nearly tied the knot with Prime Minister Pierre Trudeau of Canada. "She was thinking of marrying him and thinking of becoming the first lady."
And he claims Streisand shared some special moments with Elvis Presley.
"She had a relationship back when they were both starring on stage in Las Vegas," he said. "And at one point he came into her dressing room, caught her by surprise, got down on his knees, took the bottle of finger nail polish and started painting her nails. He said, 'You are the only one who ever intimidated me.' "
And, according to Andersen, Prince Charles felt the same way. "In his diaries, he wrote about how he found her devastatingly attractive. When he went to L.A., she was the only woman he wanted to meet."
As for the growing buzz about Streisand going out on another concert tour, Andersen says she has some very good incentive.
"She stands to make upwards of $150 million on this particular tour," he said. "She makes between $7 million and $9 million per show, 20 shows, do the math. What she wants it for are her political causes, building a war chest for 2008 and her various philanthropist charities."
To read an excerpt from "Barbra — The Way She Is," click here.

Thanks for reading CBS NEWS.
Create your free account or log in
for more features.