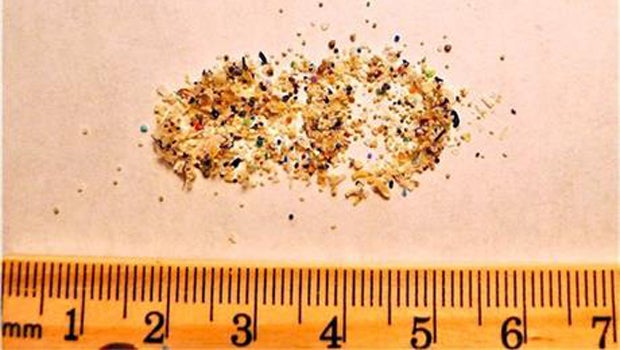 Ban sought on plastic microbeads commonly used in cosmetics
New York state seeks to become the first in the nation to ban plastic microbeads commonly found in cosmetics after the tiny plastic beads have been found accumulating at "alarmingly high levels" in New York waterways.
Microbeads are commonly used as an abrasive in over 100 products, including facial scrubs, soaps, shampoo and toothpaste. The Microbead-Free Waters Act, which was introduced Tuesday, would prohibit the production, manufacture, distribution and sale in New York of any beauty products, containing plastic particles less than five millimeters in size.
When they wash down the drain, the tiny beads wind up in sewer systems and their small size and buoyancy helps them easily escape sewage plants to be discharged into rivers, lakes and oceans.
"Many waterbirds mistake plastics for food -- or are susceptible to bioaccumulation of plastic in the fish they eat -- with detrimental effect, including decreased food-absorption and starvation," said Erin Crotty, Executive Director of Audubon New York and Vice President of the National Audubon Society.
According to New York's Attorney General, Eric Schneiderman, two years ago scientists discovered alarming levels of microbeads in the Great Lakes, with the highest concentrations recorded in the New York waters of Lake Erie.
"Half of all plastics collected on the surface of Lake Erie were the perfectly spherical, multi-colored beads identical to the microbeads used in beauty products. Other plastics collected included larger plastic litter that had broken down in the environment, such as detergent bottles and Styrofoam," the attorney general said in a press release today.
The proposed legislation comes after cosmetics companies including Procter & Gamble, Unilever, Johnson & Johnson, and Colgate-Palmolive have already committed to phasing out the use of microbeads in their products.
Bu some argue that this proposed legislation is long overdue.
David Andrews, a senior scientist at the Environmental Working Group which specializes in environmental research and advocacy, says "It is really quite concerning that a number of the major cosmetics manufacturers had designed products that released into the environment materials that do not degrade and could accumulate."
But, Andrews also believes that state-based legislation is the best hope for increased regulation of cosmetics. "It is important for the states to take a lead in the regulation of cosmetic ingredients, especially with the lack of strong federal regulation to ensure cosmetic ingredients are safe for both the public and the environment," he said.
Long Island assemblyman Robert K. Sweeney joined Schneiderman in introducing this legislation and believes all voters will find a common cause in this bill. "I never met anyone who has wanted plastic on their face or in their fish," he said.
Thanks for reading CBS NEWS.
Create your free account or log in
for more features.