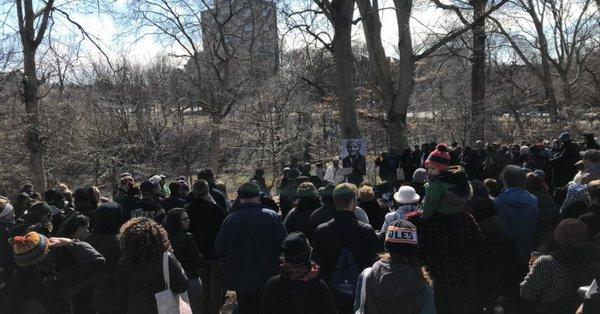 Baltimore rededicates ex-Confederate site to Harriet Tubman
BALTIMORE -- A space at a Baltimore park that had long honored two Confederate generals has been rededicated to abolitionist Harriet Tubman. Saturday's ceremony at Wyman Park Dell took place just feet from the now-empty pedestal where a large statue of Confederate Gens. Robert E. Lee and Stonewall Jackson once stood.
The statue was removed in August after a violent white nationalist rally in Charlottesville, Virginia reignited the national debate over what to do with symbols of the Confederacy.
"Means a lot to me. Very happy to see all these people come out and celebrate her day," resident Kim Williams told CBS Baltimore.
Saturday was the 105th anniversary of Tubman's death. The space was renamed Harriet Tubman Grove.
Tubman was born a slave on Maryland's Eastern Shore. City Councilwoman Mary Pat Clarke called Tubman a "heroine and beacon for all ages."
Last year, Mayor Catherine Pugh ordered the removal of all four of Baltimore's Confederate statues, including the statue of Confederate Generals Thomas. J. "Stonewall" Jackson and Robert E. Lee at Wyman Park Dell.
"We officially asked the mayor of the City of Baltimore to take down the two Confederate statues, and at the time we were asked what did we want in its place and without a doubt, everyone there said this needs to be Harriet Tubman," community activist Marvin "Doc" Cheatham said.
Saturday marked the 105th anniversary of Tubman's death. Dozens of people, including Tubman's family members and city leaders, celebrated the rededication.
"It helps bring the community values to important places and help to weave together the community. This place is really interesting. Since the statues were removed, it has become a gathering place," Baltimore Councilwoman Mary Pat Clarke said.
In addition to Wyman Park Dell, there are three other former Confederate sites. It's unclear if and when those will also be rededicated.
Harriet Tubman Day celebrations were held all across Maryland, including at the state capital.
Thanks for reading CBS NEWS.
Create your free account or log in
for more features.