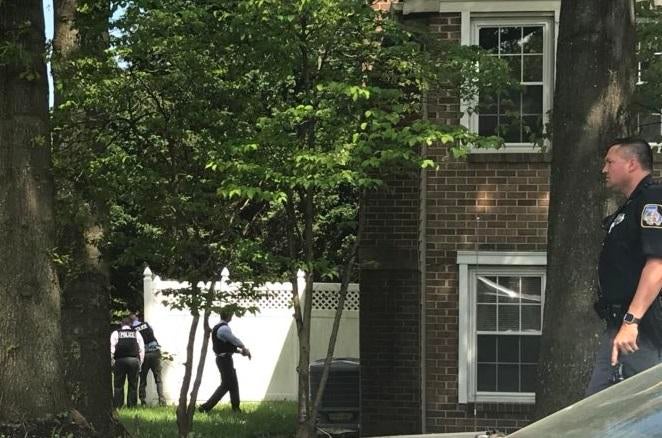 Baltimore County police officer killed in line of duty
BALTIMORE COUNTY, Md. -- A Baltimore County police officer was killed Monday afternoon while responding to a report of a suspicious vehicle in suburban Perry Hall, officials say. A Baltimore County Police Department spokesperson confirmed the officer would have been a four-year veteran of the force in July.
Following a manhunt, a 16-year-old boy has been arrested and charged with first-degree murder, and three other teen boys were arrested Tuesday. They were all allegedly involved in burglaries in the area, Baltimore County officials said via Twitter.
A statement of probable cause dated Tuesday identified the suspect as Dawnta Anthony Harris of Baltimore and the officer as Amy Caprio. Police have not confirmed how Caprio was fatally injured in a suburban neighborhood Monday, but witnesses reported hearing a pop before seeing a Jeep run her over.
Cpl. Shawn Vinson, the police department's spokesman, said the officer may have been responding to a burglary in process noting that one home on the block had some damage to a patio door.
Harris, who was arrested near where a Jeep was found abandoned, told a detective he had been waiting in the driver's seat of the vehicle as other associates of his were in the process of committing a burglary, according to the probable cause statement.
Harris also told the detective that he "drove at the officer," the statement said.
Scott Shellenberger, the state's attorney for Baltimore County, told The Associated Press the teen has been charged as an adult.
The records don't list an attorney for Harris, and attempts to reach people believed to be his family members were not immediately successful. He was scheduled to appear before a judge at a Towson courthouse at 1 p.m. Tuesday.
Vinson said an official cause of death won't be determined until an autopsy is performed.
"She was doing her job today ... and was critically injured from this altercation," Vinson said. "We are talking to witnesses and trying to find out what happened."
The officer was responding to the suspicious vehicle report at around 2 p.m., when the shooting occurred, according to police. The officer was transported to MedStar Franklin Square Medical Center, about seven miles away, but did not survive.
Ten officers have previously died in the line of duty in Baltimore County, according to the Officer Down Memorial Page.
The suspect's Jeep was later found ditched on a road, according to Vinson. He didn't clarify if the vehicle was the one that might have been used to injure the officer, only that it was involved in the overall crime.
CBS Baltimore reports that schools near the scene of the shooting had been on alert and delayed dismissal, per county officials. Parents were told not to respond to the schools, but instead to call the school administrators for more information. Schools said the students were safe inside the school.
The AP writes that students still at the school Monday evening were being served dinner, according to Julie Henn, a member of the Baltimore County Board of Education. She mentioned that students and teachers will remain there until "police feel it's safe" for them to leave.
Witness describes the scene
One area resident, Stephanie, spoke to CBS Baltimore after she attempted and failed to enter her neighborhood. She was directed out of the area by police, but was concerned about her children who were home at the time of the shooting.
"The incident happened outside in front of my house," she said "and everyone's really nervous right now."
Witnesses describe seeing her on the ground, badly hurt. Several people tried to keep her alive, but she was later pronounced dead at a hospital.
She said her husband is home with the children, but they are very upset.
"They actually saw a black Jeep Wrangler and they saw that I guess it was a dead end street and they went to turn around and officers were following them. One of the officers must have gotten out of the car, I'm not sure if gunfire was exchanged or if they ran over her, but she was laying in the street," she said. "They're pretty hysterical right now. It's shocking, it's scary, it just goes to show it's everywhere, nobody is exempt from it. I just want to go home, but because they're on lockdown, I don't know when they'll let me in."
Her eldest son is a practicing firefighter and was with the officer before additional authorities responded.
Editor's note: This story has been updated to clarify that the officer's cause of death hasn't yet been determined.
Thanks for reading CBS NEWS.
Create your free account or log in
for more features.