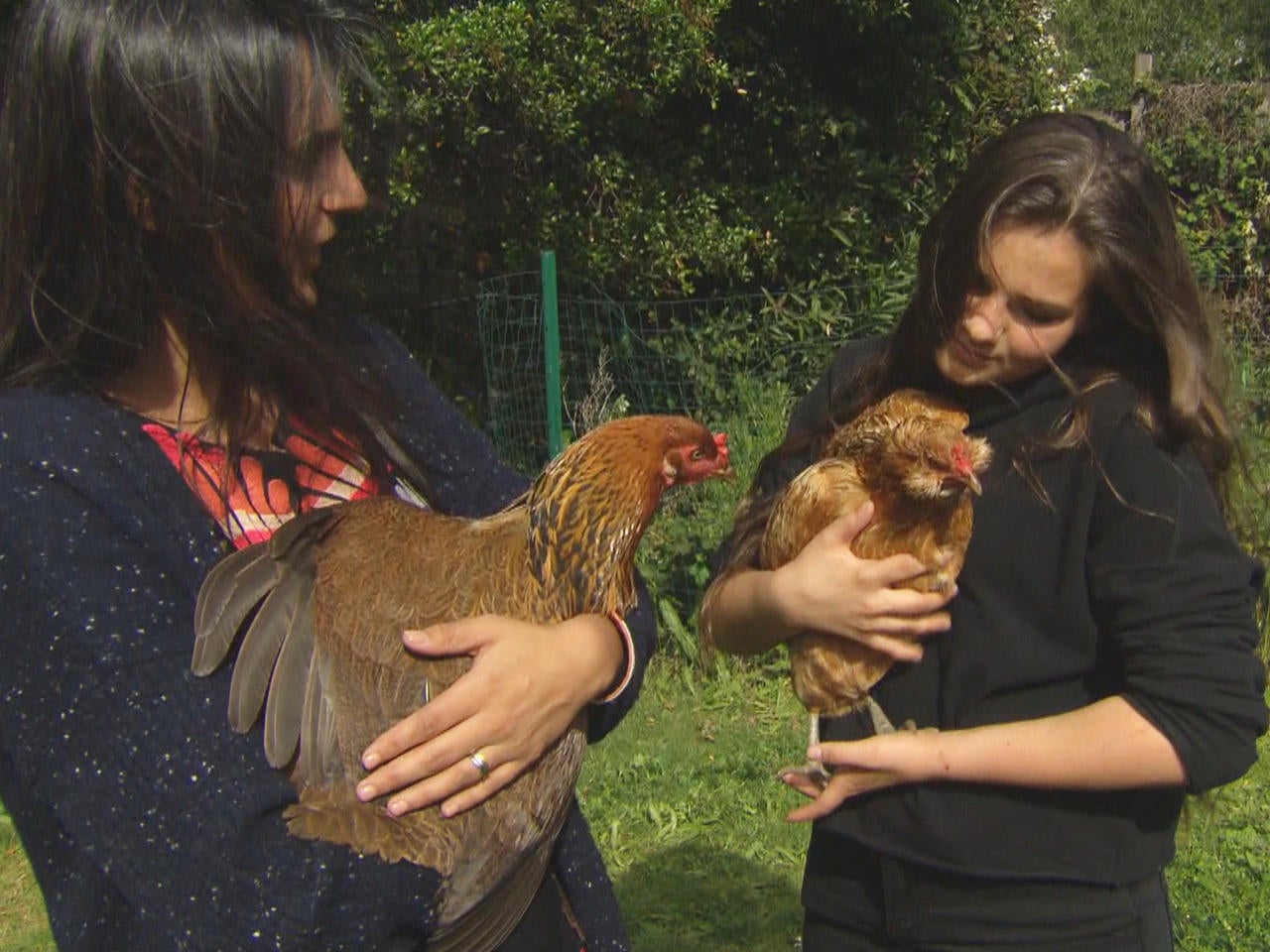 Backyard chickens rule the roost in Silicon Valley
A study of 150 of the most populated U.S. cities finds 93 percent of them allow backyard flocks of chickens. Raising chickens in urban areas is a growing trend, with Las Vegas one of the latest cities to approve it.
But you can find some of the most pampered chickens in the Bay Area. They belong to tech workers who spend most of their day in the virtual world, and are looking for a way to reconnect with nature.
Scott Vanderlip's chickens make themselves right at home. "They want to interact with you," he told correspondent John Blackstone. "They're fun, they're funny to watch, so yeah, I think it is a stress release."
The software engineer believes he's found the perfect antidote to computers and code, and has the big data to prove he's not alone. "There are thousands, maybe 10,000 chicken coops in Silicon Valley," Vanderslip said. "There are a lot of coops."
Online, companies are hatching plans for do-it-yourselfers to build stylish backyard coops.
But in the million-dollar backyards of Silicon Valley, the coops (and the chickens) are really something to crow about.
Laura Menard's custom-built chicken coops have antique stained-glass windows and detailing added by a master carpenter.
She showed Blackstone a coop built especially for one of her favorite breeds of chicken, a giant blue cochin.
"This is not your average chicken coop," said Blackstone.
"No, it's not. It's right off of my kitchen, and I wanted something beautiful."
"Do you think your chickens are happier in there than they might be in some simpler coop?"
"No. I don't think they care, to be honest!" she laughed.
Menard breeds heritage chickens, like the Opal Legbar, that can sell for $50-$100, far above the $15 price tag on a more common bird.
For the valley's growing community of backyard farmers, the investment in heritage birds pays off in a status symbol of sorts: colorful eggs that can be given as gifts to friends.
"Technology may pay the bills, but it doesn't feed your soul," said Menard. "Chickens, that's one way to feed your soul."
Technology pays Johan Land's bills. He's a top engineer at a leading Silicon Valley tech company -- a job he calls "very stressful."
He balances that intensity by tending his chickens: "To make sure they have all the feed, that they are actually laying, that it's the right temperature, flow of air through the coop," Land said.
For many in Silicon Valley, chickens are no longer just farm animals; they are pampered pets. When Amina Azhar-Graham comes home from work, her flock greets her at the back door.
"And they're always happy to see us," Amina said. "Really, they want food. But you know, you can interpret it [that way]!"
The birds sometimes get a break from eating bugs with treats like melons and salmon. Caring for the chickens is a family affair.
Amina said, "Justin and I, we will come home in the evening after a stressful day at work and pull up our chairs and just, like, sit here and watch the chicken go crazy."
It's what Justin calls "Hillbilly TV."
Of course, Silicon Valley is not alone in discovering the charms of chickens – as well as the challenges.
When asked how much keeping chickens costs per egg, Vanderslip said, "We don't ask that question, 'cause you're probably not saving a lot of money by having backyard chickens."
Around the country, animal welfare groups that rescue unwanted chickens are busy taking in birds that turned out to be more trouble than their eggs were worth.
As much as the backyard farmers of Silicon Valley lavish love on their heritage breeds, this tech hub is constantly looking for the Next Big Thing creating buzz.
Vanderslip said, "I always tell people, chickens are actually just the gateway drug to beekeeping. Beekeeping is the new thing!"
"Are you suggesting that sometime soon, somebody's gonna say to me, 'Backyard chickens? That's so 2018!?" Blackstone asked.
"Exactly!"
Better not let the chickens hear this! And as every startup knows, get into a trend too late and you can get stung.
Thanks for reading CBS NEWS.
Create your free account or log in
for more features.