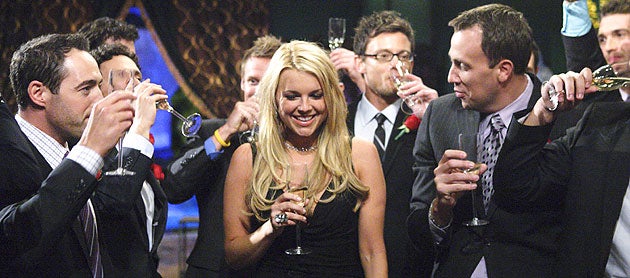 "Bachelorette" Ali to Ex-Loving Frank : He's "The Biggest Jerk I've Ever Known"
NEW YORK (CBS) Heartbreak got the best of Ali Fedotowsky as she took the final three men on dates in Tahiti on "The Bachelorette" Monday.
The bombshell came in the form of Frank Neuschaefer confessing that he was still in love with his ex-girlfriend Nicole. A blindsided Ali said through tears that she "did not see this coming," as Frank cried along with her. She later declared, "I just feel like he's just the biggest jerk I've ever known!"
On Ali's blog, she is quick to point out that, although she was caught off guard by Frank's revelation, it didn't necessarily mean she liked him the most and had discounted the other two suitors.
"Don't get me wrong," she says on her blog. "I was very well aware that I had two unbelievable men left, but I couldn't help but think that my journey as the Bachelorette wasn't going to work out." Adding: "In the end, Frank and I are both better off after what happened. I really cared for him and I always will."
And, boy, romance sure does get sweaty, Roberto was definitely in need of antiperspirant in last night's episode. Ali says on her blog of the situation: "I felt so bad for him though, because he was always sweating! Poor guy. You'll notice that in one of his interviews he is holding a hand towel. He carried that thing around because he was so sweaty. It was super hot in Tahiti."
Ali does let us know that at 4 a.m. - mind you - the two "were up all night talking." They left the suite because the power went out and it was just too hot.
Maybe there's a valid excuse for all that sweating since they went back to her personal hut.
As for Chris L., she's not as elaborative, but offers up that "Chris is such a great guy."
That flatliner phrase susre doesn't speak in love-is-in-the-air tones.
Thanks for reading CBS NEWS.
Create your free account or log in
for more features.