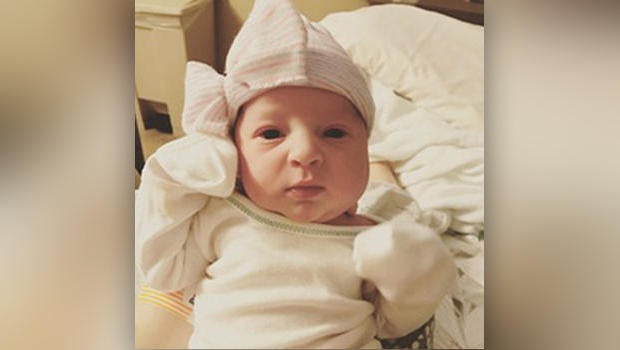 Baby born from record-breaking 24-year-old frozen embryo
A Tennessee couple has welcomed a baby girl who grew from an embryo that had been frozen for 24 years. It's believed to be the longest-frozen embryo to ever result in a birth.
On November 25, 2017, Emma Wren was born to Benjamin and Tina Gibson, weighing 6 lbs. 8 oz. and measuring 20 inches long.
Tina Gibson, 26, became pregnant in March 2017 as the result of a frozen embryo transfer. Before the donated embryo was transferred into her uterus at the National Embryo Donation Center (NEDC) in Knoxville, it had been cryopreserved for more than 24 years, according to an NEDC news release.
Gibson spent her pregnancy carrying an embryo that had actually been conceived and frozen in October 1992, just a year and a half after her own birth.
"This embryo has been frozen for 24 and a half years -- at the time, I was only 25," Gibson said. "I was like, 'I'm 25 years old, if this embryo would have been born when it was supposed to have been we could have been best friends.' It's just a miracle -- we're just so excited and she is such a gift from God, and man we're just so blessed to have her."
The research staff at the University of Tennessee Preston Medical Library reports that baby Emma now holds the all-time record for the longest-frozen embryo to result in a birth.
"Emma is such a sweet miracle," new dad Benjamin Gibson said. "I think she looks pretty perfect to have been frozen all those years ago."
NEDC medical director Dr. Jeffrey Keenan said he hopes the Gibsons' story is "a clarion call to all couples who have embryos in long-term storage to consider this life-affirming option for their embryos."
CBS News' medical contributor Dr. Tara Narula said Emma's birth is a "validation of the science of IVF."
Narula said the difference between an embryo made 24 years ago and one made now is that the science has evolved. Before, the embryos were slowly frozen at earlier stages of development; now they are flash-frozen at slightly older stages and better protectants are used -- resulting in improved chances of successful implantation.
The other issue, Narula said, is about the hundreds of thousands of embryos that are unused by the couples who undergo IVF. For many, it can be an agonizing decision to decide if they should be discarded or donated to other families.
"These 'snowbabies,' or babies in suspended animation, can really end up being a win-win for some families who really have been struggling with infertility," Narula said.
Thanks for reading CBS NEWS.
Create your free account or log in
for more features.