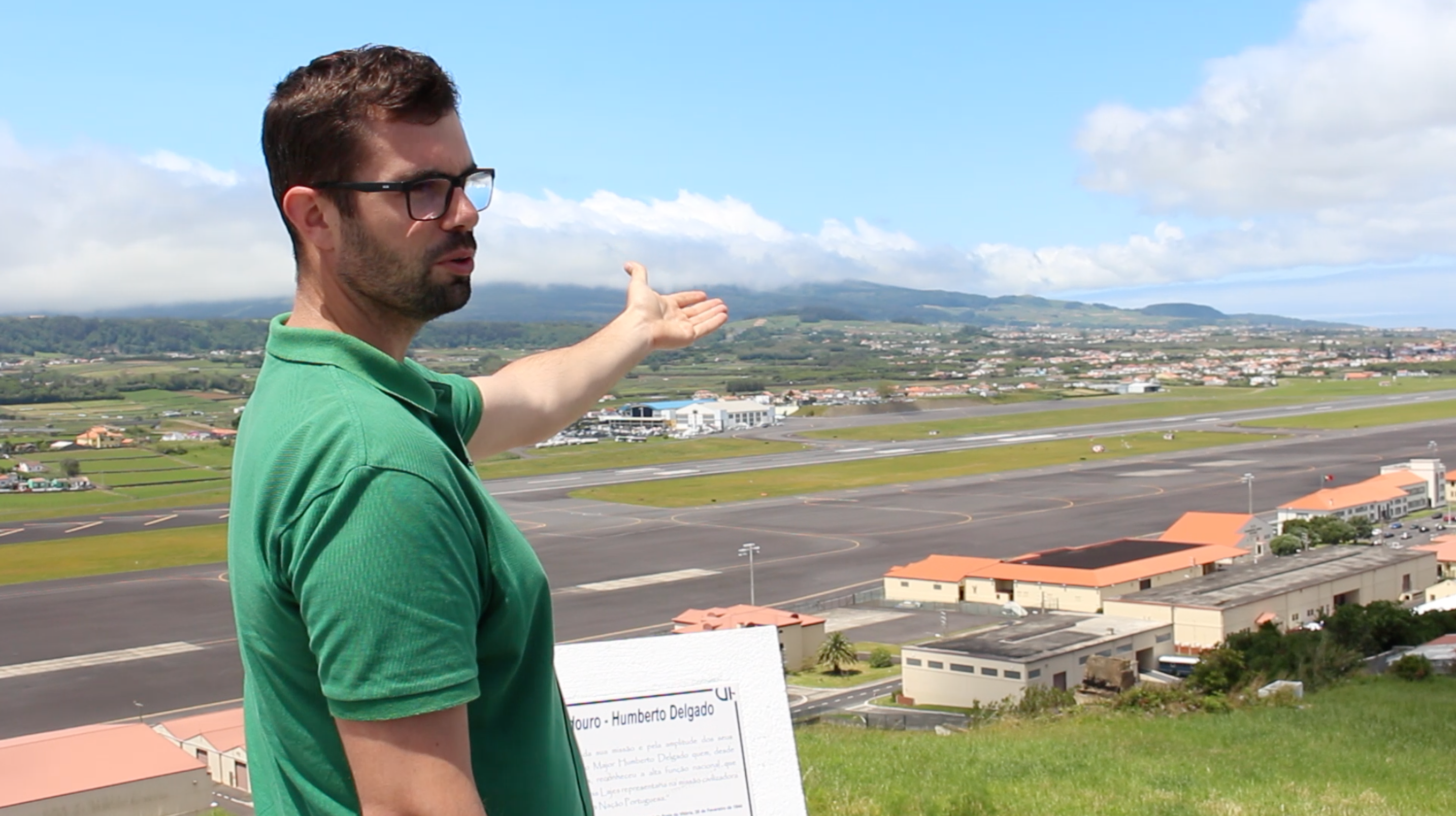 Defense Dept. decision gives China chance for foothold between U.S. and Europe
Praia da Vitória, Terceira, the Azores — João Meneses stares out the front passenger-side window as we speed past countless rows of nearly identical beige houses with orange, clay tile roofs, a picturesque suburban-style development overlooking the eastern coast of this small island.
"They had everything here, and now it's completely abandoned. You see all the tall grass?" Meneses says. "Everything's empty, there's not a single person living here."
We're looking at hundreds of American-owned, and nearly new, military family homes abandoned by the Department of Defense. It's a void that has pushed this strategically significant island to the brink, leaving an economic and political vacuum that may lead to a previously unthinkable circumstance: the government of China with a perch in the North Atlantic, between the United States and Europe.
Meneses works for the tourism office in this small town tucked between farm-checkered green hills, the ocean and a large Portuguese Air Force base called Lajes Field, where the U.S. has long had an installation. The tour he's leading my wife and me on is unusual for everyone involved. Meneses is used to bringing tourists to scenic overlooks showcasing this historic village's narrow winding streets, its classic European town square, and of course the beach. But on this windy afternoon in mid-June, we're looking over a nearly empty air base and driving on the wide roads that mark American developments around the world.
——————————————————
We're on vacation in the Azores, a beautiful nine-island archipelago about 1,000 miles west of Lisbon, Portugal, and 2,000 miles east of Boston. For most of our trip, we spend our days on the Azores' largest island, São Miguel, exploring its lush forests, swimming in oceanic hot springs, eating stew cooked in pots buried underground, where volcanic steam does the work of ovens, and marveling at the countless herds of cows that seem to defy gravity as they graze on steep emerald mountainsides.
But a phone call before our trip with Francisco Semião, the Virginia-based president of the Portuguese-American Association, convinces us to take the half-hour flight on a commuter plane between São Miguel and Terceira. He says a decision by the Defense Department to draw down forces on the island, removing most of a massive American military apparatus that had been a mainstay for decades, has led to desperate times.
"It's been devastated," Semião said. "There's kind of a run-on joke that there are more cows there now than people."
Azoreans feel betrayed, he said, and who could blame them?
The Azores are an autonomous region of Portugal, which after World War II negotiated an agreement with the U.S. allowing it to use the Lajes Air Base for 18 months. The U.S. never left.
In the decades since, Lajes has been a critical focal point for the military's operations in the North Atlantic, serving as a convenient launch point and hub of support for the Air Force, and as a crucial location for surveillance of Russian submarine movement.
The base was considered so important during the 1970s that the Pentagon, fearing a possible communist takeover of Portugal, developed plans to seize the Azores and give it independence.
At one point in the early 1990s, the American presence on Terceira included as many as 3,000 personnel — many who lived on the island with their families — nearly six percent of the island's total population. The base employed hundreds, if not thousands of locals, sustaining businesses that catered to their American neighbors.
Then, in December 2012, everything changed.
The Defense Department announced plans to remove the vast majority of the American presence at Lajes, as part of a wider consolidation of forces in Europe. The change was planned in order to reduce costs, the department said.
By the time I arrived on Terceira, the U.S. had just 150 airmen on site. Hundreds of Portuguese support staff were laid off, and hundreds more American family members had been moved. The Department of Defense no longer allows its personnel to live with their families on the island.
The impact was felt immediately, said Tiberio Dinis, a Praia da Vitória alderman, and the town's culture minister. He said roughly 30 percent of the local economy left with the Americans.
"We have always had a relationship of great friendship with the North American presence and it has gone very well until recently. Ever since the downsizing this relationship has changed," Dinis said.
In the 70-plus years of American presence on Terceira, locals grew to embrace American culture. They ship in turkey to eat on Christmas, and talk about U.S. airmen sneaking them cans of Coke and American music during the 1960s and 1970s, when Portugal suffered under dictators. When a volcano on the Azorean island of Faial erupted for 13 months in 1957 and 1958, then-Senator John F. Kennedy led the charge to pass the Azorean Refugee Act, welcoming thousands of displaced immigrants.
But when it downsized, the U.S. left behind unfinished environmental cleanup projects, Dinis said when we met inside Praia da Vitória's 526-year-old town hall, a two-story stone building and bell tower overlooking the town square. And the island wasn't prepared for the rapid loss of income, not just in employment on the base, but in home rentals, at restaurants and bars, and even tangential services like babysitting.
Residents and public officials are desperate to find someone to fill the American void, Dinis said.
"If (the U.S.) is not available to boost these infrastructures and if there are other countries…everyone will be welcome, because we need them," Dinis said.
——————————————————
Azores officials know Americans will be uncomfortable with China buying up land on Terceira.
You can't ignore the islands' strategic location, said Graça Castanho, a professor at the University of the Azores and former Regional Director for Azorean Communities Worldwide.
"This is the center of the world in a certain sense. We are talking about a group of islands that are located in the middle of the Atlantic Ocean, facing Europe, facing the U.S.," Castanho said during an interview at her home in the Azores' administrative capital, Ponta Delgada. "Everybody wants to have a position in the Azores."
That centrality has been used to explain recent visits to the tiny island by China's two most powerful people. In July 2014, President Xi Jinping flew to the island on his way home from South America. Last September, a delegation of at least 20 Portuguese-speaking Chinese officials spent weeks on the island, culminating in a two-day-long visit by Chinese Premier Li Keqiang.
Those overtures have raised concerns among U.S. lawmakers.
"The Chinese delegation is reportedly in negotiations to expand China's investments and its overall presence on the islands, including in the shipping port on Terceira," wrote Rep. Devin Nunes, chairman of the House Permanent Select Committee on Intelligence, in a letter to then-Secretary of Defense Ashton Carter on Sept. 20, 2016. "And they have also expressed interest in using the runway at Lajes Field."
China's interest in the Azores is no surprise, said Luís Andrade, who has written several books about the Azores' role in international politics, including one focused on U.S. foreign policy.
"There is one issue in geopolitics, which is if you create a vacuum of power, someone sooner or later will fill it," Andrade said. "China will be involved in the Azores or Portugal for commercial, economic reasons. Research projects, scientific, technological projects, that I can see."
In fact, China indicated last year when its State Oceanic Administration chief visited the Azores, that it was interested in establishing a scientific research facility there.
In a July interview, Nunes warned that China has used science as an excuse for espionage before.
"There's this talk of a research vessel, so that's the danger here, the Chinese moving a white ship that's supposedly a research vessel into the Atlantic," the California Republican said.
The Azores are the latest in a long line of places where in recent years China has sought to gain influence, expanding its reach while gaining access to oil supplies and other raw materials needed to support its rapidly growing middle class. That growth has brought China to countries throughout Africa, South America and the Middle East.
None of those locations were ever used for explicitly military purposes, until July, when ships set sail from China, carrying sailors to the country's first overseas base, in Djibouti.
A second naval base is planned for a Chinese facility in Gwadar, Pakistan, according to a Defense Department report published in May. The Defense Department expects China to continue growing its military presence in countries around the globe.
"China is expanding its access to foreign ports to pre-position the necessary logistics support to regularize and sustain deployments in the 'far seas,' waters as distant as the Indian Ocean, Mediterranean Sea, and Atlantic Ocean," the Defense Department wrote in its report.
——————————————————
Looking out at the lone airplane on Lajes' two-mile-long runway — long enough that it's considered a possible emergency landing site for NASA rocket ships — Meneses, our tour guide, recalled days when as many as 150 planes would populate the strip.
"We understand the reasons behind the downsizing, that you were saving bucks, dollars, that's economics," Meneses said. "Could things have been done differently? Probably."
It's a sentiment expressed by nearly everyone we talk to.
When the Defense Department announced the Azores drawdown in 2012, it estimated the decision would save taxpayers about $35 million per year. But Congressional and internal Defense Department investigations conducted in the years since have shown the agency used severely flawed analyses when making decisions related to Lajes, and questions remain about the choice to all but leave a location coveted by another superpower.
——————————————————
In 2011, the Defense Department began looking into locations for a proposed Joint Intelligence Analysis Complex, a center where the military's Africa Command (AFRICOM) and the European Command (EUCOM) could run their intelligence operations. Ultimately, the U.S. decided to spend more than $400 million constructing a Joint Intelligence Analysis Complex at Royal Air Force Base Croughton, just more than an hour outside London.
It was a decision that would ultimately provide the first glimpse into just how muddled Defense Department analyses of Lajes were.
Members of Congress asked for information about any alternative options being considered by the Defense Department, which was supposed to look at 16 sites before deciding. Legislators wanted to know if other sites were cheaper than the location just outside London — in particular Lajes, with its abundant, already-constructed housing.
The Defense Department was less than forthcoming in its response, Nunes told me during a phone call last month. There was little evidence that any site at all, other than Croughton, was considered, and the information provided to Congress about Lajes was outdated, riddled with errors, and even included language apparently copied and pasted from Wikipedia.
"I believe originally this was just some initial sloppy work, but after Congress started asking direct questions, then it became a scam," Nunes said.
In 2016, the Department of Defense Inspector General launched an investigation into allegations that Defense Department personnel knowingly provided false information to Congress about Lajes and the intelligence center.
Previous investigations by the House Permanent Select Committee on Intelligence and the Government Accountability Office found that the Defense Department had overestimated housing costs at Lajes by $390 million. In total, they determined, locating the intelligence center at Lajes would result in more than $1 billion in taxpayer savings.
It turns out the military had relied on a 2007 housing assessment that appeared fundamentally flawed.
The House Intelligence Committee claims whistleblowers came forward to report that the Defense Department intentionally provided Congress false information about housing and communications infrastructure at Lajes.
Remember those empty houses from Meneses' tour? There are at least 450 — compared to Croughton's 116 — most built or refurbished in the last decade. The assessment makes no mention of them, instead saying the only available housing on the island was 229 rental units. It's not clear why the hundreds of on-base houses were unlisted, but the Air Force now says that in January it gave the houses, which are not outfitted with European electrical systems, to Portugal.
The Portuguese Air Force said it does not have a record of any such transaction.
When I contacted the Air Force in July, the number of rentals they claimed were available was down to 150, but a 2016 Azores government audit of rental housing on the island, obtained by CBS News, shows nearly 1,700 houses available for rent.
And former base personnel told the House Intelligence Committee that between 500 and 700 houses on Terceira were rented by military personnel before the drawdown.
"Many personnel preferred to live off-base due to the low cost and high quality of the housing," the report found.
The cost of living in the Azores is extremely low, which is reflected in the military's per diem allotment for personnel serving there — near the lowest in all of Europe.
"At this point they know it's fraudulent," Nunes said of the Defense Department's housing analysis. "Senior leaders have said you could put 2 or 3,000 there, but the official position is there's no housing."
Still, there's more to hosting a robust intelligence operation than low-cost housing and food.
Arguably, the most important factor in determining a site's worthiness as an intelligence hub is its access to fast lines of communication. The Defense Department claimed $400 million would be needed to be spent on undersea cables to bring the Azores up to speed.
That assessment was based largely on a July 2015 Defense Information Systems Agency report — the one that appears to include plagiarized Wikipedia material — that excludes a significant portion of the Azores' communication infrastructure.
The report says just one international cable system connects to the Azores, and warns cuts to that cable could harm the islands' communications ability. In fact, two cable systems currently connect the Azores to Europe and the U.S., a fact the defense department is aware of, CBS News has confirmed. Both are currently operating far below their capacities, and are capable of reaching exceptional speeds through relatively routine upgrades, the House Intelligence Committee concluded.
And last June, Facebook and Microsoft announced plans to lay the fastest undersea cable in history across the Atlantic, stretching from Virginia to Spain, crossing right through the Azores Exclusive Economic Zone. The cable will clock in at a previously inconceivable 160 terabits per second of bandwidth, roughly 16 million times faster than the typical home's cable connection. (By comparison, Google's fastest undersea data line currently operates at 60 terabits per second).

Citing their exclusive economic zone, the Azores has asked the MAREA companies to create a junction, connecting the islands to this third line. The MAREA parties were open to doing so, but have not yet gotten a Portuguese telecom provider to commit to the project.
So the Azores' communications potential is better than the military acknowledges, there are more and cheaper homes, and it has a less expensive cost of living in general, than the location chosen by the Defense Department for its Joint Intelligence Analysis Complex.
Why wasn't it even considered?
——————————————————
Nunes' ancestors are from the Azores, but he says that has nothing to do with his interest in Lajes. He notes that in the early 2000s he believed too many airmen were stationed at the air base, and says he has only distant relatives in the Azores, none of whom live on Terceira — an important detail on this archipelago, where the islands are separated by hundreds of miles, causing each to develop distinct individual cultures.
He says his investment in this issue has much less to do with his connection to the islands than it does simple economics.
"Croughton is absolutely the wrong place to be. You can make a very good argument that we should be in the U.K., but not Croughton. It's the most expensive site in the U.K.," Nunes said, noting that there was even a less expensive potential alternative in northern England that was never considered. "I don't know where the best location is, and I've never advocated that Lajes is the right location, all we've ever said is you never looked. You told us you looked and you didn't."
Ultimately, there's no clear answer to the question of why Lajes was never considered for the intelligence complex, but Nunes says the closest possible explanation may have come in an exchange he had with former Director of National Intelligence James Clapper during a Nov. 17, 2016 Congressional hearing.
"Based on briefings I had received at JAC Molesworth (another base about an hour outside London), the civilians there probably would not move to Lajes," Clapper said, referring to contractors and other civilian Defense staff.
It was a telling moment. At least officially, the Defense Department doesn't consider the preferences of its personnel, especially civilian contractors, in deciding where to allocate its resources.
"The key there is, this is about the contractors, they're the only ones permanently there, and (Clapper) doesn't say that there because he knows better," Nunes said in our interview. "Do we make basing decisions on where people want to live? The answer is absolutely not. That's never been a requirement for any facility around the globe."
On Monday, the Senate passed the 2018 National Defense Authorization Act, the annual military spending bill which was also approved by the House of Representatives in July. This year, Congress took the unusual step of including language that freezes funding for construction at Croughton, and calls for a series of reports on Lajes Field's infrastructure and strategic potential.
"Lajes Field provides a strategic location to monitor the activities of foreign powers in the Atlantic and Mediterranean, including Russia's increased naval presence and China's efforts to establish a military presence in the Atlantic," the bill's authors wrote.
Strategy aside, I wanted to know what it's like for Americans to live on Terceira, so my wife and I got permission from the Portuguese and American Air Forces to go onto the base, where we chatted with two technical sergeants and a senior airman.
Two of the three were stationed on Terceira for the second time. They had each separately asked the Air Force if they could come back to the island after serving in other locations. They chose to live in homes off-base, in small towns along the coast. They raved about their lives on Terceira.
"At this point I've lived in a couple other countries around the world, and here at Lajes is by far the best host nation relationship I've experienced. The most welcoming." Technical Sergeant James Ashton said.
Technical Sergeant Ryan Friend explained that over the decades of American presence on the island, locals and U.S. airmen have developed an easy comfort with one another.
"We've been here for so long," Friend said. "They're great people and we get along so well."
Elizabeth Skoski contributed reporting for this story.
---
Got news tips about government, national security, public corruption or criminal justice? Email this reporter at KatesG@cbsnews.com, or via his encrypted address, grahamkates@protonmail.com (PGP fingerprint: 4b97 34aa d2c0 a35d a498 3cea 6279 22f8 eee8 4e24).
Thanks for reading CBS NEWS.
Create your free account or log in
for more features.