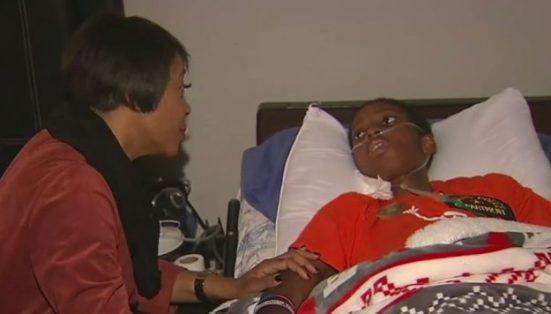 Boy with terminal cancer named Dallas police chief for a day
DALLAS -- Dallas police officers recently swarmed an apartment complex on in Dallas northwest side. But there was no crime committed at the scene -- just a villain, and sadly, a victim.
If only police could put handcuffs on cancer.
According to CBS Dallas-Fort Worth, 14-year-old Ayodeji Adekilekun was playing football just months ago. Now, he's living on in-home hospice care and is unable to speak. He mostly communicates through blinking.
Doctors have warned that the battle with brain cancer is almost over.
"As long as he is happy, I'm happy," said Adekilekun's mother, Gloria. "But I never knew the crisis was coming so fast."
Dallas Police Officer Raashid Brown says he became aware of the family's situation during community policing efforts. Brown, alongside others, rallied to help fill the teen's remaining days with joy. When officers learned that Ayodeji had dreamed of one day being a junior police officer, Dallas Police Chief U. Renee Hall showed up to make him police chief for the day.
"This is the reason we became police officers," Hall said. "The reason we do what we do. Ninety-eight percent of the time, this is who we are. We make mistakes as people, as law enforcement. But the narrative should be this every day: We set out each day to do the right thing and go above and beyond just what we are called to do."
First Stripe -- an organization that helps first responders engage in their communities -- has also been helping officers navigate the maze of needs and outside offers to help.
"Police officers have emotions, they're people, " said Jessica Lynn with First Stripe. "They have to put on a mask when they're working and this is one way we can humanize the badge and get the message that they are a part of our community. It's not them versus us, they're a part of us."
Meanwhile, the teen's family remains rooted in faith, saying they will accept God's will in whatever way their prayers are answered.
"Whatever the answer, I trust in God," Gloria, his mother, said at the apartment she shares with her two younger children and her sister. "Before I was scared. But, now, I'm not scared. I'm not scared." But insists that she is very, very grateful. An online fundraiser has been established to help the family with expenses.
Thanks for reading CBS NEWS.
Create your free account or log in
for more features.