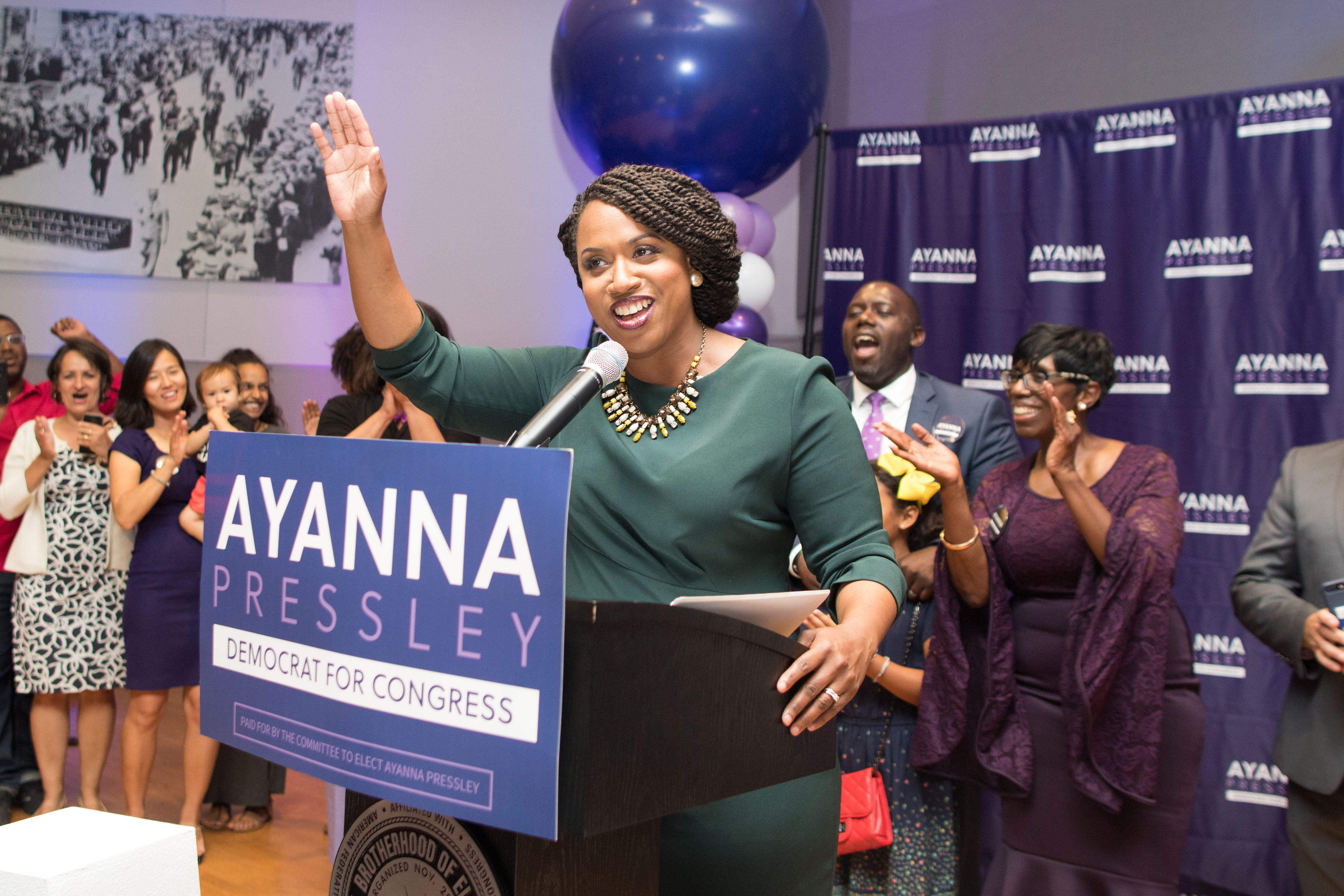 Ayanna Pressley defeats Dem Rep. Michael Capuano in upset primary victory
Boston City Council member Ayanna Pressley has unseated 10-term incumbent Rep. Michael Capuano, in a surprise upset in the Massachusetts Democratic primary Tuesday.
Pressley, the first African-American woman elected to the Boston City Council in 2009 was considered by many to be an outsider candidate, drawing comparisons to Alexandria Ocasio-Cortez, the young democratic socialist who shocked the Democratic establishment by defeating New York Rep. Joe Crowley in his primary in June. Ocasio-Cortez tweeted Tuesday night, "Congratulations to my sister in service, @AyannaPressley, on continuing her historic path into Congress tonight. Let's push together to make Medicare for All, tuition free college, & living wages a reality in America - all without corporate PAC money."
Capuano, a vestige of Boston's white ethnic political machine, was first elected in 1998. He has been a reliable liberal vote in the House for nearly 20 years, and is a longtime supporter of progressive policies such as Medicare for All. Pressley argued in her campaign that Capuano represents an old guard of politics, and it's time for a change. The race for Capuano's seat was less about policy issues than representation -- Massachusett's 7th Congressional District is the only one in the state with more non-whites than whites.
Capuano was endorsed by prominent Massachusetts figures, including former Gov. Deval Patrick, the state's first black governor. He also had the support of the Congressional Black Caucus. He raised twice as much money as Pressley. However, Pressley had the endorsement of popular state Attorney General Maura Healey.
Pressley is likely to become the first black woman elected to Congress from Massachusetts in November, since there are no Republican candidates in the race.
Pressley may be considered an outsider by virtue of who she is. Capuano is a white man who was born and raised in the district, and served as mayor of Somerville before he was elected to his congressional seat. Pressley is originally from Chicago, Illinois. As a black woman, Pressley is challenging the traditional political hierarchy that has defined Boston politics for decades.
But both Pressley and Capuano admit there's likely no difference between them in terms of the way they'll vote in Congress, and moreover, neither one has expressed outright opposition against Democratic leader Nancy Pelosi. Still, Pressley joins Ocasio-Cortez in New York, Stacey Abrams in Georgia and Andrew Gillum in Florida in the ranks of progressive, non-white politicians who represent demographic change and perspective in the Democratic Party. Pressley was endorsed by Ocasio-Cortez, and has been profiled in several news outlets. Capuano may have had the name recognition, but Pressley had the momentum.
Jack Turman contributed to this report.
Thanks for reading CBS NEWS.
Create your free account or log in
for more features.