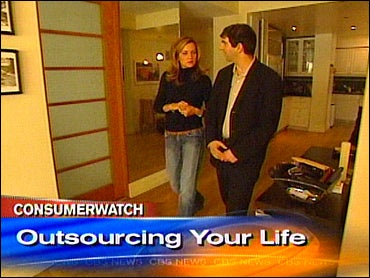 Average Joes, Janes Outsourcing Tasks
If you think hiring personal assistants is just for the rich and famous, think again. Millions of Americans are now getting help on the cheap for all sorts of tasks.
How?
Online, of course! And even by phone.
Early Show consumer correspondent Susan Koeppen says anyone can outsource to get a hand with everything from organizing parties to planning trips, buying groceries, paying bills -- even putting together weddings!
Brian and Gisele Piepgrass needed help with their celebration.
Brian was living in San Diego, Gisele was in Phoenix, the wedding was in Milwaukee -- and they used the Internet to hire an assistant -- in India -- who helped them find a photographer, book the transportation, and negotiate a deal at the hotel for the wedding guests.
Brian and Gisele estimate they spent $300 on their assistant -- a fraction of what it would have cost if they'd hired a wedding planner in the United States.
And they're still outsourcing. Giselle actually quit her job and started her own company, ROX Fitness (www.roxfitness.com), because she was so happy with her outsourcing.
AJ Jacobs, editor at large of Esquire magazine (www.esquire.com), has been outsourcing for three years. He hired a team of assistants in India to do everything for him -- from the reasonable -- planning a party for his wife, reading his e-mails, answering his phone -- to what Koeppen calls the ridiculous -- outsourcing what he calls "my worry."
"I had these people worrying for me. It was a huge relief," he told Koeppen.
Jacobs even had one of his assistants read bedtime stories over the phone to his son.
Business guru Tim Ferriss pointed out to Koeppen that, "Traditionally, you associate outsourcing with Fortune 500 companies, but the reality is, now, with technology, you can do personal outsourcing."
Ferriss writes about outsourcing in his new book, "The 4-Hour Workweek: Escape 9-5, Live Anywhere, and Join the New Rich" (www.fourhourworkweek.com).
He says everyone can outsource -- from stay-at-home moms to busy executives. All you need is a phone or computer to communicate the jobs you'd like done by your assistant, who could be located anywhere in the world.
"If you wanted someone to do travel planning, you say, 'This is my budget. This is what I'm looking for.' Rather than spending 30 hours of your own time, you can assign it to a group of people in Astonia or Croatia, and assign it at 9 p.m. before you go to bed and have it in your inbox when you wake up."
Prices can range from $5 to $20 an hour, Koeppen says. It all depends on the type of job and where you hire your assistant.
At Web sites such as elance.com, Koeppen notes, you can post your task -- such as writing a resume or creating a Web site -- and people bid on the job. Sites such as getfriday.com enable you hire a personal assistant on an hourly or monthly basis. A similar site is yourmaninindia.com.
But, Koeppen cautions, hiring someone in a different country to do your work for you can have its pitfalls.
"I made a drugstore order through my outsourcers," Jacobs recalled, "and I asked for waxed paper, and they got waxed paper moustache remover for women, so my wife was a little insulted!"
Thanks for reading CBS NEWS.
Create your free account or log in
for more features.