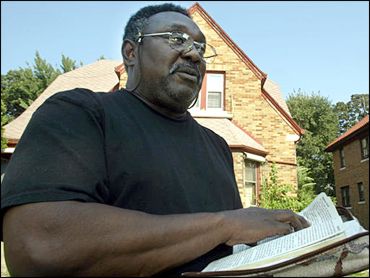 Autistic Boy Dies During Exorcism
An autistic 8-year-old boy died while wrapped in sheets during a prayer service held to exorcise the evil spirits that church members blamed for his condition.
The minister who performed the service was arrested in connection with the death, which occurred Friday night at a church in a run-down strip mall.
The mother had been taking her son to Faith Temple Church of the Apostolic Faith three times a week for the last three weeks in hopes of curing his autism, said Bishop David Hemphill Sr.
It was after more than an hour of prayer that a parishioner noticed the boy was no longer moving and called emergency workers, Hemphill said. The boy's grandmother said force was used, an allegation disputed by church members.
"We were asking God to take this spirit that was tormenting this little boy to death," Hemphill said. "We were praying that hard, but not to kill."
Hemphill identified the boy as Torrance Cantrell and the man arrested as Ray Hemphill, his brother and another minister who led Friday's service. David Hemphill said he has not talked to his brother or the boy's mother, Patricia Cooper, since Friday night. Cooper could not be reached for comment.
Police have not released the boy's name but have said they don't believe he was struck. The results of an autopsy also have not been disclosed.
Church members had wrapped the boy in sheets to keep him from scratching himself and others, but he was allowed to sit "any way that he feels comfortable," Hemphill said.
The boy's grandmother said the boy had been restrained.
"They held the boy down, they held him down until ... he went to a smothery grave," Mary Luckett told Milwaukee television station WTMJ.
The Milwaukee Journal Sentinel reported that David Hemhill's wife, Pamela Hemphill, said that Torrance's mother held the boy's feet and two other women held the boy's hands during the prayer session.
David Hemphill started the independent church in 1997. It meets twice a week and has a congregation of six families.
Cooper, the boy's mother, started coming to the church about three months ago after she met a parishioner at a doctor's office, Hemphill said. Cooper told the parishioner about her son's autism, and the church member invited her to a Sunday service. She joined the next week.
A makeshift memorial with four colored candles and a few stuffed animals sat on a window ledge outside the boy's home Sunday.

Thanks for reading CBS NEWS.
Create your free account or log in
for more features.