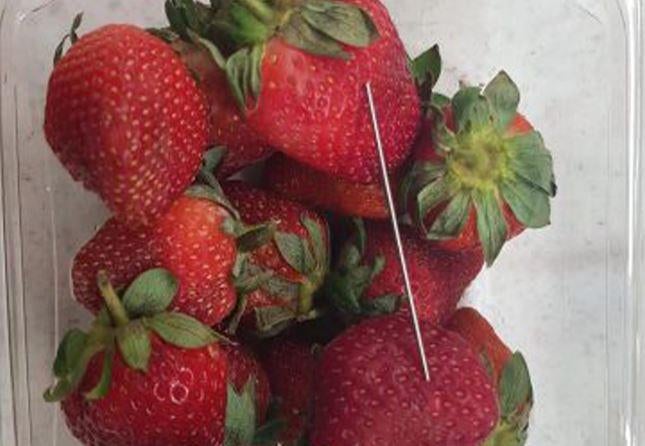 Suspect put needles in Australian strawberries for revenge, court told
Police investigating a major Australian strawberry needle contamination scare that sparked nationwide panic on Monday identified a former farm supervisor as their main suspect.
Pins and needles were found stuck into the fruit in September, leading supermarkets to pull boxes from shelves across Australia and New Zealand and forcing farmers to dump crops.
The sabotage and a rash of suspected hoaxes and copycat attacks also prompted the national government to raise criminal penalties for fruit tampering.
My Ut Trinh, 50, who worked at one of the strawberry farms where the tampered produce was grown, was arrested and charged with seven counts of contaminating goods by Queensland state police on Sunday.
She faced court on Monday and bail was denied after prosecutors said she could suffer retribution for her alleged actions, The Australian reported.
The court was told she was motivated by spite and revenge when she allegedly inserted the needles into the berries in early September, the newspaper added.
Earlier, police spoke of the challenges investigators faced as they tried to figure out the source of the contamination.
"This has probably been one of the most trying investigations that I've been part of," Detective Superintendent Jon Wacker told reporters in Brisbane.
Wacker said Trinh, an Australian citizen, "was a supervisor at a farm", with Queensland's Courier Mail identifying her employer as the Berrylicious and Berry Obsession farm -- one of the growers at the heart of the scare.
Wacker said investigators had "strong evidence" including DNA.
He said police collected 230 reports nationwide of strawberry contamination affecting 68 brands, most within his state, with the majority involving sewing needles.
Some cases were also found to be "a hoax or a false complaint", Wacker added. Police had earlier questioned at least two minors over suspected hoaxes.
The Queensland Strawberry Growers Association welcomed the arrest, but noted the high number of unresolved cases, adding that the seven counts in Trinh's chargesheet suggested that most of the 230 reports were either copycat actions or hoaxes.
"It was a crisis driven by social media and the only real victims were the strawberry growers, and to some extent other Australian fruit growers and exporters," the association said in a statement.
Thanks for reading CBS NEWS.
Create your free account or log in
for more features.