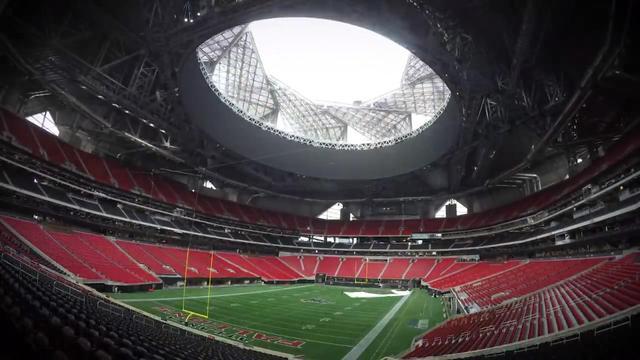 How Atlanta Falcons' new stadium hopes to revitalize city's historic Westside neighborhood
Mercedes-Benz Stadium is the $1.5 billion state-of-the-art home to the NFL's Atlanta Falcons and Major League Soccer's Atlanta United. From its elaborate eight-panel retractable roof to its awe-inspiring 1,100-foot, 360-degree halo scoreboard, it may look like a sporting cathedral, but according to the Falcons president and CEO Rich McKay it was built to be more like a community center.
"Arthur's theory going in was, let's not look at stadium locations. Let's not go look at where we might put a stadium for the best economics. Let's realize we're gonna put the stadium downtown and we're gonna try to put it right in the heart of downtown," McKay told CBS News' Dana Jacobson, referring to Falcons owner Arthur Blank.
The stadium is bordered by a thriving commercial district to the north and a dilapidated neighborhood to the west.

"What we were saying to people was this stadium can be a catalyst for change. We can bring everybody to the table. We can make an impact on the Westside. But it won't just be because we build the building," McKay said.
Once home to Civil Rights legends like Martin Luther King Jr. and Julian Bond, Atlanta's historic Westside has become one of the poorest neighborhoods in the United States. One that Blank, a co-founder of Home Depot, wanted to help rebuild.
"When we began designing the stadium I said, 'You know, we're going to be committed to the communities nearby, particularly on the Westside,'" Blank said. "Which, you know, probably 30 years ago had a population of 55,000 people. It's down to about 10 percent of that now. All the things you look for in a healthy neighborhood, they had. And then for a variety of reasons it's gone downhill."
Four years ago the Arthur M. Blank Family Foundation started dedicating substantial money and resources to the Westside neighborhood. With $37 million already committed to the community, some longtime residents worry about gentrification while others think real change still will never come.
"I think in my own case, I had a fair amount of credibility in Atlanta because of my history and the history of our foundation. And I think our early behavior they could see was different, is that we weren't there to write checks. We were there to understand the issues and then to respond to the issues and respond to them in a way that's, you know, really meaningful," Blank said of dealing with that skepticism.
Frank Fernandez was part of that response. He was hired to serve as a community liaison for the foundation's Westside development project.
"If you were a person who lives in poverty or a child born into poverty in Atlanta, you have only a 4 percent chance of moving out of poverty to the higher income brackets," Fernandez said. "Our commitment is, geography should not constitute destiny, right? And so how do we help break that cycle of poverty? And how do we use the stadium as a catalyst for change?"
The foundation's answer? Investing in the infrastructure and people. Atlanta's YMCA has relocated its headquarters to the Westside. The foundation has built homes for police officers, so they can live in the neighborhood, not just patrol it, and sponsors in the stadium like Chick-Fil-A were strongly encouraged to invest in the community as well.
"And they're going to employ 80 people from the community at this store," Fernandez said. "All of our corporate partners, all 13 of them, have committed to working with us in the Westside and have committed nearly $15 million towards revitalization."

"They have to buy into it. The end of the day, the answer can't be what we're imposing on them," Blank said. "We want them to say, 'these two make sense for us. And these two don't make sense for us.' So we'll do the two that makes sense for them."
Westside Works is a neighborhood program started by the foundation that provides job training in fields like technology, nursing, construction and culinary arts. According to the group, more than 500 people have already been placed in jobs that have brought in $10.5 million in income for people like Westside resident Toni Thomas. She one day hopes to have her own food truck and says she's seeing actual changes in the community.
"Because now, people, they have hope now. At first, they wasn't having hope. So now you have a lot of people over there having hope," Thomas said.
Thomas works at the West Nest in Mercedes-Benz Stadium, a concession stand operated by fellow graduates. West Nest and concessions throughout the arena offer prices you don't see in most professional sporting facilities – like $5 beers, $2 hot dogs and refillable sodas.
"Number one, I was always annoyed and irritated as a father having gone to stadiums and events and paying, you know, ridiculous prices for everything in the building," Blank said of his decision to keep prices low. "So I'd hear fans, just people around me, just complaining about it all the time. So I, you know, said to our management team, we need to price it everyday the same way they would pay anyplace else they went in the city of Atlanta."
Over time, Blank says, it'll add to their bottom line. They've already seen a dramatic increase in volume.
"One of the reasons that we wanted to do this was not just for the Mercedes-Benz Stadium. It's that if we can rationalize and show people that it's not only the right things for the fans, but it's the right thing for the business as well, we're hoping that it will set an example for other people, not only in Atlanta really, but throughout the United States," he said.

Blank says doing the right thing is also at the heart of the Westside development project.

"You'll see the changes come over time. I mean, my guess over the next, you know, three, four, five years, you'll just continue to see very significant progress in a variety of areas as you move towards long term solutions. So I'm very optimistic."
Thanks for reading CBS NEWS.
Create your free account or log in
for more features.