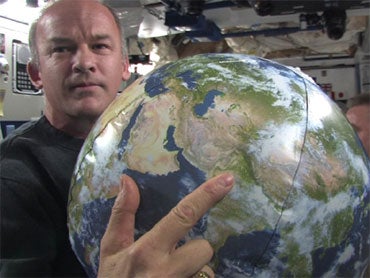 Astronaut Jeff Williams, Travel Agent
In "Everyone Has a Story," every two weeks someone threw a dart at a map of America. CBS News correspondent Steve Hartman then went wherever it stuck, flipped through the local phone book, and picked a name at random. He then did a story on someone at that house.
With the help of space-age technology, Steve Hartman goes global as he continues a new series - "Everyone in the World has a Story."
For the last month, I've been going wherever he points to do a story on someone in that country - but not today. Today, we're telling his story.
Aside from being the master of my world, who is commander Jeff Williams?
Fifty two-year-old Jeff Williams is a West Point grad who's been with NASA since 1987. This is his third trip to space and by the time this mission is over, he will have logged more than a year up there. That's more than 6,000 laps around the planet.
Photos: Everybody in the World Has a Story
He and his wife Anna-Marie have been married almost 30 years.
"My wife gets mad at me when I go over 70 miles per hour," Hartman said.
"I do too," said Anna Marie. "I still tell Jeff how to drive down here."
About the International Space Station
Anna-Marie says it is a little different -- being married to a man who's off the planet as often as Jeff is -- but she says not as different as you might imagine.
They communicate through twice daily phone calls and even email - just last month the space station got the internet.
"So one of the first things he did was order me flowers through Amazon which was really cool," she said.
Really cool - almost a little too cool.
"So I have to be careful now because he can actually see our bank accounts now that he's got Internet," Anna-Marie said.
That actually leads us to the potential downside of being able to communicate so much more with your spouse - you can communicate so much more with your spouse.
"What if you have a fight with your wife," Hartman asked. "Everybody's a part of it?"
"No," Jeff replied. "We have it set up so it's what I would call semi-private."
"Of course, that's what they tell you," Harman replied. "But everybody's listening in."
"Well, of course," Jeff said. "Living in this bubble I treat nothing as if it's private. That's actually a pretty good way to live in general."
For a guy who lives in space, I found Jeff extremely down to earth. He likes taking pictures and has photographed some of the most striking scenery on the planet - and yet, his favorite view remains this one from his back porch.
"I want to breathe the air that has the smells of Earth in it," Jeff said.
He says the other thing even more wondrous than that that big blue pool - are these two little ones - his grandson's eyes. His first grandson, who is especially enamored with our globe, was born two days before Jeff left on this mission.
"I think it's been kind of hard for him to be away from that little guy," Anna-Marie said.
It's funny - his whole life, all Jeff wanted was to be an astronaut and yet the older he gets he says, the more he wants to be - just an earthling.
Everyone in the World Has a Story
From a Mud Hut to a Mansion in Oman
From Latvia, with Muscles
4 Generations Under One Roof in India
Everyone in the World Has a Story, NASA
Thanks for reading CBS NEWS.
Create your free account or log in
for more features.