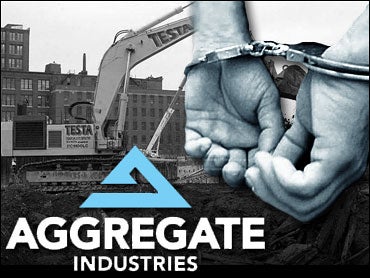 Arrests For Big Dig Concrete Fraud
Six men who worked for the Big Dig's largest concrete supplier were arrested Thursday on federal charges they falsified records to hide the poor quality of concrete delivered to the massive highway project.
The six, all current or former employees of Aggregate Industries, are named in a 135-count indictment on charges including making false statements, mail fraud and conspiracy to defraud the government between 1996 and August 2005.
The indictment charges the men with recycling concrete that was too old, and in some cases double-billing for the loads. The company was paid $105 million for 135,000 truckloads of concrete, and at least 5,000 of those truckloads did not meet specifications, according to the indictment.
The men were released on $100,000 unsecured bond each after making initial appearances in U.S. District Court in Boston.
According to the indictment, the faulty concrete was poured into walls and roof slabs in the Interstate 93 tunnel, parts of the Interstate 90 tunnel and the sea walls of the Fort Point Channel, among other places.
"The taxpayers of this community and this country will be paying for years to come," Assistant U.S. Attorney Fred Wyshack said at the hearing, during which the men were ordered back to court for arraignment on May 11.
Attorney General Tom Reilly said there's no indication the concrete was connected to hundreds of leaks which have sprung in Big Dig tunnels. He said he has met with engineers and experts who have inspected the work where the concrete was used.
"We have no evidence whatsoever that the structural integrity and safety of the tunnel has been compromised," he said Thursday.
Part of the scheme's undoing, according to U.S. Attorney Michael Sullivan, was the company's own record-keeping. One shift of workers kept logs of concrete loads that were not used within the 90-minute time limit; that same old concrete was reused, sometimes with water added to look fresher, the indictment alleges.
In an August 2005 raid of company offices in Everett, Saugus and Peabody, state police said they found evidence the company had falsified paperwork to make it appear that old or rejected concrete was freshly poured.
Lawyers for Aggregate Industries have defended the quality of its concrete and said it never delivered any that did not meet strength specifications called for in its state contract. A statement from Aggregate Industries on Thursday said would cooperate with authorities.
"As a result of extensive testing by industry experts, Aggregate Industries is satisfied that all of the concrete it has supplied on the Big Dig and throughout the commonwealth is structurally sound," the statement said.
R. Robert Popeo, an attorney for Aggregate, did not immediately return a call.
Attorneys for the workers claim Big Dig managers sometimes waived the 90-minute rule.
"Our workers did the best they could to deliver a quality product," attorney Thomas Kiley said. "In my view they're shooting fleas with an elephant gun."
The Big Dig, formally called the Central Artery and Third Harbor Tunnel project, buried Interstate 93 in tunnels beneath downtown and connected the Massachusetts Turnpike to Logan Airport with a third tunnel beneath Boston Harbor.
The project was plagued by long delays and soaring costs that ballooned from $2.6 billion to $14.6 billion. Earlier this year, after more than a decade of traffic detours, the last major section of the project opened. The heavy construction had started in 1991.
The allegations about concrete strength stemmed from a whistleblower suit filed in May 2005 in Suffolk Superior Court. Aggregate provided 60 percent of the concrete used to build the Big Dig.
Indicted were: former general manager Robert Prosperi, 63, of Lynnfield; Marc Blais, 36, of Lynn, a dispatch manager; John Farrar, 42, of Canterbury, Conn., a dispatch manager; Gerard McNally, 53, of Rockland, a quality control manager; Gregory Stevenson, 53, of Furlong, Pa., district operations manager; and Keith Thomas, 50, of Billerica, a dispatch manager.
Stevenson and Farrar are no longer with the company. Aggregate says it has suspended the other four.
Each man is charged with conspiracy to commit mail fraud; conspiracy to make false statements in a federal highway project; conspiracy to defraud the government and mail fraud.
Sullivan and O'Reilly cast some blame onto the Massachusetts Turnpike Authority, which was charged with overseeing the project. Sullivan said this type of conduct should have been caught earlier.
"Clearly there's an oversight issue here," Sullivan said.
Turnpike Chairman Matthew Amorello issued a statement saying the authority has cooperated on the investigation. He said Aggregate is not a Big Dig contractor but has provided materials to contractors working on the project.
Amorello said any attempt by Aggregate to skirt industry practices is unacceptable.
Stephen Delinsky, who represents McNally, said the case is wrapped up in politics.
"It's always easy to blame the lowest level which is the concrete manufacturers," Delinsky said. "Each defendant believed that they acted in good faith. They believed at all times their conduct was legal and believed the concrete delivered to the Big Dig was appropriate."

Thanks for reading CBS NEWS.
Create your free account or log in
for more features.