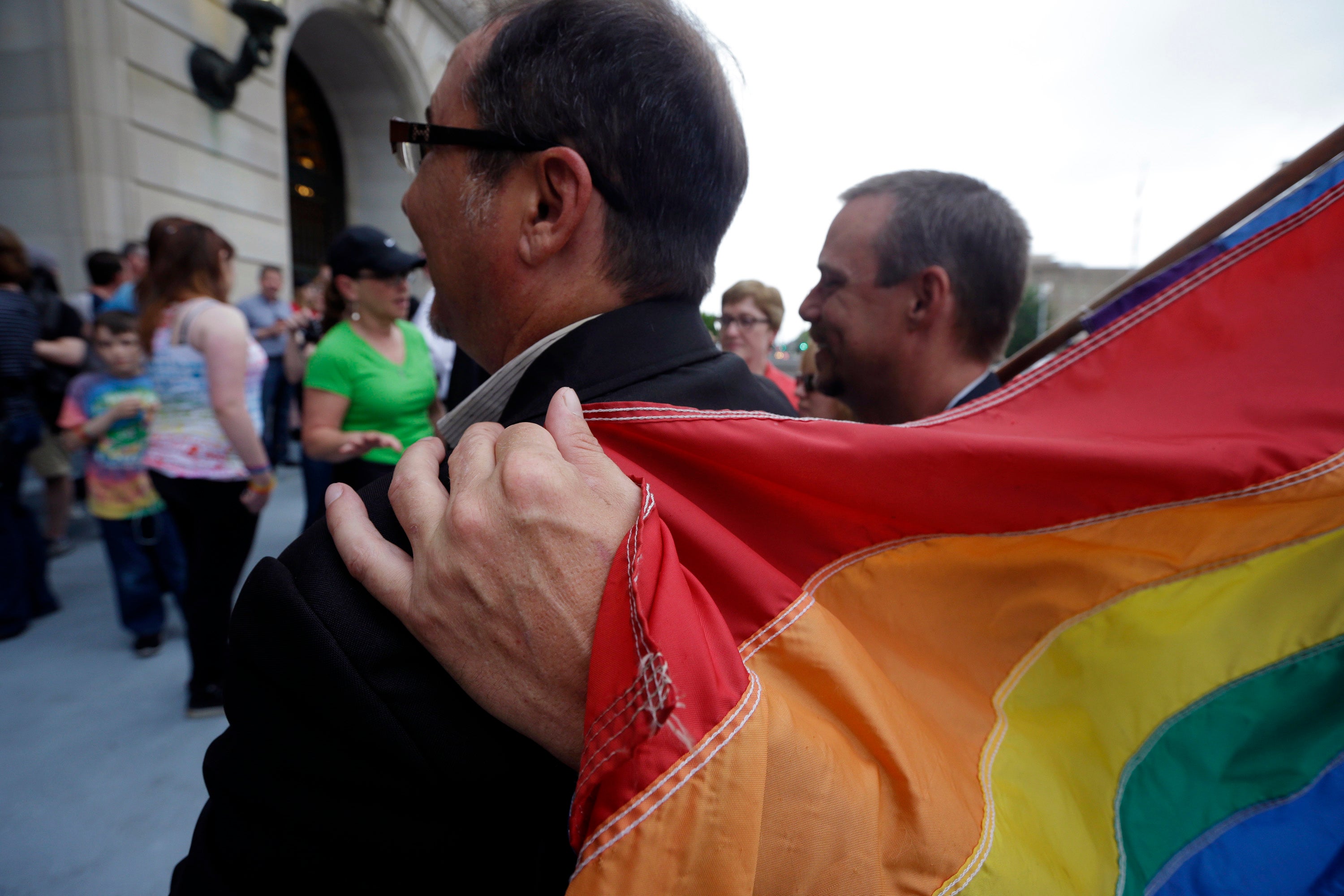 Arkansas issues first same-sex marriage licenses
LITTLE ROCK, Arkansas -- Couples lined up outside a courthouse before dawn Monday as Arkansas' largest county began issuing gay marriage licenses following a judge's ruling overturning the southern state's constitutional ban on same-sex marriage.
The Pulaski County clerk's office issued its first same-sex marriage license shortly after 8 a.m. After business hours closed Friday, Pulaski County Circuit Judge Chris Piazza ruled that Arkansas' voter-approved ban on gay marriage was unconstitutional - heralding the arrival of gay marriage in the conservative Bible Belt in the South.
More than 100 people gathered outside the courthouse in the state capital, Little Rock, before doors opened Monday. The first license went to Shelly Butler, 51, and Susan Barr, 48, of Dallas, Texas, who have been together since they met at Southern Arkansas University in 1985.
"When we heard the news in Arkansas, we had to jump in the car to get here," Butler said shortly before receiving the license. "I'm just excited to marry my best friend of almost 30 years, finally."
Jerry Cox with the Arkansas Family Council told CBS affiliate KTHV opposes the judge's ruling, pointing out that 75 percent of Arkansas residents voted that marriage should be defined as the union of one man and one woman.
"I think the people of Arkansas are rightfully outraged at the fact that this judge has taken upon himself to redefine marriage," Cox said.
Later Monday morning, Arkansas Attorney General Dustin McDaniel asked the state's Supreme Court to suspend Piazza's ruling. McDaniel, a Democrat, has said he supports same-sex marriage but has vowed to continue defending the ban because he believes it's his duty to do so.
The U.S. Supreme Court last year ruled that a law forbidding the federal government from recognizing same-sex marriages was unconstitutional. That ruling stopped short of declaring same-sex marriage legal across the country, but momentum has swung toward gay marriage ever since.
Using language similar to that from the Supreme Court, state and federal judges nationwide have struck down some same-sex marriage bans that were enacted in many states after Massachusetts became the first state to recognize gay marriage in 2004.
In Arkansas, Piazza did not issue a stay in her ruling, and 75 county clerks were left to decide for themselves whether to grant marriage licenses.
On Saturday, 15 same-sex couples obtained marriage licenses in the left-leaning tourist town of Eureka Springs. Other Arkansas counties have refused to issue same-sex marriage licenses, saying the Arkansas Supreme Court must weigh in.
Arkansas Attorney General Dustin McDaniel, who recently said he supported gay marriage but would defend the ban because he considers it his legal duty to do so. He has asked Piazza to suspend his ruling. McDaniel said Saturday that he wants the state Supreme Court to take up the matter, but no appeal had been filed as of Monday morning.
Thanks for reading CBS NEWS.
Create your free account or log in
for more features.