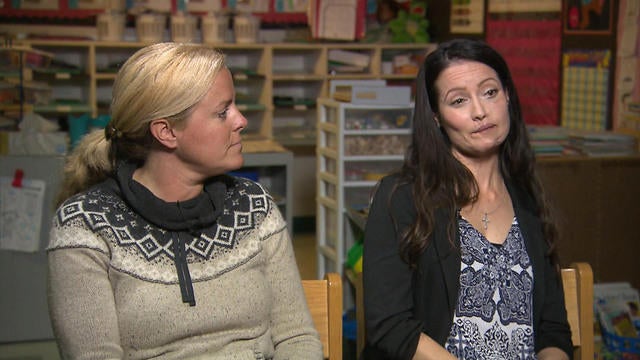 How 2 Arizona teachers are making ends meet
The thrill of seeing a child learn has kept Laura Mayer and Raquel Munoz in the classroom for more than a decade. But the Arizona educators have found the profession challenging financially, as have other teachers nationwide, reports CBS News' Jamie Yuccas.
Across the country, inflation-adjusted teacher pay is declining, down more than $1,500 between 1996 and 2015. During that same period, incomes for all other college graduates rose by almost $6,500. In Arizona, earnings of elementary school teachers are near the country's lowest when adjusted for the cost of living. Teacher's salaries average around $42,000 -- about $13,000 less than the national average.
Munoz, a single mother of two, recently chose to move back in with her parents.
"I wanted my children to have a home… And I really didn't see it happening anytime soon, so I moved back with family, saving up, and once I can get my home, that's my plan," Munoz said.
Mayer took a second job at Crate and Barrel to supplement her income and says things would be "really tight" if she were just living on her salary. Munoz says she thinks about leaving the profession "all the time." She's not alone. In Arizona 42 percent of teachers left the profession within a recent three-year period. Experts say it's a nationwide problem.
"The most recent data on the national level show that about eight percent of teachers are leaving each year," said Linda Darling-Hammond of the Learning Policy Institute.
Losing so many teachers is also costing taxpayers. Recruitment, rehiring and training reportedly add up to about $2 billion each year. High turnover can also have a big impact on kids.
"High turnover rates actually reduce student achievement for all the kids in a school not just the ones whose teachers have been replaced," Darling-Hammond said.
In West Virginia, it took a promised raise from the governor to end the four-day strike, but in Arizona the state superintendent is hoping to increase the sales tax to give teachers there a raise.
"We have to make sure that they are paid in accordance with how important their job is," Arizona State Superintendent of Public Instruction Diane Douglas said.
"Do I feel valued?... I feel valued by parents. I feel valued by people I work with," Munoz said.
And they truly value the work they do and want nothing more than to keep doing it.
Thanks for reading CBS NEWS.
Create your free account or log in
for more features.