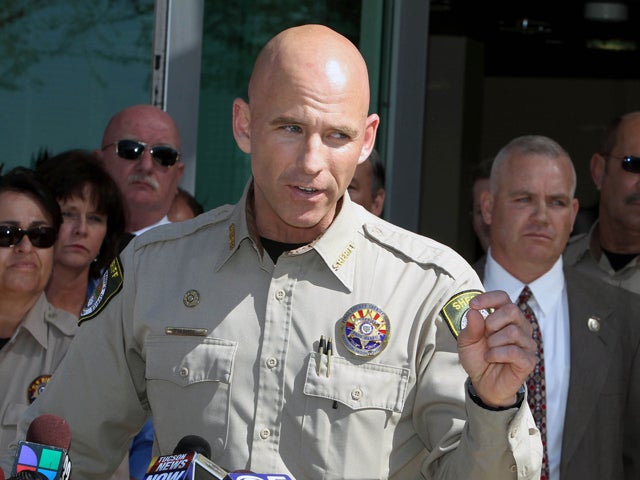 Arizona Sheriff Paul Babeu drops bid for Congress after fallout from campaign volunteer scandal
(CBS/AP) FLORENCE, Ariz. - A conservative Arizona sheriff who announced he is gay amid allegations of abuse of power said Friday he is no longer running for Congress, CBS affiliate KPHO-TV reports.
Pinal County Sheriff Paul Babeu's campaign said Friday that he is dropping out of Arizona's 4th Congressional District race and will instead seek re-election as sheriff.
The Republican lawman is known for his stance on illegal immigration and border security. His image took a beating this year when a former boyfriend claimed the sheriff threatened him with deportation.
It led to Babeu stepping down as co-chairman for Mitt Romney's Arizona campaign.
Special Section: Election 2012
Outed Ariz. sheriff facing AG investigation
Ariz. sheriff facing long odds after gay outing
Babeu's campaign released a statement Friday saying that his decision to run for re-election was based on his chief deputy, Steve Henry, being deemed unable to run for sheriff while serving in his current post.
The Republican sheriff told KPHO-TV that he promised Pinal County citizens the sheriff's office would continue to "make true forward movement, and we will continue that."
"I'm not backing away from a battle," Babeu told KPHO-TV, adding he believed he was in a strong position in the race. "But I made a promise, and I've never made a promise I never kept."
The U.S. Office of Special Counsel said that because Babeu's office receives federal funds and Henry supervises people in control of those funds, Henry is not eligible to run for sheriff while serving as chief deputy, according to the campaign's statement.
Babeu had endorsed Henry to replace him as sheriff.
Babeu told KPHO-TV that Henry's disqualification is politically motivated, citing a Mohave County sheriff elected to office while serving as deputy chief.
Babeu said Henry was left with three options: resign as chief deputy to run as a sheriff's candidate, withdraw his candidacy for sheriff or transfer to a non-leadership position within the sheriff's office, where he would not supervise anyone who handles any federal funding.
"Forget the politics, none of these options are good to maintain continued success of our sheriff's office," Babeu said in the statement.
Babeu announced his bid for Congress on Jan. 4. In February, after being named National Sheriff of the Year for 2011, Babeu announced that he is gay and once had a relationship with a Mexican immigrant named Jose Orozco while Orozco was a campaign volunteer.
Orozco filed a $1 million lawsuit against Babeu and the county, alleging among other things that Babeu threatened to have him deported if he ever revealed their relationship.
Babeu denies that his decision to seek re-election had anything to do with the relationship.
In April, the Office of Special Counsel, which was looking into allegations that Babeu and several key aides were working on his congressional campaign with county resources while on duty, issued subpoenas to Babeu's office and the county board after Babeu's office refused to turn over two laptops for inspection.
Thanks for reading CBS NEWS.
Create your free account or log in
for more features.