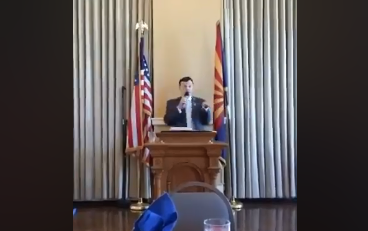 GOP lawmaker David Stringer criticized for saying "there aren't enough white kids to go around"
PHOENIX -- A Republican lawmaker is being criticized for saying "there aren't enough white kids to go around" when discussing integration in schools at an event in northern Arizona. Rep. David Stringer, a Republican from Prescott, spoke Monday at the Yavapai County Republican Men's Forum.
Stringer's speech was livestreamed on Facebook and saved to his campaign page. It was later removed. But a clip widely circulated on social media by a Democrat showed Stringer talking about how immigration is changing the demographic makeup of the country.
"Sixty percent of public school children in the state of Arizona today are minorities. That complicates racial integration because there aren't enough white kids to go around," Stringer said in part of the video.
The clip also shows Stringer saying "immigration is politically destabilizing" and "immigration today represents an existential threat to the United States."
"If we don't do something about immigration very, very soon, the demographics of our country will be irrevocably changed and we will be a very different country and we will not be the country you were born into," he said.
Stringer, speaking to CBS Phoenix affiliate KPHO, said, "I wasn't denigrating anybody."
"I wasn't making a value judgment," he said. "I was illustrating the impact of rapid demographic change on a vital institution in our society."
Stringer said his campaign posted the entire speech on his Facebook page but took the video down after getting negative comments. As of Wednesday evening, he said he didn't watch the 51-second clip that was making the rounds on social media. He also denied using the word "racial," even though he clearly said it in the video, KPHO reported.
Stringer said most of his speech was focused on judicial reform and described his comments on immigration as a "little riff on immigration." He claimed his comments are being taken out of context and spun, "most likely by liberals" and political opponents.
Stringer told the Arizona Capital Times that he apologized to anyone he offended, and that he had planned to re-post the entire 17 minute video of his comments. He said he wants people to hear the whole speech.
"I maybe touched a third rail of politics but what I said is accurate," Stringer told the newspaper. "Anybody that talks about this in this way is shut down and called a racist. I'm speaking the truth. Diversity may be a great thing, there might be a lot of advantages, I'm not arguing against diversity at all, but no country can be demographically transformed without any political or social consequences."
The clip started circulating after David Schapira, a Democrat running for superintendent of schools, downloaded the video and posted a portion of it on his Facebook and Twitter pages. It received more than 25,000 views within 21 hours. Schapira later re-posted the full video.
"It's time to remove xenophobic radicals from elected office this November," Schapira tweeted.
Josselyn Berry, co-director for a Democratic advocacy group ProgressNow Arizona, said in a statement it should go without saying that all children deserve an education, regardless of their skin color.
"Stringer's racist and paranoid comments that we must protect the white race or America will be taken over are dangerous, fear mongering and hateful," Berry said.
Carlos Galindo-Elvira, the Arizona regional director of the Anti-Defamation League, tweeted that Stringer's comments have "no place in our state government" and are "shockingly inappropriate."
The Arizona Republican Party denounced Stringer's comments.
"David Stringer's comments do not in any way reflect the beliefs or values of Chairman (Jonathan) Lines or the Arizona Republican Party," said party spokeswoman Ayshia Connors. "We are proud of our diverse, vibrant state."
Thanks for reading CBS NEWS.
Create your free account or log in
for more features.