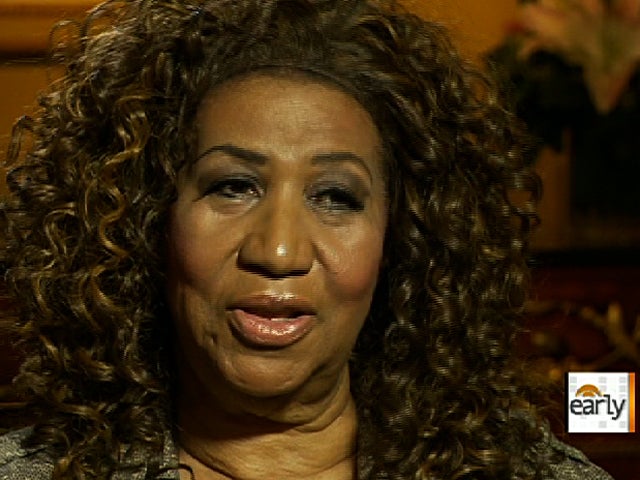 Aretha Franklin on N.Y., shoes and Tony Bennett
Aretha Franklin is considered by many as one of the most influential singers and artists on the planet. In fact, Rolling Stone magazine named her the greatest singer of the rock era.
While the so-called "Queen of Soul" calls Detroit home, New York City is one of her favorite places to visit. CBS News correspondent Debbye Turner Bell caught up with her on a recent trip to the Big Apple.
Aretha Franklin: I'm ready to do my thing
Pictures: Aretha Franklin

Bell tells "The Early Show" Franklin came to town a few weeks ago to perform with another living legend, Tony Bennett. Franklin, Bell says, likes to maintain her privacy, but she did invite "The Early Show" to spend the day with her, giving unprecedented access to her day in the city. And, as Bell discovered, the living legend still draws quite a crowd - within seconds of stepping outside with Bell, Franklin was surrounded by tourists.
On her recent trip to New York, Franklin enjoyed her favorite treats, including a hot dog with red onions.
Franklin says, "You have to have a hot dog off the corner when you come to NY. It's like really being in New York."
And she treated herself to some fancy footwear.
So does Franklin know how many shoes she owns?
"No, I don't count them," Franklin says. "I just keep buying them."
While shoes may be a weakness, Bell says Franklin's strength is clearly her music. For the last half century, she's been churning out hit after hit, from "Chain of Fools to "A Natural Woman." And who could forget her anthem of empowerment, "Respect"?
Franklin says she realized her voice was special when she about 10 years old in church.
"I really didn't want to sing, but my dad kept pushing me out there to sing," she says.
Bell says, "But you knew you could sing."
Franklin says, "I found that out, yes. I found that out. But as a child I wanted to be playing with my friends, I didn't want to be singled out I guess."
Eventually, she was singled out by record executives. At 18, she released her first single. And over the course of her 50-year career, she's collected countless awards and accolades, including 20 Grammy awards.
When asked how she thinks she's been so successful, Franklin says, "It has to do with my love of the music. And it's just rewarding for me to see the audience, and people enjoy it."
She's played to audiences all over the world. But perhaps none were as significant as the one gathered for the inauguration of President Barack Obama.
Recalling the moment, Franklin says, "Tremendous, tremendous moment. And that was a one-of-a-kind, it will never happen again. A highlight is an understatement."
Since that day, Franklin - now 80 pounds lighter - continues to dazzle. Recently, she performed a duet with Tony Bennett at his 85th birthday celebration. "The Early Show" was invited to watch their first-ever rehearsal - where the two legends sang each other's praises.
Franklin says, "It's wonderful just to sing with such a legendary voice. I think we make really wonderful music together."
Bennett tells "The Early Show," "There's two or three people in the world that sounds just the way I'd like to hear a singer sing the right way and she's one of the three."
To that, Franklin replies, "Wow. Thank you."
Franklin's career is nowhere near its final note. And she sees vocal greats like Tony Bennett as proof that stars can shine for a long, long time.
"When I see people like a Tony Bennett in their 80s that are really still really doin' it, I'm lovin' it," Franklin says.
In addition to her live performances, Bell said on "The Early Show" that Aretha is hard at work on her record label, Aretha's Records, scouting out potential artists to sign. She is also helping her son and grandson develop music careers.

Thanks for reading CBS NEWS.
Create your free account or log in
for more features.