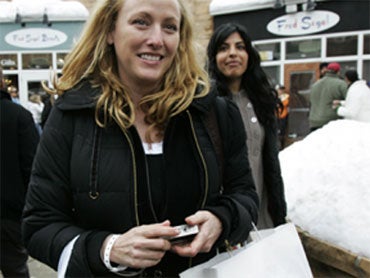 Are Celebrity Gift Suites Souring Some?
Snooki and her "Jersey Shore" cast mates perused the offerings at a recent Golden Globe gift suite. They weren't up for any awards, but they filled their bags with custom-made jewelry, certificates for spa treatments and Lasik surgery, clothing, shoes and perfume.
Gifting goes into high gear during award season in Hollywood, where "gift" is a verb and swag suites are as common as open bars and black-tie parties.
The way it works is rich-and-famous folks load up on free stuff they could easily afford. In return, they pose for photos with the products they receive and companies use those pictures to promote their brands.
However, the notion of gift suites could be souring. As gifting has become more popular and more public, top stars rarely show up anymore. It would be tacky, especially in this economy, for a Tom Cruise-caliber celeb to be photographed carrying a big bag of free loot.
Now, gifting firms send swanky gift bags directly to the stars' homes so they can enjoy their swag in private. "For the A-list stars, the gifts come to them," says marketing expert Jordan McAuley, author of "Celebrity Leverage."
It used to be that gift suites could only be found backstage, away from paparazzi flashbulbs. They were respites - and lures - for celebrities preparing to present or perform on an awards show, and often commissioned by the show's producers.
Celebrity sells, so the concept caught on, plus it's a win-win for all involved - the organizer makes a profit, the celebrities can promote their projects and stay on the cutting edge with new free stuff, and emerging brands can associate themselves with the stars fans love to follow.
"When you compare endorsement fees, advertising and other means of branding and getting exposure for your brand, this is one of the most cost-effective means out there," says Karen Wood, who established her gifting company, Backstage Creations, in 2000.
Yet such exposure doesn't come cheap. Besides giving away their products for free, businesses pay for the privilege of appearing at a gift suite - often $5,000 or more.
Now myriad suites surface around every awards show, but most have no real connection to the event.
Some major shows, including the Academy Awards, aren't affiliated with any gifting ventures, so a company that claims to be hosting an Oscar suite isn't officially sanctioned by the Academy of Motion Picture Arts and Sciences - nor can it guarantee Oscar-level talent will attend.
That means that it's a gamble for vendors who pay to participate. They might be hoping for Sandra Bullock and Meryl Streep, but end up with Heidi Montag and Spencer Pratt.
"The bigger the show, the bigger the names - it's automatically going to be harder to get those people, even if you're on site at the awards show," says Lash Fary, whose company, Distinctive Assets, hosts the Grammys' official backstage suite and gives gift bags annually to Oscar nominees.
But gift suites can still make good business sense for brands and stars on the rise. Hannah Murray gave away her product, Revitalash, to the stars of "Twilight" and "Mad Men" at an offsite suite before those properties became huge hits.
"The 'Twilight' stars came through an MTV gift suite before 'Twilight' came out, so those pictures are invaluable," she says. "Because they found us in that suite, we have been on all three 'Twilight' sets."
Still, the formula doesn't always work. Michelle Chaplin, owner and designer of Smoke and Mirrors clothing, says the suite she appeared in didn't attract the celebrities she hoped to meet.
"The overhead cost is just too expensive," she says. "I don't feel like we got anything from it. We gave them clothes and never really saw any pictures of it being worn. We do a lot better when Paris Hilton goes and buys them at a store."
By SANDY COHEN
Thanks for reading CBS NEWS.
Create your free account or log in
for more features.