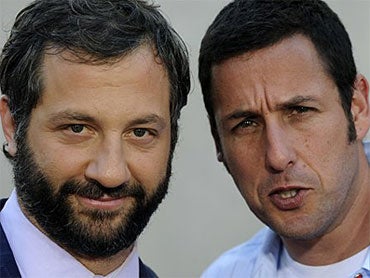 Apatow's "Funny People" Based on Real Life
Judd Apatow's "The 40-Year-Old Virgin" spawned one of the most vibrant and successful runs in American comedy a frantic, four-year era capped by and summed up in the writer/director/producer's latest film, "Funny People."
After the success of "Virgin," Apatow and his comedy cohorts were essentially given the keys to studio lots. Finding themselves green-lit at every turn, the veteran comic and his close-knit group of friends dusted off their previously snubbed screenplays and took advantage of their opportunity with a nonstop flow of films.
In just four years, Apatow has either produced or helped write ten movies, among them "Superbad," "Pineapple Express," "Forgetting Sarah Marshall" and "You Don't Mess With the Zohan." He wrote and directed his "Virgin" follow-up, "Knocked Up." He helped make stars out of Seth Rogen, Jonah Hill and Paul Rudd.
Now, like a politician spending accrued political capital, Apatow has used his leverage to make "Funny People," a plainly ambitious 2-1/2 hour film that has Hollywood wondering if he's overestimated his Midas touch.
"People always say that when they become successful that they'll make their passion project," Apatow said in a recent interview. "But they never do."
For "Funny People," Apatow says he fused two ideas: a story about how surviving a near-death experience changes someone, and an abstract analysis of the nature of a comedian. Adam Sandler plays George Simmons, a famous standup comedian who finds out he has a form of cancer. Seth Rogen plays Ira Wright, a young standup taken in by Simmons.
More than anything, "Funny People" is overflowing with a love for comedy and all the wealth of experiences of a comedian, from nervously starting out to playing to a roaring packed house. It revels in the backstage banter between standups, the subtlety of good joke-telling, the competitive scrap for fame.
The entire film is imbued with Apatow's life - he has called it "a culmination of my journey in comedy." Apatow's wife, Leslie Mann, co-stars as the-girl-that-got-away (from Simmons). Their two young girls, 11-year-old Maude and 6-year-old Iris, play Mann's character's children.
"It's fun to see him grow as a creative person and put those life experiences into his movies," says Mann. "He's not sticking to the formula of `40-Year-Old Virgin.' He's trying new things and experimenting."
The film opens with a home video of a prank call Apatow, 41, shot in the early `90s when he was roommates in Los Angeles with Sandler and both were aspiring comics. ("I was directing Adam badly even then," jokes Apatow.)
Many of the comedians who inspired or worked with Apatow through his career make cameos. One is Paul Reiser ("Mad About You") whom Apatow interviewed when he was 15 for his Long Island high school radio show, which he used to gain access to comedians like Gary Shandling and Jerry Seinfeld to learn about the art of comedy.
"In everything - in the songs that I chose, in the comedians that populate it - I just wanted everything to be personal and intimate," says Apatow.
Some have questioned the appeal of a longer and more serious film from Apatow. Los Angeles Times columnist Patrick Goldstein published an open letter to Apatow pleading with him to shorten it.
Apatow says he pitched Universal Studios (which has released all three of Apatow's directed films) exactly the movie he made, length included.
Criticism has recently been nipping at the interconnected Hollywood comedy juggernaut, which Will Ferrell and Adam McKay have also spearheaded. Ferrell's last film, "Land of the Lost," did poorly at the box office, fueling conjecture that an era was dimming.
Apatow estimates that it would take three failures in a row to lose industry support. It's a subject he knows something about from his experiences with the acclaimed but canceled series "Freaks and Geeks," as well as the series "Undeclared" and the 1996 film "The Cable Guy."
The blizzard of success came only in the last few years for Apatow.
"It's been a bit of a whirlwind," says Apatow. "There were definitely moments where it seemed super crazy where we'd be shooting three movies at the same time and I'd just drive between sets all day long."
That pace, though, is slowing. Apatow is producing the "Sarah Marshall" spinoff "Get Him the Greek," which is currently filming and stars Hill and Russell Brand. There are other projects in the pipeline, too, including a comedy written by and starring Kristin Wiig of "Saturday Night Live."
"It's dropped from like six to eight movies in a year to one - so I feel very good that I've gotten everything under control," says Apatow. "For people who worry about being sick of me: don't worry, I'm about to drift away."
He adds: "It's been many years of output. At some point, you have to sit and actually read all the books that you buy."
Mann has seen some change in her husband. Of his circle of friends and performers, she says the conversation has turned from bongs to duvet covers: "Everybody's kind of growing up together."
Apatow has also been a mentor to a crop of young actors and comedians. As Simmons hires Wright in the film, Apatow was hired as a young comic by Roseanne Barr to write jokes for her act - a phone call that Apatow says will remain the happiest of his career.
"The main thing I think about is: Why did Judd choose me?" says Hill, who plays Rogen's roommate in "Funny People." "I always wonder after every movie wraps, do I say something overly sensitive to him about it?"
Ultimately, "Funny People" asks if it's possible to be both a comedian and a healthy person - whether the old stereotype of the angry, insecure comic is true. As much as anyone, Apatow has sought to disabuse people of that notion by making comedies about earnest, loving (if immature) guys. Increasingly, a sense of family is at the heart of his movies.
In analyzing his life in comedy, Apatow came away with one realization.
"My biggest problem is that as I get older I realize I'm more neurotic than I hoped to be at this age," says Apatow. "For whatever reason, I'm wired to be thinking about the past and worrying about what's going to happen. When you have a family and kids, you worry all the time."
By Jake Coyle
Thanks for reading CBS NEWS.
Create your free account or log in
for more features.