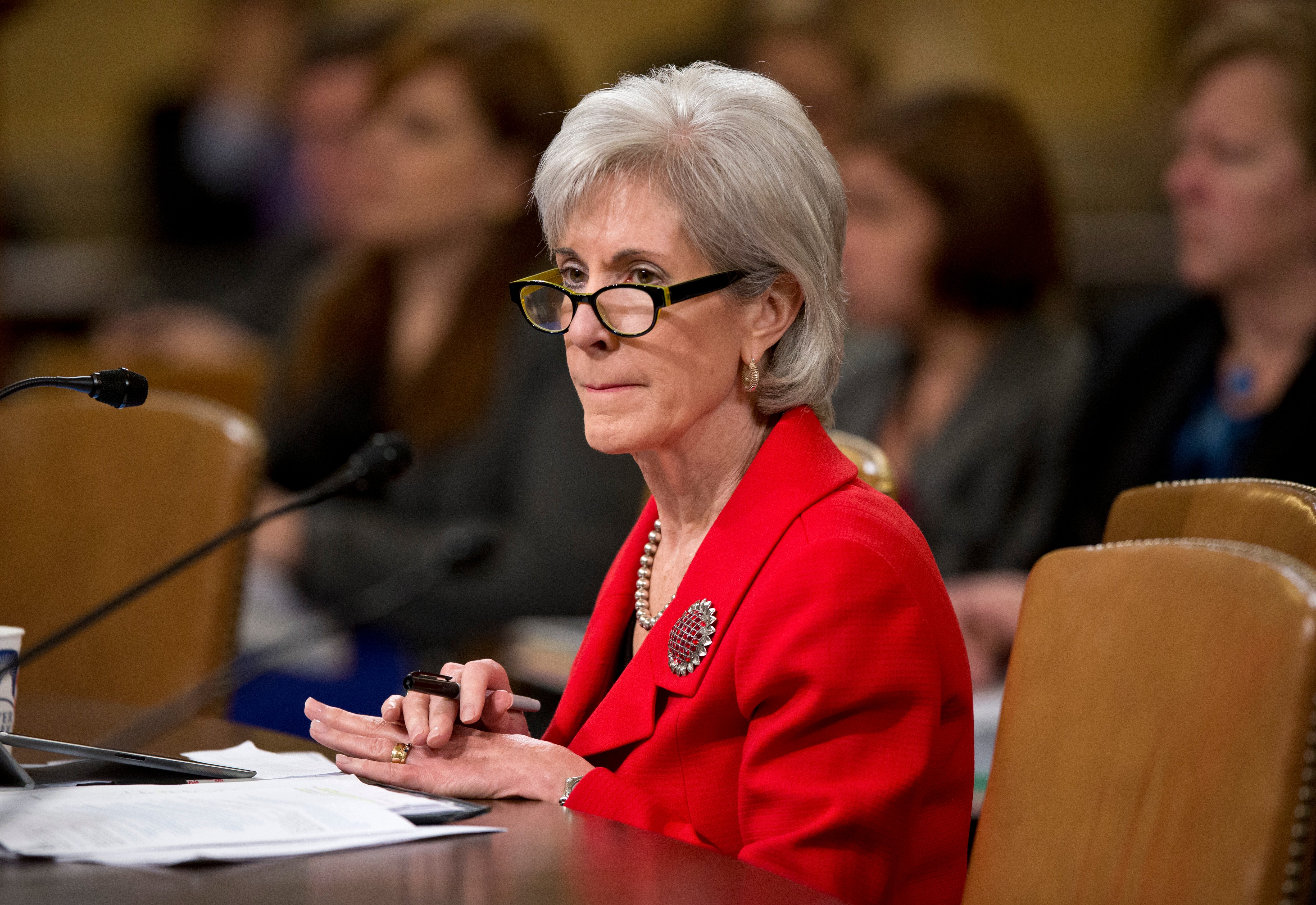 AP: Obama appointees using secret email accounts
WASHINGTON Some of President Barack Obama's political appointees, including the secretary for Health and Human Services, are using secret government email accounts they say are necessary to prevent their inboxes from being overwhelmed with unwanted messages, according to a review by The Associated Press.
The scope of using the secret accounts across government remains a mystery: Most U.S. agencies have failed to turn over lists of political appointees' email addresses, which the AP sought under the Freedom of Information Act more than three months ago. The Labor Department initially asked the AP to pay more than $1 million for its email addresses.
The AP asked for the addresses following last year's disclosures that the former administrator of the Environmental Protection Agency had used separate email accounts at work. The practice is separate from officials who use personal, non-government email accounts for work, which generally is discouraged - but often happens anyway - due to laws requiring that most federal records be preserved.
The secret email accounts complicate an agency's legal responsibilities to find and turn over emails in response to congressional or internal investigations, civil lawsuits or public records requests because employees assigned to compile such responses would necessarily need to know about the accounts to search them. Secret accounts also drive perceptions that government officials are trying to hide actions or decisions.
"What happens when that person doesn't work there anymore? He leaves and someone makes a request (to review emails) in two years," said Kel McClanahan, executive director of National Security Counselors, an open government group. "Who's going to know to search the other accounts? You would hope that agencies doing this would keep a list of aliases in a desk drawer, but you know that isn't happening."
Agencies where the AP so far has identified secret addresses, including the Labor Department and HHS, said maintaining non-public email accounts allows senior officials to keep separate their internal messages with agency employees from emails they exchange with the public. They also said public and non-public accounts are always searched in response to official requests and the records are provided as necessary.
The AP couldn't independently verify the practice. It searched hundreds of pages of government emails previously released under the open records law and found only one instance of a published email with a secret address: an email from Labor Department spokesman Carl Fillichio to 34 coworkers in 2010 was turned over to an advocacy group, Americans for Limited Government. It included as one recipient the non-public address for Seth D. Harris, currently the acting labor secretary, who maintains at least three separate email accounts.
Google can't find any reference on the Internet to the secret address for HHS Secretary Kathleen Sebelius. Congressional oversight committees told the AP they were unfamiliar with the non-public government addresses identified so far by the AP.
Ten agencies have not yet turned over lists of email addresses, including the Environmental Protection Agency; the Pentagon; and the departments of Veterans Affairs, Transportation, Treasury, Justice, Housing and Urban Development, Homeland Security, Commerce and Agriculture. All have said they are working on a response to the AP.
White House spokesman Eric Schultz declined to comment.
A Treasury Department spokeswoman, Marissa Hopkins Secreto, referred inquiries to the agency's FOIA office, which said its technology department was still searching for the email addresses. Other departments, including Homeland Security, did not respond to questions from the AP about the delays of nearly three months. The Pentagon said it may have an answer by later this summer.
The Health and Human Services Department initially turned over to the AP the email addresses for roughly 240 appointees - except none of the email accounts for Sebelius, even one for her already published on its website. After the AP objected, it turned over three of Sebelius' email addresses, including a secret one. It asked the AP not to publish the address, which it said she used to conduct day-to-day business at the department. Most of the 240 political appointees at HHS appeared to be using only public government accounts.
The AP decided to publish the secret address for Sebelius - KGS2(at)hhs.gov - over the government's objections because the secretary is a high-ranking civil servant who oversees not only major agencies like the Centers for Medicare and Medicaid Services but also the implementation of Obama's signature health care law. Her public email address is Kathleen.Sebelius(at)hhs.gov.
At least two other senior HHS officials - including Donald Berwick, former head of the Centers for Medicare and Medicaid Services, and Gary Cohen, a deputy administrator in charge of implementing health insurance reform - also have secret government email addresses, according to the records obtained by the AP.
The Interior Department gave the AP a list of about 100 government email addresses for political appointees who work there but none for the interior secretary at the time, Ken Salazar, who has since resigned. Spokeswoman Jessica Kershaw said Salazar maintained only one email address while serving as secretary but she would not disclose it. She said the AP should ask for it under the Freedom of Information Act, which would take months longer.
The Labor Department initially asked the AP to pay just over $1.03 million when the AP asked for email addresses of political appointees there. It said it needed pull 2,236 computer backup tapes from its archives and pay 50 people to pore over old records. Those costs included three weeks to identify tapes and ship them to a vendor, and pay each person $2,500 for nearly a month's work. But under the department's own FOIA rules - which it cited in its letter to the AP - it is prohibited from charging news organizations any costs except for photocopies after the first 100 pages. The department said it would take 14 weeks to find the emails if the AP had paid the money.
Fillichio later acknowledged that the $1.03 million bill was a mistake and provided the AP with email addresses for the agency's Senate-confirmed appointees, including three addresses for Harris, the acting secretary. His secret address was harris.sd(at)dol.gov. His other accounts were one for use with labor employees and the public, and another to send mass emails to the entire Labor Department, outside groups and the public. The Labor Department said it did not object to the AP publishing any of Harris' email addresses.
In addition to the email addresses, the AP also sought records government-wide about decisions to create separate email accounts. But the FOIA director at HHS, Robert Eckert, said the agency couldn't provide such emails without undergoing "an extensive and elongated department-wide search." He also said there were "no mechanisms in place to determine if such requests for the creation of secondary email accounts were submitted by the approximately 242 political appointees within HHS."
Late last year, the EPA's critics - including Republicans in Congress - accused former EPA Administrator Lisa Jackson of using an email account under the name "Richard Windsor" to sidestep disclosure rules. The EPA said emails Jackson sent using her Windsor alias were turned over under open records requests. The agency's inspector general is investigating the use of such accounts, after being asked to do so by Congress.
An EPA spokeswoman described Jackson's alternate email address as "an everyday, working email account of the administrator to communicate with staff and other government officials." It was later determined that Jackson also used the email address to correspond sometimes with environmentalists outside government and at least in some cases did not correct a misperception among outsiders they were corresponding with a government employee named Richard Windsor.
Although the EPA's inspector general is investigating the agency's use of secret email accounts, it is not reviewing whether emails from Jackson's secret account were released as required under the Freedom of Information Act.
The EPA's secret email accounts were revealed last fall by the Competitive Enterprise Institute, a conservative Washington think tank that was tipped off about Jackson's alias by an insider and later noticed it in documents it obtained the FOIA. The EPA said its policy was to disclose in such documents that "Richard Windsor" was actually the EPA administrator.
Courts have consistently set a high bar for the government to withhold public officials' records under the federal privacy rules. A federal judge, Marilyn Hall Patel of California, said in August 2010 that "persons who have placed themselves in the public light" - such as through politics or voluntarily participation in the public arena - have a "significantly diminished privacy interest than others." Her ruling was part of a case in which a journalist sought FBI records, but was denied.
"We're talking about an email address, and an email address given to an individual by the government to conduct official business is not private," said Aaron Mackey, a FOIA attorney with the Reporters Committee for Freedom of the Press. He said that's different than, for example, confidential information, such as a Social Security number.
Under the law, citizens and foreigners may use the FOIA to compel the government to turn over copies of federal records for zero or little cost. Anyone who seeks information through the law is generally supposed to get it unless disclosure would hurt national security, violate personal privacy or expose business secrets or confidential decision-making in certain areas.
Obama pledged during his first week in office to make government more transparent and open. The nation's signature open-records law, he said in a memo to his Cabinet, would be "administered with a clear presumption: In the face of doubt, openness prevails."
Thanks for reading CBS NEWS.
Create your free account or log in
for more features.