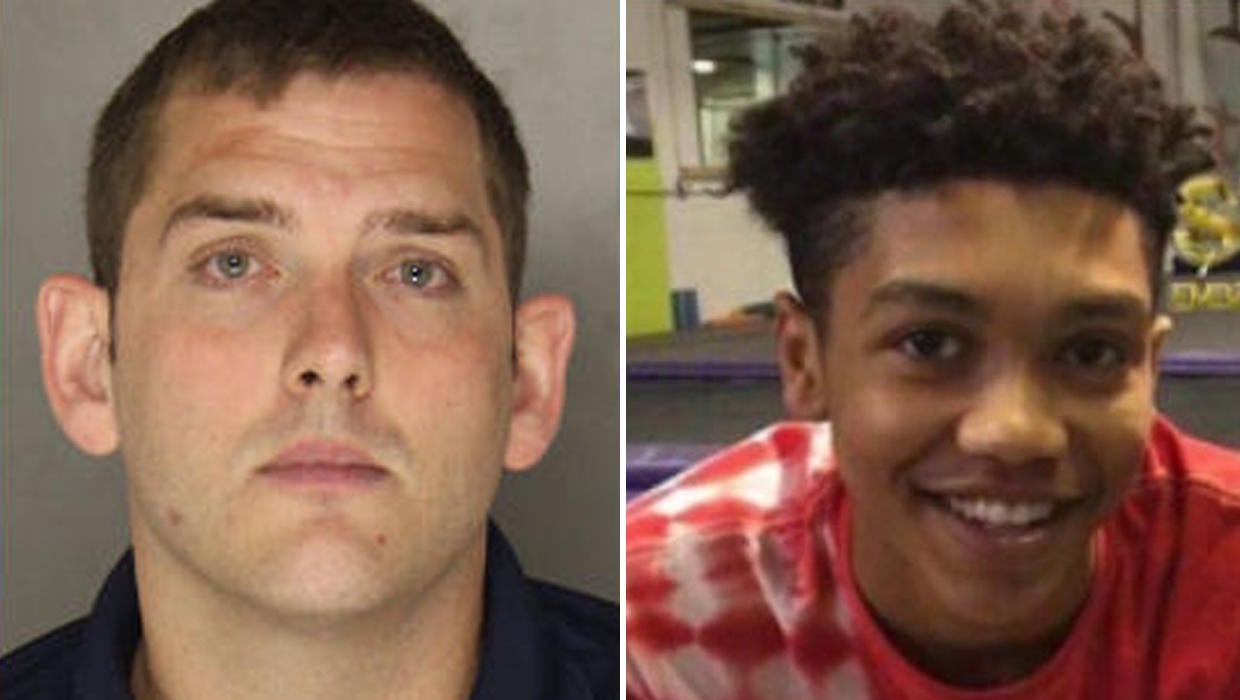 Antwon Rose Jr. death: East Pittsburgh Officer Michael Rosfeld charged with criminal homicide
PITTSBURGH -- The East Pittsburgh Police officer who fatally shot 17-year-old Antwon Rose Jr. on June 19 has been charged with criminal homicide. According to court records, East Pittsburgh Police Officer Michael Rosfeld was formally charged Wednesday morning.
In a criminal complaint filed in the case, detectives cite witnesses who said Rose clearly had nothing in his hands when he was shot, contradicting what Rosfeld initially told investigators.
Rose's family stood by, crying and wearing shirts that read "Justice for Antwon," as their attorneys spoke at a press conference Wednesday. Attorney Lee Merritt said the family is "cautiously optimistic" about the charge being filed, but said "criminal charges alone are going to be insufficient."
"We are in it for the long haul, to see this process through to conviction," Merritt said.
Rosfeld was conducting a traffic stop of the vehicle Rose was riding in, which police said fit the description of one used in a drive-by shooting that night. He told investigators he had ordered the driver out of the car, and down on the ground, when Rose got out of the vehicle.
According to Allegheny County District Attorney Stephen Zappala, Jr., Rose can be seen on witness video showing his hands before fleeing. No weapon was found on his person.
Rosfeld first told investigators that Rose "turned his hand toward" Rosfeld, who "saw something dark that he perceived as a gun," detectives wrote in the complaint. But when asked to repeat his version of events, Rosfeld's story changed, detectives wrote.
"During that rendition, Rosfeld told the detectives that he did not see a gun when the passenger emerged and ran. When confronted with this inconsistency, Rosfeld stated he saw something in the passenger's hand but was not sure what it was," detectives wrote in the complaint. "In addition, Officer Rosfeld stated that he was not certain if the individual who had his arm pointed at him was still pointing at him when he fired the shots."
Rosfeld opened fire, striking Rose three times from behind. Rose died from his injuries.
Criminal homicide is a broad category that includes manslaughter and murder. Pennsylvania prosecutors typically specify what subsection of homicide they will pursue later in the case.
A medical examiner determined Rose was struck in the cheek -- exiting through the nasal passage -- the right elbow from behind, and in the mid-back, which was the fatal shot, Zappala said during a press conference Wednesday. The bullet lodged in Rose's chest and was determined to be from Rosfeld's service weapon, Zappala said.
Rosfeld's actions were intentional and he was not acting to prevent death or serious injury, Zappala said.
"You do not shoot somebody in the back if they are not a threat to you," Zappala said.
Criminal homicide is a broad category that includes manslaughter and murder. Pennsylvania prosecutors typically specify what subsection of homicide they will pursue later in the case. Zappala said the officer's actions clearly support a third-degree murder conviction but they will ask the jury to consider a full range of charges, including first-degree murder.
Zappala said Rosfeld is remorseful.
CBS Pittsburgh reports that according to sources, Rosfeld had only been on duty in East Pittsburgh for three weeks, and he was formally sworn in about 90 minutes before the fatal shooting. Rosfeld had been working as a police officer in the region since 2011.
He had previously worked in Harmarville and Oakmont. He also worked for the University of Pittsburgh Police Department and was reportedly dismissed for cause from the university. The university turned his personnel file over to county investigators as part of the investigation.
Rose family attorneys said they have filed a writ to obtain he personnel file. They said they believed it would show "prior egregious behavior" and a history of falsifying reports. Asked by reporters if he saw anything in Rosfeld's past employment records that raised concerns, Zappala said yes but declined to elaborate.
The shooting happened around 8:30 p.m. on June 19 in East Pittsburgh. Police were initially called to Kirkpatrick Avenue in North Braddock for reports of a drive-by shooting. At the scene, they found a 22-year-old man injured. That man was taken to the hospital, where he was treated and released for a wound to the abdomen that may have been a graze wound from a bullet or a building fragment, Zappala said.
Police obtained surveillance footage of a vehicle that was seen fleeing the scene of that shooting and alerted nearby departments. The drive-by shooter appeared to be sitting in the rear passenger seat. Rose was sitting in the the front passenger seat of the vehicle Rosfeld pulled over in in East Pittsburgh around 10 minutes later.
Zaijuan Hester, 17, another passenger in the vehicle, fled and remained at large for a week. He was later located and arrested on June 26. He will face charges in connection to the North Braddock shooting. Video shows the person who fired shots from the car in North Braddock was in the backseat and wearing a dark tee-shirt, which Hester was wearing, Zappala said. Rose was riding in the front passenger seat and wearing a white tee-shirt, he said.
Other evidence indicates Hester was the gunman, he said.
Rose was not involved in the North Braddock shooting other than being in the car, Zappala said.
"By all accounts Mr. Rose never did anything in furtherance of any crimes in North Braddock," Zappala said.
Hester was charged as an adult with aggravated assault, possession of firearm by a minor, receiving stolen property, persons not to possess firearms, and criminal attempt.
Neither Rose nor Hester were armed when Rosfeld opened fire, and Rosfeld admitted he never saw a weapon, Zappala said, which he called "significant."
Zappala said said two weapons, both stolen, were found in the car, one of which was used in the North Braddock shooting and another that was linked to three or four other crimes, Zappala said. Rose had an empty clip in his pocket, Zappala said.
Rosfeld was placed on paid administrative leave after the shooting, which has triggered protests in the area.
Rosfeld's bail, which was opposed by prosecutors, was set at $250,000, according to court documents. Rosfeld was released and a preliminary hearing is set for July 6.
Rosfeld's attorney Patrick Thomassey told CBS Pittsburgh he doesn't believe this is a murder case. Thomassey said his client was in a dangerous situation.
"Clearly, the people in the car were armed. Clearly at least one person in the car was firing at somebody and shot somebody right up the road. Police officers are there to protect," Thomassey said.
He said he believes his client had the "right to shoot" under the law.
Rose family attorneys said the bail for low for a murder case and said it would represent their first legal hurdle. Zappala said he had spoken with Rose's family.
"They are very distraught about the loss of their son, who by all accounts was a good kid," Zappala said.
Thanks for reading CBS NEWS.
Create your free account or log in
for more features.