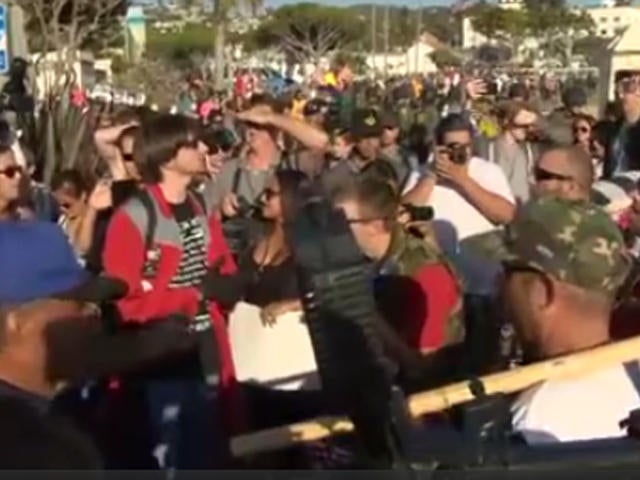 Anti-immigration group dwarfed by counter-demonstrators at beach
LAGUNA BEACH, Calif. -- A small group of people demonstrating against illegal immigration in Laguna Beach were outnumbered on Sunday by hundreds of counter-protesters who gathered on the same stretch of sand to denounce racism in the coastal California city.
The group America First! said it wanted to focus attention on what it says are victims of DUI crashes and gang-related crimes committed by people living illegally in the U.S. Organizer Johnny Benitez said the group also wanted to protest "cheap labor" from those here illegally.
"I think immigration should happen when it's beneficial to the host country," Benitez said. "That's not happening in the U.S. right now."
They were dwarfed by a larger group of counterdemonstrators, some of whom shouted "Go away" and "No hate," and carried signs that said "Immigrants are welcome here."
Some 200 police officers, some on horseback, separated the groups as business carried on in the picturesque city of about 23,000 people, reports CBS Los Angeles.
A short distance away, beachgoers gathered for a drum circle and a plane flew overhead pulling a banner that said "Hate is beneath us."
Police said there were no significant incidents as officers continued to monitor the crowd Sunday evening.
One counter-protesters remarked to CBS Los Angeles, "We're telling them to go home. us uniting together against them -- this is what makes amrica great. ... Every single one of us, from different ethnicities, different cultures, different religions, standing together really makes us the land of the free. Not them."
Anthony Bruneio, 37, said he came to engage with the America First! protesters and said he found common ground with Denise Ruiz, 39, who said she came to remember "those who are lost."
"Both sides agree that the extremists are defining the groups," Bruneio said.
"I think we all believe in a lot of the same things," Ruiz said. "Most of the media over-exaggerate."
The gathering came a day after a large crowd converged in Laguna Beach for what was called a peace and unity rally. Marchers held signs with slogans like "Unity over division, love over hate" and "Make America human again."
Organizers said Saturday's demonstration was a response to the planned America First! rally and to the deadly events at a white nationalist gathering last weekend in Charlottesville, Virginia.
Thanks for reading CBS NEWS.
Create your free account or log in
for more features.