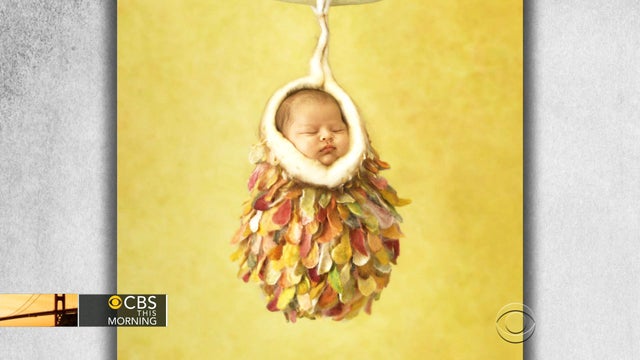 Inside Anne Geddes' world of baby photography
Just in time for Mother's Day, photographer Anne Geddes is out with a new book of iconic baby photos.
Her camera has captured images of hundreds of infants. Few photographers have a body of work as identifiable as Geddes'.
"I'm in a very lucky situation, in that people actually don't recognize me on the street," Geddes told "CBS This Morning" contributor Lee Woodruff. "They recognize the name, but when I meet people they invariably say, 'Oh my God, I didn't think you'd look like that.' And I'm like, what did you expect? I think they kind of expected a cross between Mother Theresa and Laura Ashley or something."
Geddes, who recently moved her business from her native Australia to New York City, has been the baby photographer of the last two decades, creating a big name for herself by working with some very tiny subjects.
Asked how she began to come up with ideas for the babies' outfits and unusual settings, Geddes said, "Well, people go, 'Oh you're Anne Geddes, oh the flowerpots!' And I'm like, have I got one hanging around my neck? The very first flowerpot image that I created was a total accident.
"Look, I'm one of these people, I do not have a green thumb. I look at plants, and they wither and die. And so I had this empty flowerpot that was sitting in my studio, and a mother came in with this little 6-month-old baby, who was wearing a little woolen hat, a little fluffy woolen hat, and I saw the flowerpot and I thought, well, wow, she'd look like a lovely little cactus. And so we sat her in the flowerpot, and it was a black-and-white image, and that was that."
That concept led to Geddes' first coffee-table book, "Down in the Garden," which became the first of two New York Times best-sellers. Geddes has sold more than 19 million books in 84 countries.
A mother of two herself, Geddes started her baby photography with her own daughter, snapping a photo of Stephanie to use as the family's Christmas card.
Now 30 years old, Stephanie is also a photographer, as is her sister Kelly, and both often work with their mom, helping with social media and business management.
Geddes said, "As the girls were getting older, I thought it would be lovely to get the opportunity to have them appreciate what's actually involved in doing what I do. It's really nice that they can actually contribute so much to what I'm doing too. It's incredibly meaningful for me to be able to work with my daughters."
Geddes' favorite quotes about motherhood are paired with some iconic and new photos in her new book, "Little Blessings."
She said, "These are the sentiments I had when I brought our two girls home for the first time. Every single mother will be able to identify with it. It just gets to the heart of who you are."
These days, Geddes focuses most of her work on giving back through her own philanthropic trust, which she started in 1992 to help prevent child abuse, and in partnership with the U.N. and March of Dimes.

But whether it's smiling children or sleeping babies, Geddes still seems to have the magic touch.
Woodruff remarked, "You have that one picture of the baby in the little pod, with just his head coming out ... I opened that in the book, and I said, 'I would pay money to be that person right now - to have you put me in that little pod and put me to sleep like that.'"
Geddes said, "Only babies sleep like babies. People think, oh, a baby shoot needs to be chaotic and noisy, but it's never really like that. If everything revolves around them, and they're the ultimate egos in the room, then everything tends to go just fine. But that's it. I don't want anyone calling me at 3 a.m. going, 'Get over here and sort this out, if you're so clever.'"
"The baby whisperer!" Woodruff said.
"Yes, 'the baby whisperer,' yeah," Geddes said. "I don't think there's any such thing."
Thanks for reading CBS NEWS.
Create your free account or log in
for more features.