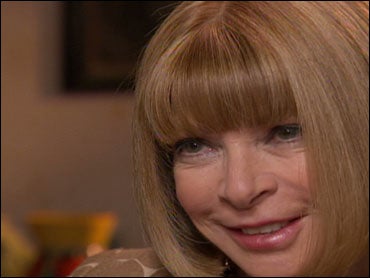 Anna Wintour, Behind The Shades
This story was first published on May 17, 2009. It was updated on Sept. 17, 2009.
She is said to be the most powerful woman in fashion and she does nothing to dispel that belief. Her name is Anna Wintour, a name that strikes terror in some, loathing in others, and transforms yet others into obsequious toadies.
It should also be said she commands a loyal band of friends and admirers. Nevertheless, she was the inspiration for the novel and movie "The Devil Wears Prada."
For 21 years, this divorced mother of two has been editor of Vogue, the last word in sophisticated fashion and fantasy.
The aura of mystery that surrounds the 59-year-old Wintour is palpable. She is a paparazzi and gossip column magnet. Every twitch, every frown, every suppressed smile is recorded.
She's been portrayed as Darth Vader in a frock, or less harshly, as "Nuclear Wintour." Or is she really just peaches and cream, with a touch of arsenic?
---
Watch exclusive videos and outtakes of Morley Safer's interview with Vogue editor Anna Wintour.
---

"The blurb on your unauthorized biography reads 'She's ambitious, driven, needy, a perfectionist. An inside look at the competitive bitch-eat-bitch world of fashion' Accurate?" 60 Minutes correspondent Morley Safer asked Wintour.

"Well, I am very driven by what I do. I am certainly very competitive. What else? Am I needy?" she replied. "I'm probably very needy, yes. I'm, a bitch…."

"Perfectionist?" Safer asked.

"Perfectionist?" she asked.

"Well, let's try bitch first," Safer said.

"Well, I hope I'm not. I try not to be. But I like people who represent the best of what they do and if that turns you into a perfectionist than maybe I am," she replied.

High above Times Square, Anna Wintour oversees a small army of girls - coiffed, skinny, beautiful and running scared - the worker bees whose job it is to inspire women to dream.

The pages of Vogue conjure up a never-never land of beauty, of the sweet life. The unattainable comes to glossy life. Under Wintour's direction, Vogue has been hugely successful.

"Vogue is the best of everything that fashion can offer, and I think we point the way. We are, you know, a glamorous girlfriend," she told Safer.

But the glamorous girlfriend, like Vogue readers, is facing leaner times: "I do wanna make the point that September really has to be about value. But we don't want to give up completely the dream and the fantasy but I also feel like we need to have a sense of being more grounded," she told her staff during an editorial meeting.

Wintour is involved in every detail of the magazine: the clothes, editing the pictures and articles. She is decisive, impatient and bears a look that says "I'm the boss, and you're boring."

"Should I do the faces of the moment because that's what we have on the cover or should I just still keep thinking?" one editor asked her, presenting a spread.

"Keep thinking," Wintour curtly replied.

"An editor in the final analysis is a kind of the dictator - a magazine is not a democracy?" Safer asked.

"It's a group of people coming together and presenting ideas from which I pick what I think is the best mix for each particular issue but in the end the final decision has to be mine," she explained.

There was "Miranda Priestly," the beastly editor in "The Devil Wears Prada," featuring Meryl Streep as Anna incarnate.

"I've heard that Miranda Priestly is just a teddy bear compared to Anna Wintour," Safer said.

"It was entertainment. It was not a true rendition of what happens within this magazine," she replied.

"I understand that. But where people made comparisons with you - that coldness, that Anna must not be spoken to when she's on the elevator," Safer pointed out.

"Oh yeah. I heard that. You're not allowed to get in the elevator with me," Wintour said laughing.

"Well, you can get on, but just keep your mouth shut?" Safer asked, laughing.

"That's an exaggeration. I guess in response, I can only say that. I have so many people here, Morley, that have worked with me for 15, 20 years, and, you know, if I'm such a bitch, they must they must really be a glutton for punishment because they're still here," Wintour said.

"Well, I wouldn't use the word 'bitch.' I would say a certain coldness," Safer remarked.

"Well, we're here to work. There's on duty time and off duty time and we're drawn together by our passion for the magazine. If one comes across sometimes as being cold or brusque, it's simply because I'm striving for the best," she explained.

"It's not like a tea party here. We work very hard," Vogue's editor-at-large Andre Leon Talley told Safer.

He has worked with Anna for decades. Asked what kind of boss she is, Talley told Safer, "Let's say that Anna can be intimidating. I think that's her armor, to intimidate. To give the people the sense that she is in charge."

"She is not a person who's going to show you her emotions ever. She's like a doctor, when she's looking at your work, it's like a medical analysis," Talley added. "Some of us can't cope with that, we need to be loved."

Fat chance of that, says Vogue Creative Director Grace Coddington, another veteran colleague. "I think she enjoys not being completely approachable, you know. Just her office is very intimidating, right? You have to walk about a mile into the office before you get to her desk and I'm sure it's intentional," Coddington said.

She told Safer she had never seen Wintour looking less than perfect.

"That must take terrific discipline," Safer remarked.

"I think she's a very disciplined woman," Coddington agreed.

She is also a very pampered one: Conde Nast, her publisher, picks up the bill for her hair and makeup every day of the week, and her rumored $200,000 a year clothing allowance.

"You made yourself the personification of Vogue. I mean, look at you. Not a hair out of place. Do you feel that that's your mission in life? To appear perfect?" Safer asked.

"It's very important to me that I look good when I go out publicly. I like looking at my clothes rack in the morning and deciding what to pick out. I enjoy fashion. Morley I mean, I wouldn't be in this job if I didn't," she explained.

Asked why she often dons her large, trademark sunglasses, Wintour told Safer, "Well, they're seriously useful. I mean, I can sit in a show, and if I'm bored out of my mind, nobody will notice. And if I'm enjoying it, nobody will notice. So, I think at this point they've become, you know, really armor."

Wintour was born in London, the daughter of Charles Wintour, the editor of the London Evening Standard. He was a tough-minded intellectual. Anna dropped out of high school at 16.

"I wasn't academically successful. And maybe I've spent a lot of my career trying to make up for that," she told Safer.

"Your father, who I knew only slightly in England, he had a tough reputation," Safer remarked.

"Yes. 'Chilly Charlie,'" Wintour replied.

"And not unlike yours," Safer pointed out. "And his reporters were scared of him."

"Yes. But look what he created. I mean, he created a great newspaper. And I certainly did learn this from him: people respond well to someone who's sure of what they want," she said.

And Wintour is nothing but sure. That's most apparent when twice a year her majesty takes her place at the ready-to-wear fashion shows in New York, Paris and Milan where she sits in judgment of the work of the world's most eminent designers.

To an outsider, these shows are another planet, part dazzling, part Rocky Horror show. The models seem as angry as they are emaciated, wearing clothes fit for a cadaver, and shoes that make stilettos seem sensible, and a legion of camp followers, and campy followers, chasing the celebrities du jour and the people who dress them

"You come here to be inspired. You come here to see the best of the best," Wintour told Safer. "One just wants to rush back and put it in the pages of the magazine and translate it as fast as you can to the reader."

It's a planet where Wintour feels comfortably at home - where she acts as a cheerleader, powerbroker and consultant.

Asked what bores her, Wintour said, "Mediocrity. If you see a collection that is that you feel a designer has been lazy or taking inspiration from other designers, it doesn't as much bore me as anger me."

Neither Vogue, nor Anna will openly criticize designers; she just omits them from the magazine. It's death by "annanymity." It's the kind of power that makes designers like Karl Lagerfeld sing her praises.

"She is the most famous fashion journalist in the world," Lagerfeld told Safer. "She says what she thinks. That's why some people think sometimes she is a little tough. But I like tough people, and I like tough woman. She has to give a cold image to keep things going. That's not that easy, huh? It's like running a mad house, a fashion magazine."

When she drops in on a designer it is make or break time. Nicholas Ghesquiere of Balenciaga was anxious to please, when Wintour stopped by at his studio.

"Do you keep her in mind when you're working on a new collection or a new design?" Safer asked.

"There is always a moment when you question if Anna will like it or not, for sure. I think any designer who says the contrary would lie," Ghesquiere replied.

John Galliano, who designs for Dior, calls Wintour his fairy Godmother. "Oh my goodness, in all my success, I mean, without her support I certainly wouldn't be at the house of Dior today," he said.

"She has an eye. To have an eye is key," Bernard Arnault told Safer.

Arnault, who owns Dior, is the chairman of LVMH, the largest luxury conglomerate in the world. When Wintour recommended to the richest man in France that he hire Galliano, it was implicit that Vogue would feature Galliano's designs.

"When I hired John, I discussed at length with her obviously at the time it was a risk, because he was not as well-known as he is today. But I was comforted by Anna about what he could do and finally I took the risk," Arnault recalled.

"That gives you a remarkable kind of power. Much more power than any mere editor-in-chief of a magazine normally has," Safer remarked.

"Well, we can advise, Morley. We can't dictate. And obviously, in the end, those gentlemen are very capable of making up their own minds," Wintour replied.

"But they have the remarkable habit of going along with your ideas," Safer said.

"Well, we can only point them in that direction," she replied.

She does even more: she helps choose the next generation of designers, like Alexander Wang.

It's a mutually beneficial relationship, giving Vogue an inside track on the next hot designer.

"And how much is that one, Alexander?" Wintour asked, inspecting a dress on a model.

"This one retails for $1,200," Wang replied.

"It's very reasonable," Wintour remarked.

Reasonable? Perhaps if you happen to have a $200,000 clothing allowance.

But for sheer glitz, nothing beats the soiree at New York's Metropolitan Museum. Every year Anna organizes a benefit which so far has raised nearly $50 million for the museum's costume institute. When Anna calls, the fashion houses are only too eager to cough up as much as $250,000 a table.

This year there's a certain nervous splendor to this recession procession; nevertheless the want-to-be seen show up in hordes. On that night, the rag trade rules - a night to flaunt it, whatever it is.

Anna is in total control, despite the rumors that in these really thin economic times, and after 20 years on the throne, her days may be numbered

"Are you thinking that it may soon be time to pack it all in?" Safer asked.

"Not at all. To me this is a really interesting time to be in this position and I think it would be in a way irresponsible not to put my best foot forward and lead us into a different time," she replied.

"Do you see, out there, in these outer offices, some young upstart quietly taking the measure of this office?" Safer asked.

"Probably several," Wintour said.

Asked if she'd go quietly when the time comes, Wintour told Safer, "Certainly. Very quietly."

Produced by Ruth Streeter
Thanks for reading CBS NEWS.
Create your free account or log in
for more features.