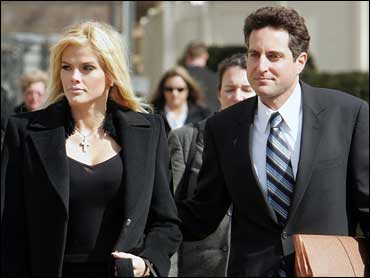 Anna Nicole Sedated After Son's Death
Anna Nicole Smith frantically tried to revive her stricken son and had to be sedated after he died, her attorney said Wednesday. Authorities termed the death "suspicious" and said criminal charges could be filed.
Daniel Smith died Sunday while visiting his mother, a reality TV star and former Playboy playmate, in her hospital room three days after she gave birth to a baby girl.
"The devastation and grief over Daniel's sudden death, coupled with the sedation has been so extreme that Anna Nicole experienced memory loss of the event," attorney Michael Scott said.
The chief inspector of the Bahamas coroner's office on Wednesday called the death of the 20-year-old Smith "suspicious" and a formal inquiry that could lead to criminal charges was scheduled for next month.
Police also revealed that a third person was in the hospital room at the time of the death.
But Scott said that the third person was another one of Anna Nicole Smith's attorneys, Howard K. Stern.
He said Anna Nicole Smith and Stern continued efforts to revive Smith even after he had been proclaimed dead by staff at Doctors Hospital in Nassau.
"Anna Nicole was so distraught at the loss of Daniel that she refused to leave his side and it was necessary to sedate her in order to check her out of the hospital," Scott read from a prepared statement.
He said she suffered memory loss and that it "was necessary for Howard to tell Anna again that Daniel had passed away," he added.
Authorities said they believe they know what killed Smith but were waiting for a toxicology report to confirm the findings.
Her Majesty's Coroner Linda P. Virgill scheduled the inquest for the week of Oct. 23, saying it "is the right course of action." If jurors at the inquest decide a crime took place, the case would be sent to the attorney general's office, authorities said.
"What we are investigating presently is how, when and by what manner Daniel came to meet his death," Virgill told Brian Andrews with CBS' WFOR-TV in Ft. Lauderdale.

---

Watch WFOR-TV Report

---

"Whenever there is a suspicious death we would have an inquest to determine how the person died," Bradley Neely, chief inspector of the coroner's office, told Associated Press Television News.

Anna Nicole Smith, who went to the U.S. Supreme Court this year to sue for an inheritance, was in seclusion in the Bahamas with family and friends, Scott said. The identity of the newborn girl's father has not been publicly disclosed.

"You would expect any parent who sustained this kind of loss" to seek seclusion, Scott said. Wednesday night she was reported to be mourning the loss of her son at Lyford Key, a 45-minute drive away from the center of the Bahamas.

The autopsy and toxicology reports will not be made public until the inquest is held, to avoid prejudicing the jury, Virgill said.
Jurors will meet in a courtroom inside a weathered, pink-pastel judicial building in the seaside capital, Nassau. If the inquest, which will be open to the public, determines a crime was committed, the case would be sent to the attorney general's office.
Virgill said there was no sign of physical injury to Smith, who was seen helping make his 38-year-old mother comfortable before he died. Anna Nicole Smith noticed him slumped in a chair Sunday morning and called for help. Hospital staff unsuccessfully tried CPR and other measures to revive him.
"On Sunday, Sept. 10, at 6:20 a.m., it was noted by one of our associates that Daniel was attending to his mother's comfort. Subsequently, he was observed to be asleep on multiple occasions," Barry Rassin, the president & CEO of Doctors Hospital, told the Nassau Guardian newspaper. Rassin said Daniel was pronounced dead at 10:05 a.m. on Sunday.
Scott dismissed media reports that Anna Nicole Smith's son had antidepressants or other drugs in his system.
"It's sheer speculation. It's irresponsible speculation, may I point out," he told reporters.
Ferguson, the assistant police commissioner, told the AP that no drug paraphernalia or traces of illegal drugs were found on Daniel Smith, in the hospital room or near the room.
Police were reconstructing Smith's steps since his arrival Saturday in the Bahamas, Ferguson said. They believe Daniel Smith went directly to Doctors Hospital in Nassau after arriving in the Bahamas by plane, Ferguson said. In his statement, Scott said Howard K. Stern picked up Daniel from the airport on Sept. 9 and that they drove straight to the hospital.
Scott also said that the night before he died Daniel assisted his mother to the bathroom on several occasions "as she was still in a lot of pain from her C-section."
When Smith's body is released to Butler's Funeral Homes & Crematoriums, it will be repatriated and returned to California, funeral home officials said Tuesday.
Anna Nicole gave birth to a healthy 6-pound, 9-ounce girl at the Nassau hospital Sept. 7, and, according to a posting on her Web site, Daniel Smith had traveled to the Caribbean country "to share in the joy of his baby sister."
"The newborn baby is doing excellent, one cannot have expected anything else," Dr. Hubert Minnis, Anna Nicole Smith's obstetrician told Larry King on Tuesday night's broadcast of "Larry King Live." Minnis is the physician who performed the cesarean section on the model.
Minnis told King he had checked on the grieving mother that day. "She is doing very well. I saw her today, just checking on the cut of the cesarean section," he said. "She's in perfect condition, improving remarkably. Improving like we had expected her to. I expect her to be up and around just like anyone else who has had such a procedure, in a very short time, and traveling if she wants to very, very soon."
As for how she is doing emotionally, Minnis said: "That's a very interesting question … She, like any mother, would be experiencing some grief, if you yourself have experienced the loss of a child, under any circumstances, regardless of how strong one are … one cannot hide such a thing. It's a great emotional shock."
Minnis was not present when Daniel Smith died, but he did see Anna Nicole after her son's death. "Like any mother she would have been experiencing some degree of grief and be emotionally stricken," he said. "That's expected of anybody. If one had acted differently then one would be very concerned."
Alex Goen, CEO of Trimspa, a line of weight-loss products endorsed by Anna Nicole, told King he had spoken to her on the phone for about an hour prior to the broadcast. Goen said she was so emotional that it was hard to understand the conversation.
Larry Sutton, a staff editor for People magazine, says Anna Nicole is taking her son's death hard. "She's an emotional wreck, and who wouldn't be in a situation like that?" Sutton told CBS Radio News.
Sutton said that a lot of questions remain unanswered.
"It's a 20-year-old young man who died. That's not a normal circumstance. That's why people's minds raise slightly. But wait and see what toxicology reports have to say," Sutton said. "What we're all waiting for here is results of the autopsy, which should be coming out Friday morning, at least that's what the chief medical examiner down there told our reporters. That's going to tell us a lot, because right now the death remains a mystery."
Daniel was the son of Anna Nicole and Bill Smith, who married in 1985 and divorced two years later. The son had small roles in her movies "Skyscraper" and "To the Limit." He also appeared on the E! reality series "The Anna Nicole Show."
Anna Nicole Smith married Texas oil tycoon J. Howard Marshall II in 1994, when she was 26 and he was 89. He died the following year.
She then feuded with Marshall's son, Pierce Marshall, over her entitlement to the tycoon's estate before he died in June at age 67.
Smith won a $474 million judgment, which was cut to about $89 million, and eventually reduced to zero. In May, the U.S. Supreme Court ruled that Smith could continue to pursue her claim in federal courts in California, despite a Texas state court ruling that Marshall's youngest son was the sole heir.
Thanks for reading CBS NEWS.
Create your free account or log in
for more features.