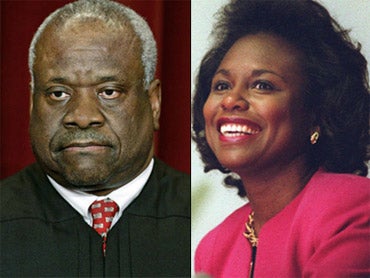 Anita Hill vs. Clarence Thomas: The Backstory
With a brief voicemail message, the wife of Supreme Court Associate Justice Clarence Thomas has revived the scandalous allegations from 19 years ago that Thomas had sexually harassed former employee Anita Hill.
Virginia Thomas left a message earlier this month with Hill, now a Brandeis professor, asking for an apology for the allegations made during Thomas' Senate confirmation hearings.
(Scroll down to watch Clarence Thomas on "60 Minutes" in 2007)
Anita Hill: No Apology to Clarence Thomas
Clarence Thomas' Wife Seeks Apology from Anita Hill
The testimony from Hill, a former aide to Thomas at the Department of Education and the Equal Employment Opportunity Commission, led Thomas to refer to her as "my most traitorous adversary" in his 2007 book "My Grandfather's Son."
In 1991, Hill submitted a confidential statement to the Senate Judiciary Committee alleging that Thomas had sexually harassed her 10 years earlier, when they were both single. The FBI had already investigated the charges and given the committee what was called an inconclusive report. The committee decided not to pursue the matter. But two days before the full Senate was expected to confirm Thomas, Hill's statement was leaked to reporters.
"It was only after they had been leaked illegally, to the public and the press, that then it's outta hand. It's in the feeding frenzy," Thomas told "60 Minutes" Correspondent Steve Kroft in 2007 profile.
Clarence Thomas: The Justice Nobody Knows
The Private Clarence Thomas (Part 1)
The Private Clarence Thomas (Part 2)
Under pressure from women's groups and Democrats in the Congress, Hill was summoned before the Judiciary Committee to testify before live television cameras. More than 20 million households tuned in to watch the proceedings.
Audio Clips from Anita Hill's 1991 Testimony
Hill accused Thomas of making inappropriate remarks. She said one such comment came as Thomas was drinking a soft drink in the office.
"He got up from the table at which we were working, went over to his desk to get the Coke, looked at the can and asked, 'Who has put pubic hair on my Coke?'" Hill told senators.
Hill also testified that Thomas would boast about being well-endowed and has experience in pleasing women intimately. She also said she felt uncomfortable about her job situation.
"I began to feel severe stress on the job," Hill told the committee. "I began to be concerned that Clarence Thomas might take out his anger with me by degrading me or not giving me important assignments. I also thought that he might find an excuse for dismissing me."
When it came time for Thomas to publicly respond to Hill's allegations, he turned the tables on his interrogators and for all intents and purposes ended the debate.
"This is a circus. It's a national disgrace," Thomas said during the hearing. "It is a high-tech lynching for uppity blacks who in any way deign to think for themselves and it is a message that unless you kowtow to an old order you will be lynched, destroyed, caricatured by a committee of the U.S. Senate rather than hung from a tree."
On Oct. 15, 1991, the Senate confirmed Thomas' nomination 52-48, the closest Supreme Court confirmation vote in history.
In the voicemail message, the contents of which were confirmed by CBS News, Virginia Thomas said, "I just wanted to reach across the airwaves and the years and ask you to consider something. I would love you to consider an apology sometime and some full explanation of why you did what you did with my husband. So give it some thought and certainly pray about this and come to understand why you did what you did. OK, have a good day."
In a statement Tuesday, Hill said she "certainly thought the call was inappropriate," and she contacted Brandeis security officials, who later informed the FBI, after hearing it. She said she had "no intention of apologizing because I testified truthfully about my experience and I stand by that testimony."
In her statement, Thomas said she meant no offense.
"I did place a call to Ms. Hill at her office extending an olive branch to her after all these years, in hopes that we could ultimately get passed what happened so long ago. That offer still stands, I would be very happy to meet and talk with her if she would be willing to do the same."
Thanks for reading CBS NEWS.
Create your free account or log in
for more features.