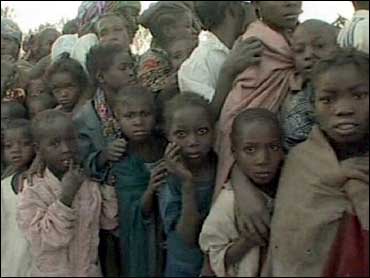 Angola's Missing Billions
More than $4 billion in oil revenue disappeared from Angolan state coffers between 1997 and 2002, even as its people suffered the ruins of 27 years of civil war, Human Rights Watch said in a report released Tuesday.
"While ordinary Angolans suffered through a profound humanitarian crisis, their government oversaw the suspicious disappearance of a truly colossal sum of money," Arvind Ganesan, director of the New York-based group's business and human rights program, said in a statement Tuesday. "This seriously undermined Angolans' rights."
President Jose Eduardo dos Santos' government denied any wrongdoing, claiming the missing funds could be explained by oil price fluctuations.
Angola is sub-Saharan Africa's largest oil exporter after Nigeria, producing more than 900,000 barrels per day.
During the war against the UNITA rebel group, oil revenue provided funding for the government's war effort. The fighting ended when the army tracked down and killed the insurgents' leader, Jonas Savimbi, in 2002.
Angola's plentiful oil reserves have earned the country growing attention from the United States and other Western countries as they have sought alternatives to Middle East crude.
State oil revenues surged after international companies such as BP, ExxonMobil and Total expanded their Angolan operations in the late 1990s, totaling $17.8 billion from 1997 to 2002 — about 85 percent of government income — according to the 93-page Human Rights Watch report.
A total of $4.22 billion of that money, representing about 9.25 percent of gross domestic product annually, is unaccounted for, according to the group's analysis of figures from the International Monetary Fund.
Meanwhile, an estimated 900,000 Angolans remain displaced; millions have almost no access to schools and hospitals, and nearly half the country's 7.4 million children suffer from malnutrition, according to U.N. figures.
Human Rights Watch said the missing funds are roughly equal to what was spent in the same period on social programs in the deeply impoverished country — $4.27 billion, including both government expenditure and initiatives funded through the United Nation's Consolidated Inter-Agency Appeal.
Angola's Finance Ministry spokesman Bastos de Almeida insisted currency fluctuations were to blame for the missing funds.
"Sonangol sells oil for a certain price on a certain day, but then the operation is logged days later at the state treasury," he said in the Angolan capital, Luanda, referring to the state-owned oil company, Sonangol.
He declined to elaborate, saying the government was preparing a full response to the report.
Human Rights Watch accused the government, controlled by the same party since the country's 1975 independence from Portugal, of corruption and mismanagement. Similar allegations have been made by Global Witness, Transparency International and other rights groups.
Despite promises to increase transparency, the government has refused to provide information about the use of public funds, the report said. It has also failed to establish hundreds of courts needed to hold government officials and others accountable for their actions, it said.
"There have been many initiatives to promote transparency in Angola, but each time, the government walks away," Ganesan said. "It's an issue of political will."
Angolan officials and aid groups have complained over the past year of dwindling international support, which they say is hampering aid efforts in the country. The level of corruption in Angola is one of the key concerns cited by foreign donors.
Human Rights Watch urged Angola's government to publish reports it commissioned with the World Bank to determine how much oil revenue is deposited into the country's central bank.
The group also called on the government to conduct audits of Sonangol and to participate in international initiatives to promote transparency.
"The Angolan government says the international community should do more to fund schools, hospitals and courts, but it refuses to explain where billions of dollars of government revenue went," Ganesan said. "Any further aid to Angola should be conditional on very strict requirements for transparency in the government budget."
Angola's civil war erupted in 1975 after the country won independence from Portugal. The United States backed Savimbi's faction against a Soviet-backed group.
According to the Energy Information Agency, Angola was the seventh biggest importer of oil to the United States in October, behind Canada, Mexico, Saudi Arabia, Venezuela, Nigeria and Iraq. Some 373,000 thousand barrels of Angolan oil came in each day.

Thanks for reading CBS NEWS.
Create your free account or log in
for more features.