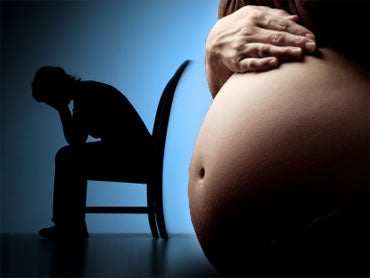 Anger over forced abortions reignites in China
(CBS News) Chinese activists have in recent years brought to light the grisly solution for a complex problem some local officials have imposed on women under the country's strict One-Child Policy for most families.
Forced abortions in China are not new, but the issue has again become a heated topic after a macabre photo depicting a woman lying in bed next to what appears to be an advanced-stage fetus made the rounds on China's equivalent to Twitter, Sina Weibo. Activists said the photo depicted 27-year-old Feng Jianmei, who had allegedly been detained in north China's Shaanxi province and forced to abort her 7-month pregnancy.
While it's impossible to confirm whether the photo was staged, the local government said in a statement that a preliminary probe found the case to be "basically true," Agence France Presse reports. While the statement doesn't say who exactly is to blame, local investigators have recommended the perpetrators be punished.
"This is a serious violation of the National Population and Family Planning Commission's policies, jeopardises the population control work and has caused uneasiness in society," the provincial government said on its website, according to AFP.
Deng Jiyuan, Feng's husband, told CNN his wife was illegally detained in a rural area and then forced to undergo the procedure. Deng, 29, said he had been trying to secure a birth permit for what would have been their second child, but could not afford to pay the approximately $6,300 fine demanded by officials.
Feng remains traumatized and in the hospital, Deng told CNN.
"I'm angry and want justice," Deng Jiyuan said. "They forced her to abort our seven-month-old child -- do they deserve to be called Communist Party officials who served the people?"
While forced abortions are not legal in China, activists say they are a rampant problem. Official statistics on forced abortions are hard to find, but the number of women having abortions at least voluntarily as a result of the One-Child Policy is large.
The advocacy group All Girls Allowed says an average of 8 million Chinese women annually have abortions. Having a male heir is of great importance in local culture, so in 2000, more than half of all abortions in China were a result of prenatal sex selection. As many as 27 percent - more than one in four women - in their 20s in China have undergone an abortion, All Girls Allowed claims.
The case of Feng Jianmei is not unique; there are other graphic photos of allegedly similar situations in China on advocacy groups' websites. But this incident has again drawn fire towards China's laws on contraception and family planning.
Recently, blind Chinese activist Chen Guangcheng caused an international incident when he tried to leave China because of the persecution he was apparently receiving for exposing the problem of forced abortions. After years of bringing the issue into the spotlight, local officials repeatedly harassed Chen and forced him into a kind of house arrest.
Chai Ling, founder of the All Girls Allowed advocacy group, said in a statement that the case is a clear sign that the government's family planning policies must be changed.
"President Hu Jintao said forced abortions do not happen in China, but this family's testimony shows that they do," Ling said. "China cannot continue to sanction the violence committed against its female citizens by family planning officials. Enough is enough. China must end the One-Child Policy and forced abortion."
Thanks for reading CBS NEWS.
Create your free account or log in
for more features.