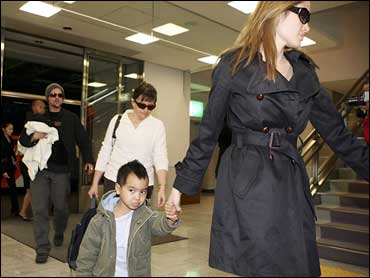 Angelina: 'Yes, I'm Pregnant'
Angelina Jolie is expecting a baby this summer with Brad Pitt, according to People magazine's Web site.
Pitt's publicist, Cindy Guagenti, told The Associated Press Wednesday that Jolie is pregnant and that Pitt is the father, confirming People magazine's earlier report.
"Yes, I'm pregnant," the magazine quoted Jolie as telling a charity aid worker Monday in the Dominican Republic, where she is filming "The Good Shepherd" with Matt Damon.
On The Early Show Wednesday, entertainment contributor and People magazine Editor-at-Large Jess Cagle noted to co-anchor Hannah Storm Jolie's method of confirming for the public that she's pregnant came as no surprise.
He said she mentioned her pregnancy to the aid worker "a few hours before she confirmed it to People. By doing that, she has brought global attention to this charity, Yele Haiti, which works on health reforms in Haiti."
The news comes one month after papers were filed to make Pitt the adoptive father of Jolie's two children. Jolie sought to change the names of the children to Zahara Jolie-Pitt and Maddox Jolie-Pitt.
Pitt accompanied Jolie to Ethiopia in July to pick up Zahara, now 1 year old. Jolie's adopted son, now 4, is from Cambodia.
Cagle said Jolie "is very good" at getting publicity for charities she favors. He pointed out that, when she adopted Zahara, she went through World Wide Orphans, which brought the spotlight to them."
Jolie, a goodwill ambassador for the U.N. High Commissioner for Refugees, recently toured quake-devastated areas in Pakistan with Pitt. She met with Pakistani President Gen. Pervez Musharraf and toured a town largely destroyed by the Oct. 8 earthquake that killed an estimated 86,000 people.
Jolie, the 30-year-old daughter of actor Jon Voight, has appeared in more than two dozen films including "Girl Interrupted" (1999), "Lara Croft: Tomb Raider" (2001) and "Alexander" (2004).
She is divorced from actors Billy Bob Thornton and Jonny Lee Miller.
Pitt, 42, had no children from his 4-year marriage to Jennifer Aniston, which ended in divorce last October. The couple cited irreconcilable differences. Pitt has denied Jolie was behind the split.
Among his 40-plus credits are "Thelma and Louise" (1991), "Ocean's Eleven" (2001) and "Troy" (2004).
The couple starred together in "Mr. and Mrs. Smith" (2005).
Thanks for reading CBS NEWS.
Create your free account or log in
for more features.