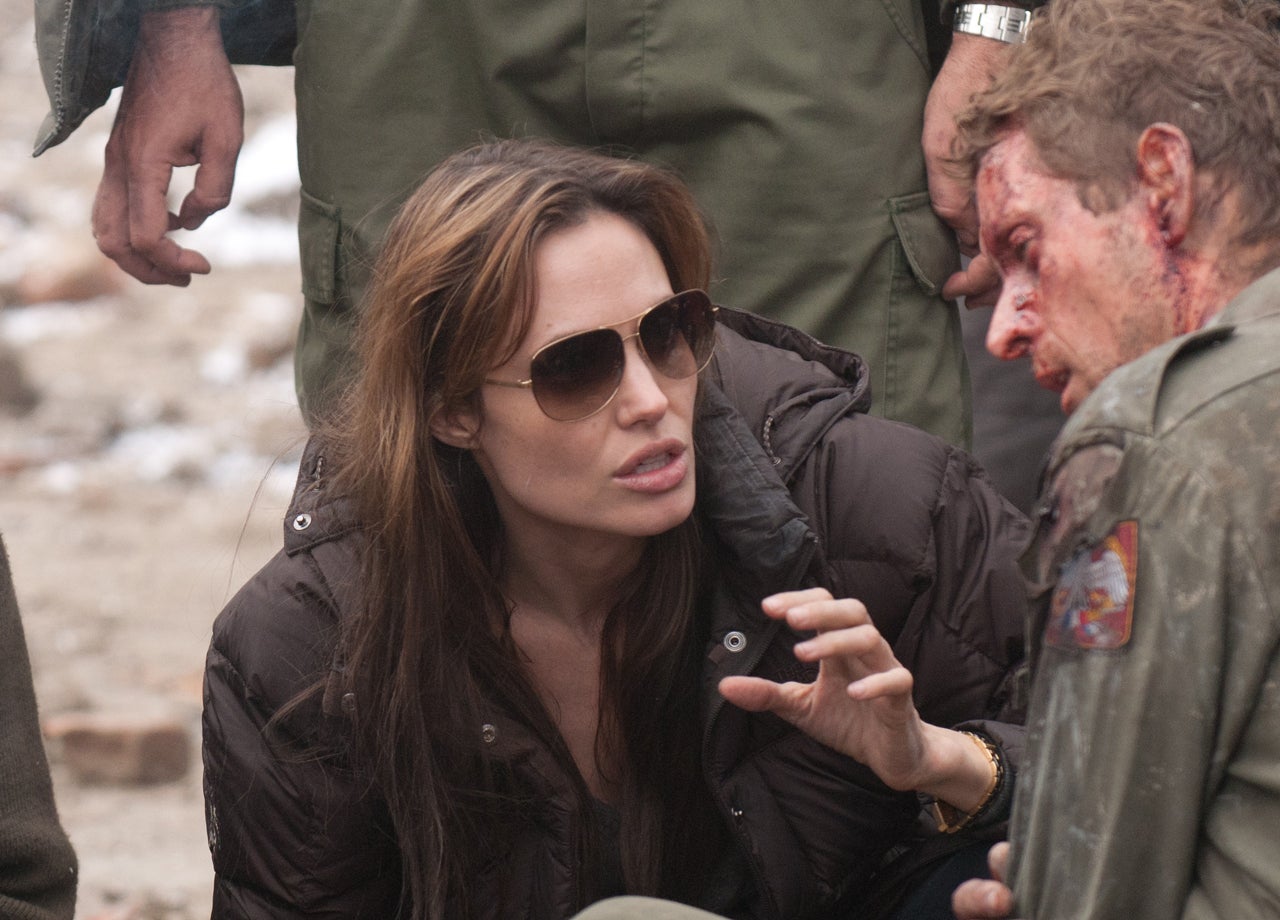 Angelina Jolie on dramatizing war
NEW YORK - Angelina Jolie said that when she first began work on "In the Land of Blood and Honey," her stark drama set during the 1990s war in Bosnia, she didn't approach the project because she wanted to direct.
"I had been haunted for years from traveling in the field by lack of intervention, by the trauma people face in post-conflict situations, and my frustration in seeing the pain and wondering if we could have prevented it, if we could have done something before," Jolie said.
"This led me clearly to Bosnia because it was a war of my generation to my generation, and it was one that I felt a responsibility to learn about because I didn't know, and the more I learned, the more I was overwhelmed by the guilt of how little I knew, and was shocked by how long this went on and what was going on."
Dramatizing some of the most horrible incidents of the war that ripped apart the former Yugoslavia and turned Sarajevo into a city under siege for four years, "In the Land of Blood and Honey" focuses on a young couple - Ajla (Zana Marjanovic, left), a Bosnian Muslim artist, and Danijel (Goran Kostic), a Serb police officer - who are reunited in the midst of the Serbian military's ethnic cleansing of the Muslim population.
As Muslims are rounded up and executed or forced to submit through torture and rape, Ajla finds herself perilously clinging to the one person who can protect her: Danijel, now a Serbian Army officer. His relationship with Ajla also poses a moral conflict for Danijel's father, a Serb general who orders genocide.
The film is brutal and unflinching in its depiction of war's effects on civilians and soldiers, from the mother who witnesses the callous murder of her own child, to the army officers who rationalize their cruelty as preserving a way of life for their own children.
The film's cinematography by Dean Semler (an Academy Award-winner for "Dances With Wolves"), with its immediacy and cool colors, also accentuates the claustrophobia felt by those trapped in a war zone - ironically, existing not very far from Bosnia-Herzegovina's peaceful, placid European neighbors.
It marks the first time the Oscar-winning actress has written and directed a film.
"It started with me questioning what if it was me and my family? What would I do?" Jolie said. "How long would it take, what would have to happen before I broke?"
Jolie, who for the past decade has been a Goodwill Ambassador for the United Nations High Commission for Refugees, said she was particularly affected by one survivor's stories of degradation by her Serbian captors, including being used as a human shield.
"She said, 'Somehow even though it wasn't the most violent, it broke her'" when soldiers took the old women and made them dance naked in front of them," Jolie said. "It was the moment that broke her mentally and she never could recover from it."
That scene - where women prisoners are ushered into a party by soldiers, and witnessed by other prisoners outside - is recreated in the film.
Jolie said that experience was particularly hard: "As a director I didn't want to ask women to do that - I felt I was torturing them," she said. "I think it was much harder for the men who were there because they had to participate and laugh at these women and act in a way that is not in their nature.
"They didn't want to be these people, but they knew if they did that it was in fact a gift they were giving to these women, because they were going to show the horrors
"They acted in a way that is very aggressive, which I feel is very noble of them to do on behalf of the women."
When asked what was the most difficult aspect of filming "Blood and Honey," Jolie said it was "making sure we were finding the balance of politics.
"I knew we were all coming from the right place in our hearts and all our intentions were good. But sometimes even with all the best intentions and with all the hard work and all the debates we had into the night - Are we doing this right? Is this balancing? What does this say? - you still feel this huge pressure and responsibility to this very real, very difficult part of history and you represent all these people and this time, and so I still feel that pressure - and I will continue to feel that pressure!"
In order to bolster the international appeal of "Blood and Honey," the film was shot simultaneously in both Serbian and English language versions. While the Serb language soundtrack will be playing in the United States with subtitles (the film received a Golden Globe nomination for Best Foreign Language Film), the English version may appear on DVD.
The Oscar-winning actress who has appeared in more than 30 films has been fortunate to work with many talented directors. When asked which filmmaker had best prepared her for her debut in the director's chair, Jolie replied, "You learn from everybody."
She said Clint Eastwood (who directed her to an Oscar nomination in "Changeling") "taught me a lot about working with people that you love, that you think are great people and making a family, working with nice people, good people, and he's also very fast, so I had to learn about the economy of a shoot and a budget and all of that, and trying to get through it.
She also credited Michael Winterbottom, director of "A Mighty Heart," in which Jolie played the wife of journalist Daniel Pearl who was kidnapped and executed by militants in Pakistan, "because of the way he set the tone and made it feel real and allowed for the performances, allowed air in the room for the actors to create something that was not pushed upon them."
Jolie praised her cast as "extraordinary."
"As an actor - as an American actor - I don't have the level of the depth of emotion, the depth of understanding, and the commitment to art and the ability that people have from this region of the world. So they're well beyond me when it comes to being an artist - really truly artists," Jolie said. "I've been on a few American sets where people come out and they're not quite prepared or they're still on the phone or they want to talk about it.
"Instead, everybody here, they're ready, they're 100 percent ready, they just give and give and it makes it so easy. I got lucky with them.
"A film festival started under the siege of Sarajevo. Plays were put on. Art was made," Jolie said. "It was their art that just got stronger and stronger while they were being starved and shot at."
The cast members each had personal experiences of how the war affected them or their families. Vanesa Glodjo, who plays Ajla's sister Lejla, was wounded when her house was shelled.
Croatian actor and singer Rade Serbedzija (whose credits include the Oscar-nominated "Before the Rain," "Eyes Wide Shut," "Harry Potter and the Deathly Hallows," and "X-Men: First Class") was speaking at an April 1992 peace rally of 200,000 people in Sarajevo where a sniper opened fire on the crowd, beginning the city's long siege.
Marjanovic escaped with her family at age 8, eventually moving to New York City. She said her parents lived in the belief that the fighting would "end the next day" and they would be able to return - a delusion that continued for years.
"When you're 8 you see things through the eyes of the grownups," Marjanovic said. "That's when you start to grow up very fast as a child, and start forming your own opinion, and actually see things better than the adults do."
Art itself is an important part of the film: Alja is a painter whose art is not only a means of personal expression - evident in self-portraits that bookend the film - but key to her survival.
"The portrait of her at the beginning and the portrait of her at the end speak volumes," Jolie said, "so that was her way of expressing herself, even in silence."
"In the Land of Blood and Honey" opens in New York and Los Angeles December 23, and in other cities in early January. Click on the player below to view the trailer.
For more info:
Thanks for reading CBS NEWS.
Create your free account or log in
for more features.