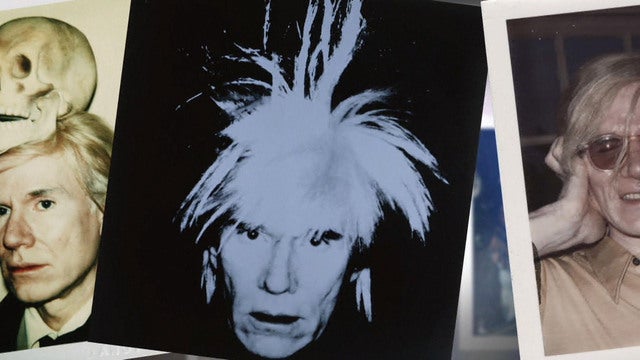 Pre-Instagram life: Andy Warhol's obsessive Polaroid documentation
Before there were selfie sticks, before there was Instagram and before there were iPhones, one of America's most famous artists was documenting his life with the same dedication of millennials today. There may have been no filters, likes or double taps, but there were plenty of selfies, reports CBS News correspondent Anthony Mason.
Flipping through pages of more than 700 of Andy Warhol's Polaroids is like reading his diary. There are images of famous friends like Jack Nicholson and Liza Minnelli.
"It's a very early form of selfie and it's as far away as possible as you could get from, you know, the Kim Kardashian for instance, where it's all about her looking very, very glamorous and as best as she could possibly look," said Reuel Golden, editor of "Andy Warhol Polaroids 1958-1987," published by Taschen.
Warhol, it turns out, was an almost obsessive collector, amassing thousands of Polaroids, with the earliest ones from 1958.
Michael Hermann is the Andy Warhol Foundation's director of licensing. He began sifting through all these photos 18 years ago.
"The interesting thing about Warhol is that he didn't differentiate work from life so much. ... Everything he did was part of his life as an artist and these Polaroids very much speak to that," Hermann said.
Some of the Polaroids, like the image of singer Debbie Harry, became his famous silkscreens. Others he studied for later works.
Warhol mapped out his design for the Rolling Stone's "Sticky Fingers" album cover with his Polaroids.
Many of them simply chronicled life. All of them reveal the eye of an artist.
If seeing the Polaroids in the book isn't enough for you, Christie's is auctioning off 129 originals later this month. The photos are expected to command up to $25,000 dollars.
"Andy seems to have had some kind of fetish with shoes, with feet, throughout his life. ... So it was kind of a motif that he returned to time again and again," Golden said.
The Polaroids are like Warhol's Instagram -- documenting virtually everything. It's just that he did it years before anyone ever heard of the Internet or social media.
"Andy Warhol carried around either a camera or a tape recorder with him most of the time," Herman said. "It was pretty amazing how obsessive he was about documenting life, and now looking at it in the current context to see how obsessive we have all become about doing the same as well."
Herman said people initially might think Warhol would have embraced and loved social media today.
"But the one thing I love about Warhol is that he was predictably unpredictable and he always embraced new media, but he was doing things new and different with it that we couldn't really think of at the time. And I think that he would probably embrace it, but he would be using it in a way that we're not really thinking of right now," Herman said.
Thanks for reading CBS NEWS.
Create your free account or log in
for more features.