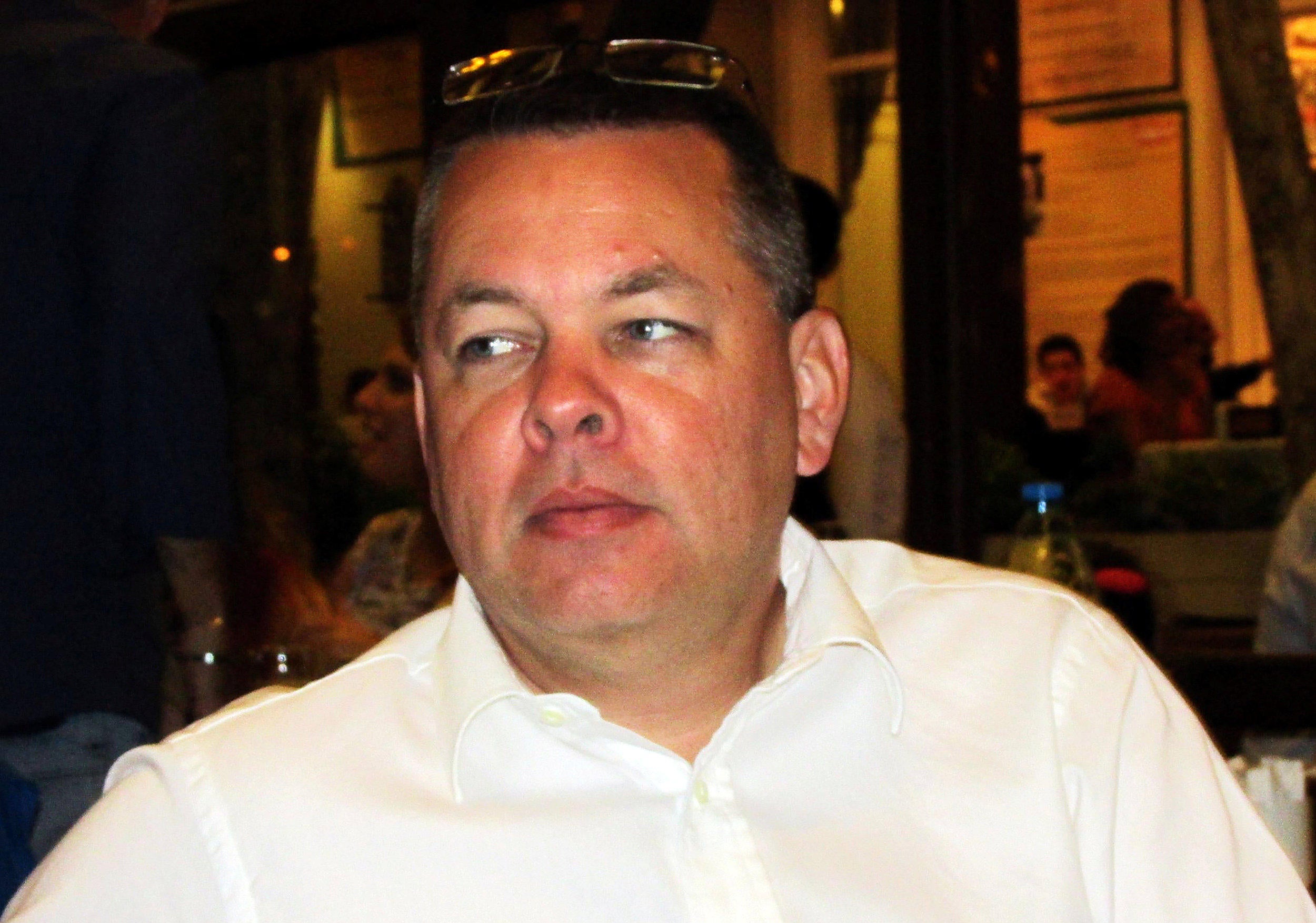 American pastor denies terror links, spying in Turkish court
ALIAGA, Turkey -- An American pastor on Monday denied accusations that he aided terror groups or spied against Turkey, speaking at the beginning of his trial in a case that has strained ties between Turkey and the United States. Andrew Craig Brunson, a 50-year-old evangelical pastor from North Carolina, faces up to 35 years in prison on charges of "committing crimes on behalf of terror groups without being a member" and "espionage."
Brunson was arrested in the aftermath of a 2016 coup attempt for alleged links to the outlawed Kurdistan Workers' Party, or PKK, as well as a network led by U.S.-based Muslim cleric Fethullah Gulen, who is blamed by Turkey for the coup attempt.
He served as pastor of Izmir Resurrection Church, a small Protestant congregation, and has lived in Turkey for 23 years. Brunson denies any wrongdoing.
"I don't accept any of the allegations or accusations," the state-run Anadolu Agency quoted Brunson as telling the court in the town of Aliaga, some 60 kilometers, 38 miles, north of the Aegean coastal city of Izmir.
"I did not engage in any illegal activity. I had no relations with anyone engaged in such activity," Brunson said. "I am a Christian pastor. I did not join an Islamic movement. Their aims and mine are different."
The agency said the pastor delivered his defense statement in Turkish. The pastor also told the court he would never work against Turkey.
"On the contrary, I love Turkey. I have been praying for Turkey for 25 years," the Cumhuriyet newspaper quoted Brunson as saying.
Cumhuriyet said the pastor wept in court during an afternoon session, saying being alone in a cell had affected his psychological state.
Sam Brownback, the U.S. ambassador at large for international religious freedom, told CBS News this is a case of religious persecution.
"These are completely false charges," Brownback said.
Sen. Thom Tillis, R-North Carolina, was in court Monday and told CBS news he was disappointed that Pastor Brunson wasn't released.
Meanwhile, Sen. James Lankford, R-Oklahoma, warned of possible congressional action against Turkey, if Brunson is not released.
"It is unconscionable that Turkey, a NATO ally, has unjustly held an American pastor in prison since October 2016," Lankford said.
Prosecutors are seeking a 15-year prison sentence for crimes Brunson is charged with committing in the name of Gulen's group and the PKK. They want the pastor to serve another 20 years, if he also is found guilty of obtaining state secrets for political and military spying purposes using his religious work as cover.
The indictment against him -- based on the testimony of witnesses, including three secret ones, and digital evidence — claims the pastor worked to convert Kurds to Christianity to sow discord.
U.S. officials have repeatedly called for Brunson's release, and President Donald Trump has asked Turkish President Recep Tayyip Erdogan to have his government "expeditiously" return the pastor to the U.S.
Erdogan fired back at Washington, demanding that the U.S. return Gulen to Turkey.
"Give him (Gulen) to us, and we will try (Brunson) and return him," Erdogan said last year.
Gulen, who lives in Pennsylvania, has denied involvement in the coup.
Brunson's lawyer, Ismail Cem Halavurt, told The Associated Press he expected the pastor's acquittal, arguing Sunday that the "weak" indictment lacked sufficient evidence to make the case hold up in court.
Thanks for reading CBS NEWS.
Create your free account or log in
for more features.