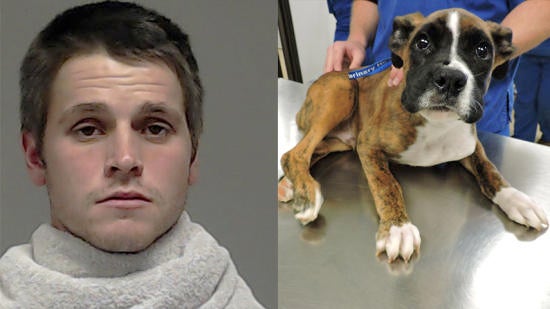 Man sentenced to 12 years in prison for stomping on, throwing puppy
PLANO, Texas -- A man who stomped on a boxer puppy and threw it against a wall in Texas has been sentenced to prison, CBS DallasFort Worth reports. On Tuesday, a judge ordered Andrew Callaway to spend 12 years behind bars for animal cruelty and a probation violation.
The 27-year-old sparked outraged last May when he was arrested for abusing the dog, which suffered multiple broken ones. Despite efforts to save the animal, veterinarians were forced to euthanize it.
Workers with Wylie Animal Control brought a box with the puppy's ashes to court in a symbolic display of justice.
"It's not okay to hurt an animal," said Collin County District Attorney Greg Willis.
Willis says the sentence sends a message that animal abuse will not be tolerated.
"The sense out there in our community -- I think this is true across the nation -- is that animal cruelty will be tolerated. There's no excuse for it and can't be tolerated," said Willis. "So, we need to send a strong message to people out there who abuse or hurt animals."
Callaway told authorities he attacked the dog during a fit of rage and regretted it afterward.
"There's all sorts of studies out there that show a correlation between people who abuse animals will also hurt humans," said Willis. "We have to make sure that we have an evidence-based prosecution. Sometimes, things happen and we don't have the evidence for a strong case. In this case, we did have the evidence and it helped."
Thanks for reading CBS NEWS.
Create your free account or log in
for more features.