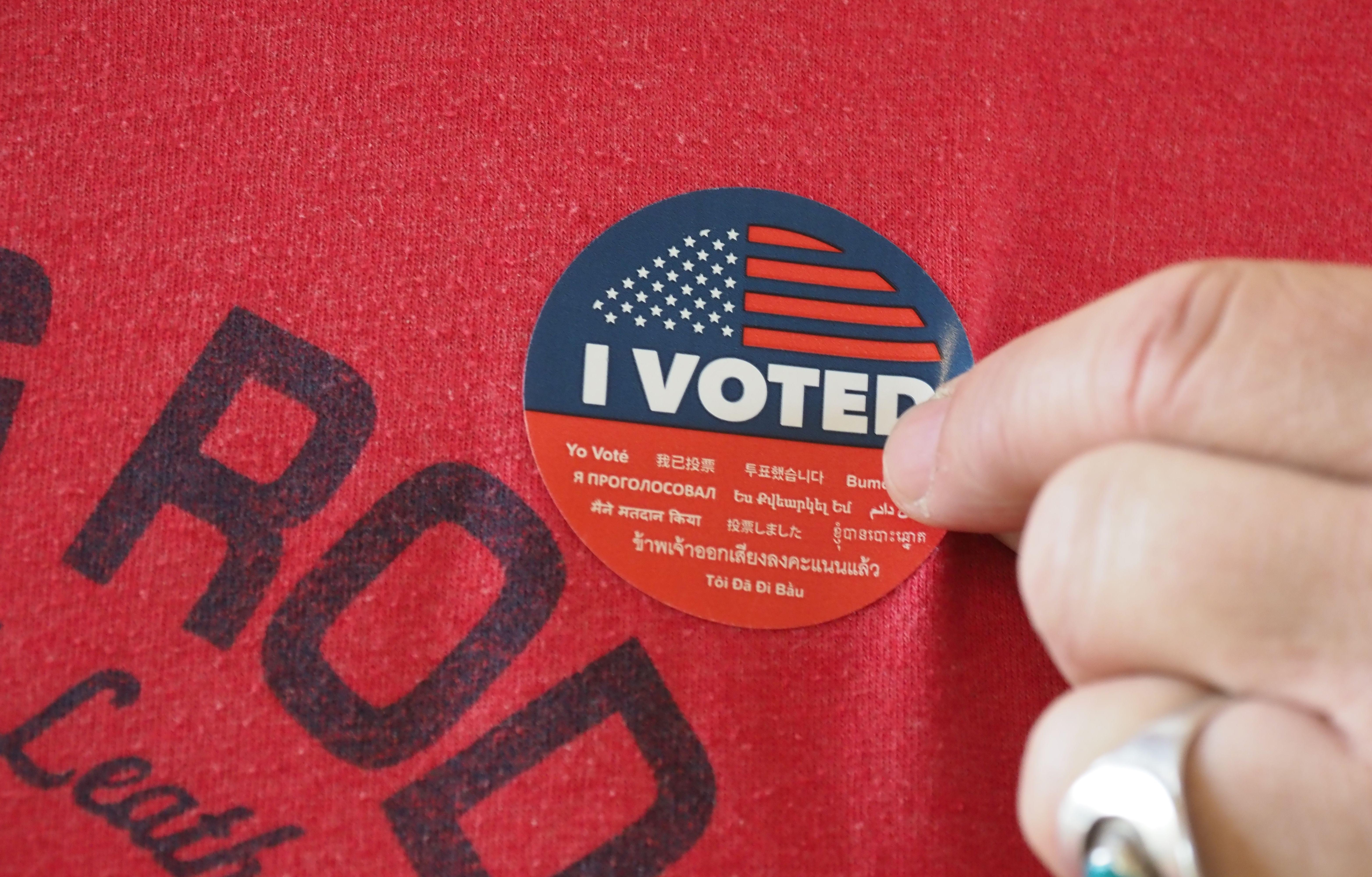 An hour-by-hour guide to the race to win the House
Election Night requires significant preparation for reporters and producers tasked with covering the results and over the past several weeks, dozens of us at CBS News have been cramming for Tuesday night the way a studious college student might prepare for a major final exam, or how our colleagues at CBS Sports study the rosters and statistics ahead of a big game.
We know that elections aren't games — real-life matters are at stake, and the results could have significant repercussions for the nation's mood and Washington's ability to accomplish anything.
On Election Night, my primary assignment is to track which party is winning control of the House of Representatives. Republicans have a 240-seat majority, while Democrats control 195 seats — needing to net 23 to take control. The first party to 218 seats wins.
More than a year of polling and statistical models constructed by our teams at CBS News and other news outlets show that Democrats are expected to retake control, perhaps narrowly, and only if scores of voters who historically haven't voted in midterm elections show up to cast ballots.
So, what do Democrats need to do to retake control? Where could they do it and by what time Tuesday night? Here's an hour-by-hour look at the races that could flip control of the House, or reinforce Republicans' control of the chamber.
All times below are Eastern.
---
Polls closing at 7 p.m. today
Polls close in Georgia, Indiana, Kentucky, South Carolina, Vermont and Virginia
KENTUCKY: District 6
With apologies to Frank Sinatra, this is the "New York, New York" race of the night: If Democrats can make it here, they'll make it just about anywhere.
Republicans hope Rep. Andy Barr, R-Kentucky, holds on, proving that they can beat back what senior GOP operative calls "celebrity Democrats" — or challengers who've built up considerable name ID thanks to good national press and an over-eager national liberal donor base.
Democrat Amy McGrath is indeed a "celebrity" recruit of 2018. A former Marine fighter pilot, she was the first woman to fly an F/A-18 on a combat mission. Combine that life story with cinematic TV ads that recall how she was told as a young girl that she would never fly military aircraft, and it's an intoxicating brew in this political environment.
Senate Majority Leader Mitch McConnell, R-Kentucky, noted in a recent interview with television reporters who cover Congress that since joining in the U.S. Senate in 1985, he has served with five different congressmen from this district: Three Republicans and two Democrats. In other words, it's a genuine swing district in competitive political years like 2018.
VIRGINIA: Districts 2, 7, 10
Early indications of Democratic success Tuesday night will come from three Old Dominion districts.
In the 2nd, Rep. Scott Taylor, R-Virginia, is a former Navy SEAL facing a tougher-than-anticipated challenge from Democrat Elaine Luria. She's a Naval Academy graduate who served for 20 years. This is a race about health-care — and Democrats tried making noise about the Taylor campaign's involvement in a petition-signing scandal. It's a reach for Democrats, but a win here is indicative of a good night for Democrats. If he wins narrowly, it could signal a tighter majority for either party.
In the 7th, Rep. Dave Brat, R-Virginia, defeated then-House Majority Leader Eric Cantor in a 2014 primary stunner. Ever since, he's been a thorn in the side of GOP leadership and usually a supporter of President Trump. But in a district that stretches from the Washington exurbs to the Richmond suburbs, that level of Mr. Trump support might not fly. Democrat Abigail Spanberger, a former CIA officer and a star recruit for her party, has pulled statistically even with Brat in a district the president won by 6 points.
In the 10th District, Hillary Clinton won handily in 2016. Democrats outnumber Republicans in a part of the commonwealth that is one of the wealthiest areas of the country. Tens of thousands of people who live here are federal workers or government contractors working for what Mr. Trump describes as the "Deep State." Bottom line: If Democrat Jennifer Wexton doesn't win this district, Democrats have a big problem. But Rep. Barbara Comstock, R-Virginia, is battle-tested and accustomed to close races and has managed to keep national Republican groups engaged in her race running ads on her behalf.
If she wins, did Comstock manage to successfully distance herself from Mr. Trump by speaking out against him starting in the final days of the 2016 presidential campaign after the release of the infamous "Access Hollywood" tape? Or did her push to pass sexual harassment legislation in Congress help ward off bigger losses among women? Stay tuned.
---
Polls closing at 7:30 p.m. today
Polls close in North Carolina, Ohio and West Virginia
NORTH CAROLINA: Districts 2 and 9
If Democrats win either of these seats, Republicans will be reaching for the airplane barf bag. If Republicans win, then Democratic gains might not be as significant.
These two races are solid examples of something we've heard quietly from GOP operatives this entire cycle – too many long-time GOP congressmen failed to read the ebbs and flows of politics and were caught late in the campaign with small campaign accounts as a stronger-than-anticipated challenger started to surge.
In the 2nd, Rep. George Holding faces Democrat Linda Coleman, a former candidate for lieutenant governor. In the 9th, Rep. Robert Pittenger, R-North Carolina, lost a GOP primary, so Mark Harris, a pastor and former head of the Baptist State Convention of North Carolina, faces Democrat Dan McCready, a Marine veteran who makes a point of telling voters that while serving in Iraq, he converted to Christianity and was baptized in water from the Euphrates River. Either of those biographies make political consultants swoon.
OHIO: Districts 1 and 12
Democrats say they don't need to make gains in the Buckeye State in order to retake the House, but wins here are further signs of GOP erosion in a state Mr. Trump won in 2016 — and needs to win again in 2020.
If Democrats don't have a good night, it could be because they came up short in places like Ohio's 1st District. This race began earning national focus over the summer, but it's faded a bit from most watch lists as Rep. Steve Chabot, R-Ohio, seems to have right-sided his prospects. He faces Democrat Aftab Pureval, the 36-year old Hamilton County clerk of courts, who's among the Democrats refusing to back House Minority Leader Nancy Pelosi, D-California, as caucus leader. If Democrats win more than 30 seats, it's because they won in places like this.
The 12th District may be familiar to some, as it was the subject of national focus in August during a special election. Rep. Troy Balderson, R-Ohio, prevailed by about 1,700 votes — an unheard of tally in a reliably Republican district. Democrat Danny O'Connor, the Franklin County recorder, gave Balderson a strong-than-anticipated challenge in a district that stretches from the backyard of Ohio State University into rural counties to the northeast of Columbus. A good night for Democrats across Ohio could make Balderson one of the shortest-serving members of Congress.
WEST VIRGINIA: District 3
Can a tattooed, Mr. Trump-supporting Army officer who happens to be a Democrat win back a congressional seat for his party? Maybe. And if Richard Ojeda does, to quote from the West Virginia licenses plates, it'll be a "Wild and Wonderful" night for Democrats.
He faces Republican Carol Miller, a member of the state House of Delegates. It's an open contest because Rep. Evan Jenkins opted to run in a three-way U.S. Senate primary and came up short. So, an Ojeda win would be an early example of the damage done by the dozens of GOP lawmakers who retired, quit under a cloud of scandal, or ran for higher office instead of running for reelection.
---
Polls closing at 8 p.m. today
Polls close in Alabama, Connecticut, Delaware, Florida, Illinois, Maine, Maryland, Massachusetts, Mississippi, Missouri, New Hampshire, New Jersey, Oklahoma, Pennsylvania, Tennessee
FLORIDA: Districts 6, 15, 16, 18, 26, 27
The 26th and 27th Districts are considered the most probable Democratic pickups, while any other wins would be gravy for Democrats and are likely driven by a strong showing and turnout for Democratic gubernatorial candidate Andrew Gillum.
In the 6th District, Rep. Ron DeSantis, R-Florida, quit to run against Gillum and it's an open seat at the eastern end of the infamous I-4 corridor. Democrat Nancy Soderberg, a former Clinton and Obama-era diplomat, faces Republican Michael Waltz, a former Army Green Beret and Fox News contributor.
In the 15th, Rep. Dennis Ross, R-Florida, is retiring and Democrats feel good about Kristen Carlson, who has a tailor-made background for the district: She's the former top lawyer at the Florida Department of Citrus. But Republican Ross Spano, a state legislator, hopes to keep the seat for his party.
In the 16th, Rep. Vern Buchanan, R-Florida, faces Democrat David Shapiro, who's tried painting the incumbent as a scandal-tarred Washington establishment type. If Democrats win this seat, they're having an exceptional evening.
The 18th District is represented by Rep. Brian Mast, R-Florida, a star recruit from the 2016 cycle who faces Democrat Lauren Baer, who served as a top aide to secretaries of state John F. Kerry and Hillary Clinton and U.N. Ambassador Samantha Power.
The 26th District — America's southern-most congressional district — is represented by Rep. Carlos Curbelo, R-Florida, a moderate and vocal critic of Mr. Trump who's done his best to stand apart from his party. Democrat Debbie Mucarsel-Powell has kept much of her focus on health care and reminding voters that Curbelo is in the president's party.
Then there's the 27th District, where Rep. Ileana Ros-Lehtinen, R-Florida, is retiring after finding herself increasingly at odds with her own party. Democrats nominated Donna Shalala, the former secretary of Health and Human Services and president of the University of Miami, while Republicans have Maria Elvira Salazar, who's banking on her past work as an anchor for Telemundo and Univision to win over viewers that remember her from local television newscasts.
NEW HAMPSHIRE: District 1
Rep. Carol Shea-Porter, D-New Hampshire, is retiring, sparking the only major competitive race in New England. Establishment-backed Chris Pappas hopes to keep the seat in Democratic hands, but Republican Eddie Edwards, a former local police chief also backed by national party leaders, could provide his party with a rare New England pickup. If Edwards wins, he'll be the first black Republican man to represent New Hampshire in Congress. If Pappas wins, he's the first gay man elected to Congress from the Live-Free-or-Die state.
NEW JERSEY: Districts 2, 3, 7, 11
These races personify a few of this cycle's biggest trends: The viability of first-time female Democratic candidates; the potential damage done to the GOP by a record number of retiring Republican members; and whether the GOP's tax reform plan damages the party's chances in a highly-taxed state.
The 2nd District was once represented by Rep. Frank LoBiondo, R-New Jersey, who was elected as part of the historic 1994 GOP wave but opted against another try. Democrat Jeff Van Drew faces Republican Seth Grossman in a contest to represent the Atlantic City area.
In the 3rd, Rep. Tom MacArthur, R-New Jersey, who helped craft the GOP tax cut plan by relying on his close personal relationship with Mr. Trump, faces Andy Kim, a former Pentagon official in a race that is a top Democratic target.
In the 7th, Rep. Leonard Lance, R-New Jersey, is in the race of his career against Democrat Tom Malinowski, a former Obama administration State Department official with deep pockets.
The 11th District is a suburban area in the northern part of the state — a genuine bedroom community for New York City. Democrat Mikie Sherrill is a standout Democratic recruit. A federal prosecutor and former Navy pilot, she's been airing TV ads in heavy rotation in the New York City market that show her flying a helicopter over her would-be district. She faces Jay Weber, the former chairman of the New Jersey Republican Party. House Appropriations Committee Chairman Rodney Frelinghuysen, R-New Jersey, is retiring — one of eight GOP chairmen retiring after this year.
PENNSYLVANIA: Districts 1, 5, 6, 7, 8, 10, 11, 17
Eight competitive races in a state with 18 House seats means Democrats could retake the majority of the Keystone State's delegation. And in a state with no women representatives in Congress, it's safe to say there will be after Tuesday.
In the 1st, Rep. Brian Fitzpatrick, R-Pennsylvania, faces a challenge from Democrat Scott Wallace, whose grandfather Henry Wallace serve as Franklin D. Roosevelt's second vice president, in a race to represent south and central Philadelphia.
The 5th District is the commonwealth's former 7th District, and encompasses parts of greater Philadelphia. Republican Pearl Kim faces Democrat Mary Gay Scanlon in one of the contests that assures a woman will be elected into Pennsylvania's congressional delegation.
The 6th is a race between Democrat Chrissy Houlahan, an Air Force veteran and former sneaker company executive, and Republican Greg McCauley. Court-ordered redistricting across Pennsylvania made this an all-but assured Democratic pickup.
In the 7th, retiring Rep. Charlie Dent, R-Pennsylvania, made way for Republican Marty Nothstein, an Olympic cycling silver medalist, to face Democratic attorney Susan Wild.
The 8th District is the only one in the state where Democrats could stumble. Rep. Matt Cartwright, R-Pennsylvania, represents a district that voted for Mr. Trump in 2016, so he faces a stronger-than-anticipated challenge from Republican John Chrin, a wealthy businessman who moved back into the district for the race.
In the 10th, Rep. Scott Perry, R-Pennsylvania, could be a victim of the state's court-ordered redistricting. He faces Democrat George Scott, a retired Army lieutenant colonel, in a race that dramatically redrew Perry's district.
In the 11th, Rep. Lloyd Smucker, R-Pennsylvania, faces a challenge in this southern conservative district from Democrat Jess King, another first-time female congressional candidate. Democrats argue that Smucker's embrace of Mr. Trump's anti-immigrant messages will not resonate in a district that the president won by 26 points, but that also has a large Mennonite population and is active in resettling refugees in the United States.
In the 17th, Rep. Conor Lamb, R-Pennsylvania, who won a closely-watched special election earlier this year in an adjoining district, moved north to challenge Rep. Keith Rothfus, R-Pennsylvania, in this redrawn Pittsburgh-area district. Lamb has a growing lead of Rothfus, according to recent polls.
---
Polls closing at 8:30 p.m. today
Polls close in Arkansas.
ARKANSAS: District 2
This is a late addition to most nonpartisan forecasts and the stakes here are very simple: If Rep. French Hill, R-Arkansas, is in a close race with Democrat Clarke Tucker, then blue tsunami warnings are being issued nationwide.
---
Polls closing at 9 p.m. today
Polls close in Arizona, Colorado, Kansas, Louisiana, Michigan, Minnesota, Nebraska, New Mexico, New York, North Dakota, South Dakota, Texas, Wisconsin, Wyoming.
This the magic hour, when a huge number of states close and tallies are completed in eastern states, likely laying out who's set to take control. Most attention will turn to some of the biggest Senate races and most notable gubernatorial contests, but pay attention to these key races:
ARIZONA: District 2
Rep. Martha McSally, R-Arizona, is retiring to run for the U.S. Senate, so former Rep. Ann Kirkpatrick, D-Arizona, faces Republican Lea Marquez Peterson. Kirkpatrick moved to this district to try to head back to Washington, while Marquez Peterson is a star GOP recruit and a bit of a unicorn for her party: Conservative, a woman and Latina.
COLORADO: District 6
Rep. Mike Coffman, R-Colorado, is a perennial Democratic target. He's facing a strong challenge from Jason Crow, an Army veteran and an early Democratic recruit. The Denver-area district is packed with immigrants that Coffman has effectively won over in the past, but Mr. Trump's sustained unpopularity in districts like this might be enough to unseat Coffman.
KANSAS: Districts 2 and 3
In the 2nd, Rep. Lynn Jenkins, R-Kansas, is retiring, so Republican Steve Watkins, a retired Army Captain who once raced the Iditarod, faces Democrat Paul Davis, a former state legislator who announced he was running for Congress and promptly declared his opposition to Pelosi. Winning in this Topeka-area district would be a big coup for Democrats.
Ditto in the 3rd, where Rep. Kevin Yoder, R-Kansas, faces Democrat Sharice Davids, who could be one of two Native American women elected to Congress this year. She's touted her connections to former president Barack Obama, since she served as a White House fellow during his administration. That a Democrat would openly tout such connections in a state like Kansas shows you how confident Democrats are of their chances.
MICHIGAN: Districts 8 and 11
The 8th District is a pure toss-up, where Rep. Mike Bishop, R-Michigan, faces Democrat Elissa Slotkin, a former CIA and Pentagon official. She's running an ad that mentions her mother's death from cancer and runs footage of Bishop at the White House on the day that House Republicans and Mr. Trump held an elaborate White House South Lawn celebration of their ultimately futile attempt to undo the Affordable Care Act.
In the 11th, Rep. Dave Trott, R-Michigan, is retiring, so Democrat Haley Stevens faces Republican Lena Epstein. Stevens is considered a standout Democratic recruit who fits the district well given that she worked for the Obama administration's auto rescue task force. But Epstein is the co-owner of an automotive distributorship – so both have backgrounds that help in this suburban Detroit district. (Full disclosure: Steven was a college classmate of mine.)
MINNESOTA: Districts 1, 2, 3, 8
By the time polls close in the Land of 10,000 Lakes, either party may be just on the verge of the magic 218. And it's a state where both parties could suffer losses.
In the 1st, Rep. Tim Walz, D-Minnesota, is retiring to run for governor, and his party might lose his seat. Democrat Dan Feehan faces Republican Jim Hagedorn in a seat that the GOP is confident they can take back.
In the 2nd, Rep. Jason Lewis, D-Minnesota, faces a strong challenge from Angie Craig, a former health care executive who has run before for Congress. Democrats are highlighting past controversial comments by Lewis, a former radio show host.
In the 3rd, Rep. Erik Paulsen, R-Minnesota, a frequent Democratic target, faces Democrat Dean Phillips, the heir to a liquor fortune who once ran the Talenti Gelato company. This is a suburban district — just the type that Democrats are confident they can win this year.
NEW MEXICO: District 2
Rep. Steve Pearce, R-New Mexico, is retiring to run for governor, so Democrat Xochitl Torres Small faces Republican Yvette Herrell in a district that stretches along the U.S.-Mexico border.
NEW YORK: Districts 19, 22, 24
These three parts of the state — basically drawn to protect some of the only GOP pockets left in the Empire State — have a tendency to swing back and forth between whichever party is having a good year. So, don't be surprised if one or all of these go from red to blue.
In the 19th, Rep. John Faso, R-New York. faces Democrat Antonio Delgado, a Rhodes scholar and former rapper who cleared a crowded field and has raised millions of dollars to become a top party recruit. Faso has aired ads highlighting some of the racy lyrics Delgado used to drop during his stint as "AD the Voice."
The 22nd District encompasses Utica and Binghamton and is often a central New York swing area. Rep. Claudia Tenney, R-New York, a fierce Mr. Trump supporter, faces Democrat Anthony Brindisi, a state legislator who has also vowed not to back Pelosi as Democratic leader.
In the adjoining 24th District, Rep. John Katko, R-New York, who GOP leaders consider one of the members most in tune with his own district, faces Democrat Dana Balter.
WISCONSIN: District 1
Can Randy Bryce win the seat currently held by retiring House Speaker Paul D. Ryan, R-Wisconsin? He faces Republican Bryan Steil, who has focused on Bryce's checkered personal past in hopes of keeping ahead.
TEXAS: Districts 7, 23, 32
If Democrats can win any of these states, they've easily won the ballgame. The 7th is represented by Rep. John Culberson, R-Texas, another one of those incumbents that party operative grumble didn't do enough to stay competitive. He faces Democrat Lizzie Fletcher in what would signal the ongoing demographic and political shifts in urban Texas.
In the 23rd District, Rep. Will Hurd, R-Texas, faces Democrat Gina Ortiz Jones in the district with the longest stretch of U.S.-Mexico border. Hurd, a former CIA operative and the only black man in the GOP caucus, has cast himself as an outspoken critic of Mr. Trump, especially on issues of tone and immigration policy, and Republicans like his chances. If Jones wins, she'd be among the up to three Latinas elected to Congress from Texas this year.
The 32nd District is much like other suburban swing districts. Stretching from Dallas out towards predominantly Latino communities, Rep. Pete Sessions, R-Texas, chairman of the powerful Rules Committee, faces Democrat Colin Allred, a former Tennessee Titans player who served in the departments of Housing and Urban Development and Justice during the Obama administration.
Fun fact: George H.W. Bush lives in the 7th District. George W. Bush lives in the 32nd District. By the end of the night, the once-king and prince of the Republican Party might live in Democratic-controlled districts.
---
Polls closing at 10 p.m. today
Polls close in Iowa, Montana, Nevada and Utah.
IOWA: Districts 1 and 4
In the 1st, Rep. Rod Blum, R-Iowa, won his seat in the 2010 tea party-backed wave, but he was among the first GOP lawmakers to face the ire of angry constituents at contentious town hall meetings last year, is trailing Democrat Abby Finkenauer, a 29-year old state legislator, who would be among the marquee Democratic standouts of the cycle. And if she wins, she'll receive dozens of calls on Election Night and the days after from Democrats who want to run for president in 2020. In recent days, potential presidential candidates Sens. Cory Booker, D-New Jersey, and Kamala Harris, D-California, have sent fundraising emails on her behalf.
NEVADA: Districts 3 and 4
Congressional races are usually close in this Las Vegas-area seat.
The 3rd District is represented by Rep. Jacky Rosen, D-Nevada, who is stepping down to run for U.S. Senate. In her place, Democrat Susie Lee faces Republican Danny Tarkanian, who jumped into the race instead of challenging Sen. Dean Heller, R-Nevada, to a nasty GOP primary.
The 4th District is what we could call a repeat episode. Former Rep. Steven Horsford (D) faces former Rep. Cresent Hardy (R) in a rematch of their 2014 race. Hardy beat Horsford that year, but then lost in 2016 to Rep. Ruben Kihuen, D-Nevada, who is stepping down after facing allegations of inappropriate behavior with former campaign staffers and state lobbyists.
---
Polls closing at 11 p.m. today
Polls close in California, Oregon, Washington and Hawaii.
CALIFORNIA: Districts 10, 21, 25, 39, 45, 48, 49
CBS News is tracking seven competitive races in the Golden State, but Democrats say they could win up to 10 seats here. We'll see.
In the 10th, Rep. Jeff Denham, R-California, an advocate for bipartisan immigration reform, faces Democrat Josh Harder. In the 21st District, Rep. David Valadao, R-California, another top Democratic target, is being challenged by T.J. Cox. In the 25th District — home to the Ronald Reagan Library — Rep. Steve King, R-California, is up against Democrat Katie Hill.
The next three districts are all in Southern California, where Clinton prevailed in 2016. Increasingly, these districts are home to growing populations of immigrant Asian and Latino families.
The 39th District is represented by retiring House Foreign Affairs Committee Chairman Ed Royce, R-California, who hopes that his former aide, Young Kim, defeats Democrat Gil Cisneros, a former Frito-Lay executive who won a $266 million state lottery in 2010.
In the neighboring 45th District, Rep. Mimi Walters, R-California, faces Democrat Katie Porter, a former law school student of Sen. Elizabeth Warren, D-California, who once worked for then-California Attorney General Kamala Harris.
The 48th District is represented by Rep. Dana Rohrabacher, R-California, a Mr. Trump ally and the most vocal supporter of Russian President Vladimir Putin in Congress. He faces Democrat Harley Rouda, a real estate investor who won a contentious primary by just a few hundred votes.
In the 49th District, Rep. Darrell Issa, R-California, once chairman of the powerful Oversight Committee, is stepping down to serve in the Trump administration. Democrat Mike Levin has the edge over Republican Diane Harkey.
WASHINGTON: Districts 3, 5, 8
The Evergreen State has three pickup opportunities for Democrats and could provide real setbacks for Republicans.
In the 3rd, Rep. Jamie Herrera Buetler, R-Washington, one of just 23 women in the House Republican Conference, faces Democrat Carolyn Long. If she goes, the GOP loses one of its most telegenic leaders.
Ditto in the 5th District, where Rep. Cathy McMorris Rodgers, R-Washington, the fourth-ranking House Republican as chairman of their conference, is in the race of her career against Democrat Lisa Brown, a former college chancellor. McMorris Rodgers is the most vulnerable member of GOP leadership and likely is going to face a challenge to her perch regardless if she wins reelection.
The 8th District is an open seat thanks to retiring Rep. Dave Reichert, R-Washington, and Democrats have high hopes for pediatrician Kim Schrier, who faces Republican Dino Rossi, a former state senator who has run unsuccessfully for statewide office three times.
---
Polls closing at 1 a.m. today
Polls close in Alaska.
ALASKA: District 1
This one isn't on most political forecasting sheets, but if you're up late, why not keep an eye on this one?
Rep. Don Young, R-Alaska, the longest-serving member in the House of Representatives, faces Alyse Galvin. A poll out last week showed Young trailing her by 1 point.
Caitlin Conant, Bo Erickson and Catherine Reynolds contributed to this report.
Thanks for reading CBS NEWS.
Create your free account or log in
for more features.