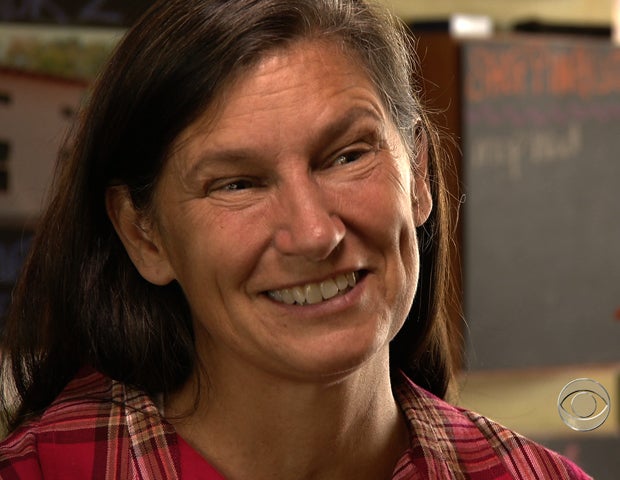 An entrepreneur who turned a town around
(CBS News) GREENSBORO, Ala. - Pam Dorr wanted to be part of the solution and not the problem. Her town was overrun by wild bamboo of all things and her local economy was on the skids. Here is what she did.
Dorr rode into Greensboro, Alabama when its main street was on life-support. Even the catfish had moved on.
"Seventy-five percent of the businesses downtown were vacant or abandoned," she recalled.
But Dorr has a special gift: using whatever's lying around to build possibility. In this particular case, she showed us a bicycle made of bamboo. "It's an engineered bamboo tube in a hex shape lined with carbon fiber," she explained.
Wild bamboo was a local nuisance. "It turns out it's great for building bikes." said Dorr.
In 2008, she opened a bamboo bike business.
"It was a long learning curve," said Dorr with a laugh. "It takes a while to figure out how to cure bamboo properly and how to build a bike that's gonna last."
Hero bikes has gone global. Adam Fowler manages 24 employees in what was an abandoned building. "We've sent to Japan, Belgium, France, Germany, Spain. You name it, we've sent it," he said
Dorr, a designer with Victoria's Secret in San Francisco, visited Greensboro in 2003, loved it and never left.
Her non-profit development group called Hero has become this community's one-woman stimulus package.
She baked a pie business from scratch with a few local recipes. So where did she get the oven? "We actually found our first oven in the dumpster," she said with a laugh. "So everything in the pie shop was free or found."
Most people think to themselves, 'Okay I need a business plan, I need investors.' But Dorr had none of that. "We didn't need it 'cause we had pie," she said.
Pie Lab now takes in $25,000 a month and it helped take 24-year-old Nikita Pelley off welfare. "This job helped me to provide a good living for my family," she said.
Dorr has created 11 small businesses and 50 new jobs. About $15 million in profits since 2006 have built affordable housing for hundreds of people in seven counties.
"It's amazing," said Dorr. "I have all kinds of ideas to do more."
So what was it that Dorr discovered about herself once she realized she could do it? "That there's a lot to do," she said.
Dorr has a new business idea: quilts. Sewing together patches of new life.
Thanks for reading CBS NEWS.
Create your free account or log in
for more features.