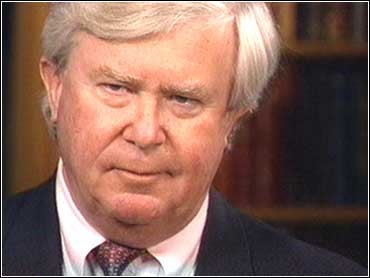 As a college student in California, Amy Biehl dedicated herself to ending apartheid in South Africa. When she won a Fulbright scholarship in 1992, she decided to go to South Africa to immerse herself in the country's culture and politics. In 1993, the white American was stoned and stabbed to death by a mob of angry black militants.
When Leslie Stahl first profiled Amy's parents in February 1999, they were coming to grips with her murder in an unusual way. Now in this 60 Minutes Classic, Stahl revisits the couple, and finds that they have even more surprises in store.
---
Click here to read the two segments:
1999 Profile
In 1993, Amy's parents, Linda and Peter Biehl, decided they had to try to understand their daughter's commitment to South Africa.
At the time, with South Africa on the brink of a race war, Amy's death was a turning point. Horrified at the murder of a kindred spirit, blacks joined with whites in peace rallies across the country. The Biehls and their three other children went to South Africa.
Linda and Peter Biehl went into the squatter camps of Guguletu, a black township where Amy's killers had grown up.
"You're trying to know whether to hate them or - I just felt this void," said Linda Biehl. "I really didn't know what I felt about them. And so when I was able to come out into their environment, then I knew, OK, there was some logic to it. I can understand how, if you were a youth living in these conditions, you could be stirred up, and you could become violent. I think I can understand that."
The Biehls spent much of their time in Guguletu, passing the spot where their daughter was killed. "If we had never come back here, if we hadn't done something to carry on for her, I think she would be very, very disappointed in us," her father said.
To keep her memory alive, they established a nonprofit agency, the Amy Biehl Foundation. With $500,000 in grants, donations and their own money, they have sponsored welding classes and after-school programs, including music, art and tutorials for those who want to go to college.
"It's terrific to be able to do that," Peter Biehl said. "It just absolutely sets me free."
The Biehls sponsor 15 programs involving thousands of young people, all in Guguletu. The project is widely known in South Africa and admired.
"The logic would be that the South Africans should be giving some kind of reparation to the Biehls," said Archbishop Desmond Tutu. "They've turned it all upside down....It is the victims, in the depth of their own agony and pain, who say, 'The community - which produced these murderers - we want to help that community be transfigured.'"
The four youn men who killed Amy were convicted and sentenced to 18 years in prison. They applied for amnesty with Archbishop Tutu's Truth and Reconciliation Commission. The Biehls attended the hearing; they could have objected but didn't.
"If you accept and support the process, as Amy did and as we do, then you must accept the results," Peter Biehl said. "You can't say, 'I support the process, but, oh, my God, don't think about giving these guys amnesty for our daughter's case.'"
The killers were pardoned and released from prison in 1998 after serving four years. Linda Biehl said that she is not angry. Instead, she said, she feels "a void."
"I think it's important then to fill that void with understanding," she said.
The parents have given a great deal of energy to helping South Africa. Linda Biehl quit her job as a couture manager at Neiman Marcus. Peter Biehl scaled back his workaholic schedule as a business consultant. Now they spend more time in South Africa than in California.
The Biehls have bankrolled a state-of-the-art commercial bakery. It is equipped with $100,000 worth of mixers, bread molders and ovens, and can produce 6,000 loaves of bread a day. The bakery will offer South Africa needed jobs.
Archbishop Tutu said the Biehls have obunto, a South African word that means the essence of humanity.
The Biehls know that they can only hope to chip away at the problems facing South Africa. They said they simply want to do their part and see themselves following in the footsteps of their daughter.
"I feel connected with Amy every time the wheels touch down at the airport (in South Africa)," Peter Biehl said.
Since 60 Minutes first aired its story, the Amy Biehl Foundation has received more than $1 million in aid from the U.S. government. The Biehls are spreading their programs and bakeries to seven other poor areas.
The Biehls have also continued to forgive, in even more personal ways.
Last year, two of Amy's killers, Easy Nofomela and Ntebecko Penny, tried to make contact with the Biehls. They wanted to meet, something that Linda and Peter Biehl had once said they wouldn't do.
The Biehls received word through a third party that the two young men were trying to transform their lives by starting a youth club. At this point, the couple agreed to meet with the two men.
"We're finesse players, I suppose, more than blunt instrument players," Peter Biehl says with a laugh. "The fact that they wanted to talk to us, and made that happen through an intermediary - that was very pleasing. And so it didn't take any time at all to agree to meet with them."
The Biehls not only continued to meet and talk with the two young men but decided to help and support them. They are learning trades in one of the Biels' programs.
"If you spent some time with them, I think you'd really be surprised," Linda Biehl says. The two men, Peter Biehl says, are hard workers.
The relationship can be strange. Says Peter Biehl: "Every once in a while, I look at them, I'm with them, and I think 'You watched Amy die.'"
"The funny thing about that - or the strange thing about that - it's not funny at all - is that they saw her - in her final moments," Peter Biehl says. "Linda and I didn't. And I've always said that one of the great regrets I had in this whole thing is that Linda and I were halfway across the world. We couldn't hold Amy in her last moments - and comfort her. And - and yet these guys saw her."
Nonetheless Peter and Linda Biehl have forged an unlikely bond with the two men. "I actually do have sort of a maternal instinct to be honest with you," says Linda Biehl, who believes that "apartheid" was what really killed her daughter not the four men.
The Biehls have not been in touch with the other two killers, who seem to have taken a different path. Both have been accused of rape and, CBS News is told, have disappeared. The Biehls recently created a construction company in connection with Easy Nofomela and Ntebecko Penny. They say that their daughter would want them to do it.
"I think Amy would be very proud of what she achieved in her short life," says her father. "Also, at the same time, she would be wanting to achieve a lot more. And so her best chance, and her dreams, can really be fulfilled through these two guys, in large part."
"If they make it, they are clear evidence to the new South Africa: Two people can pull themselves up from the very worst of possible situations and make something of themselves," he says. "That's her dream. And I think that she's living that dream today, through these two guys."
Thanks for reading CBS NEWS.
Create your free account or log in
for more features.