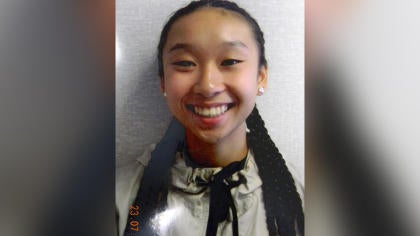 Amy Yu, teen who was found in Mexico with man, located after going missing again
ALLENTOWN, Pa. -- A Pennsylvania teenager found in Mexico earlier this year with a 45-year-old man has been located again in Johnstown, Pennsylvania, after leaving a residential program for at-risk youth. Authorities said 16-year-old Amy Yu, of Allentown, and two other girls left VisionQuest in Greene Township, Franklin County, early Monday.
Police said the girls left around 1 a.m. in an unknown vehicle, reports CBS Philadelphia. They said they posed no threat to the public.
State police say Yu and one of the other girls were found Wednesday in Johnstown and the third girl was found in nearby Bedford. No details were provided about how they were found.
Federal agents found Yu and Kevin Esterly in Playa del Carmen in March 12 days after police say he checked her out of school. Police reportedly believe Yu went willingly with Esterly.
The two went missing Feb. 9, shortly after authorities were notified the pair may have been involved in a romantic relationship. In March, Yu's mother told CBS News' Meg Oliver that Esterly befriended their family at church.
In an interview with Dr. Phil in May, Esterly's then-wife Stacey said she didn't believe their relationship was sexual.
"In my heart, I don't want to believe they were sexual and I'm hoping that this was just an infatuation with him trying to help her as a father figure and he got sucked into something," Stacey told Dr. Phil of her husband's relationship with Yu.
Esterly remains in Lehigh County jail in lieu of $500,000 bail on charges including child custody interference and corruption of minors.
Thanks for reading CBS NEWS.
Create your free account or log in
for more features.