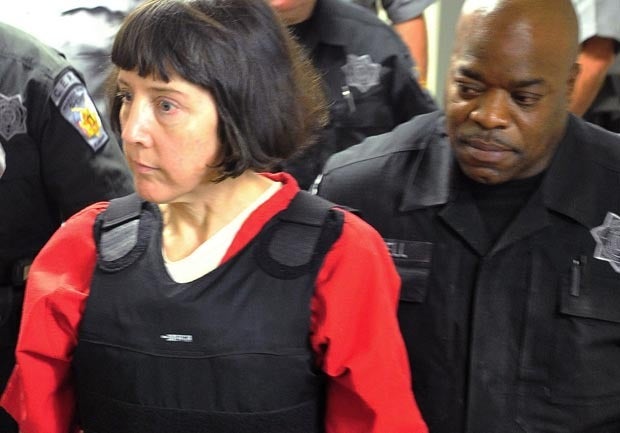 Amy Bishop, ex-Univ. of Ala. professor who pleaded guilty to shooting six people, sentenced to life in prison
(AP) HUNTSVILLE, Ala. - A former university professor has been sentenced to life in prison without parole for killing three of her colleagues and wounding three others during a faculty meeting.
PICTURES: Amy Bishop gets life for U. of Ala. shootings
The jury deliberated for about 20 minutes before convicting Amy Bishop on Monday. Amy Bishop, a former professor at the University of Alabama in Hunstville, showed no reaction as the verdict was read.
Circuit Judge Alan Mann then imposed the life sentence. Bishop did not speak in court.
The Harvard-educated biologist avoided a death sentence by pleading guilty earlier this month to the shootings at the University of Alabama in Huntsville.
However, she was still required to have a brief trial under Alabama law because she admitted to a capital murder charge.
Investigator Charlie Gray and professor Debra Moriarty were the only witnesses to testify during the brief trial Monday for Amy Bishop. Bishop already has pleaded guilty to avoid the death penalty, but state law requires a trial because it was a capital charge.
Gray also said police believe Bishop opened fire during the faculty meeting because she was angry over being denied tenure, which effectively ended her career at the University of Alabama in Huntsville.
"She would say, `It didn't happen. I wasn't there. It wasn't me,"' Gray said.
Bishop wore a red jail uniform in court and was shackled at the feet, seated between two attorneys at the defense table. A deputy removed her handcuffs.
Also in court, sitting behind prosecutors, were relatives of the people killed in the February 2010 rampage. At least one of the shooting victims who survived also was present.
Moriarty, now the chairman of biological sciences at the University of Alabama in Huntsville, testified about how a routine Friday afternoon faculty meeting turned into a scene of carnage with no warning. Bishop sat silently at the defense table as Moriarity described the killings, staring either at the table or a prosecutor who questioned her former colleague. She never showed any emotion.
Moriarty testified that Amy Bishop sat unusually silent during a nearly hourlong faculty meeting in Feburary 2010, during which discussions ran from a spring open house to plans for the following fall. People were seated around a crowded conference table in a small room on a chilly, overcast day, she said.
Moriarity said she glanced down at a piece of paper on the table. "And there was a loud bang," she said.
Moriarity said more shots followed in quick succession without Bishop ever saying a word. Moriarity said she was looking directly at Bishop when she shot professor Maria Ragland Davis, who was killed instantly while still seated at the table.
Moriarity said she dove under the table for safety and tried to grab Bishop's legs, but the woman stepped out of her grasp. "I was saying, `Stop Amy, stop. Don't do this. I've helped you before, I'll help you again."'
Moriarity said Bishop pointed the gun at her and pulled the trigger, but nothing happened. She said Bishop continued trying to shoot her in a hall outside but the gun had jammed.
Moriarity said she stepped back into the room alone, slammed the door and saw colleagues bleeding and dying all around her. She described a coworker using napkins to try to stop bleeding from the head of Joseph Leahy, who survived and was in the courtroom.
Bishop still could face a trial in Massachusetts, where she is charged in the 1986 killing of her 18-year-old brother. Seth Bishop's death had been ruled an accident after Amy Bishop told investigators she shot him in the family's Braintree home as she tried to unload her father's gun. But the Alabama shootings prompted a new investigation and charges. Prosecutors have said they will wait until after sentencing in the Alabama case to determine whether to put Bishop on trial in Massachusetts.
Thanks for reading CBS NEWS.
Create your free account or log in
for more features.