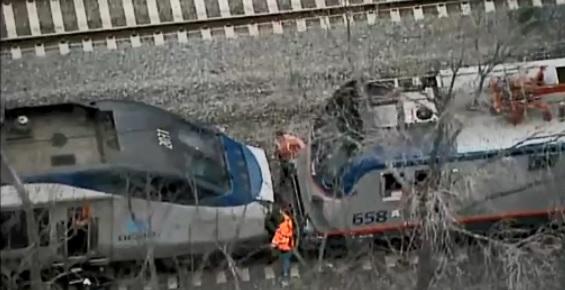 Amtrak train separates on busy Acela line
WASHINGTON -- An Amtrak train separated early Tuesday morning as it was traveling from Washington, D.C., to Boston. The Acela 2150 train experienced a "mechanical issue when two of the train's cars separated" just before 7 a.m., according to Amtrak spokesman Jason Abrams.
"There were approximately 52 passengers aboard, who were transferred to Northeast Regional Train 180," he said. "There were no reported injuries to customers or crew."
CBS News transportation correspondent Kris Van Cleave reports the train had eight cars in total, including five passenger cars. Two cars separated near Havre de Grace, Maryland.
The area where the train split apart happened in an area where passengers can move between cars, CBS Van Cleave reports.
"If someone would've been passing from one car to another potentially they could've have fallen through that separation," said Mark Rosenker, the former chairman of the NTSB.
"I'd certainly like to see a top to bottom examination. That may well have to include a safety stand-down -- everything comes to a stop, staff is focused and refocused on safety processes and safety management systems. "
The Acela line is the high-speed business-class line serving the Northeast Corridor, the service's busiest stretch.
CBS News has confirmed the train was traveling at over 124 mph at the time.
"I've never heard of anything like that happening to that train, that's very unusual," said CBS News transportation safety analyst Mark Rosenker, former chairman of the National Transportation Safety Board (NTSB).
Abrams says Amtrak is currently inspecting "every Acela trainset." Precautionary measures will be taken, if needed, to prevent the incident from happening again, Abrams said.
The NTSB says it is currently monitoring the situation. The Federal Railroad Administration says it is aware of the incident and investigating.
Amtrak is in the process of moving the train to a rail yard in Bear, Delaware.
The incident comes just two days after two Amtrak employees were killed and more than 100 people were injured when a passenger train collided with a freight train in South Carolina.
Thanks for reading CBS NEWS.
Create your free account or log in
for more features.