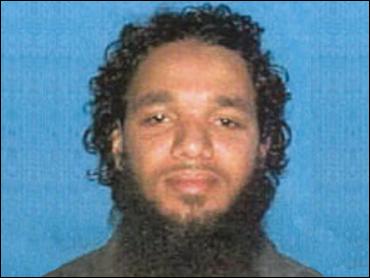 American Terror Suspect Arrested
An American who faces charges of conspiring to support Osama bin Laden's terror network has surrendered in Malaysia and will soon be sent back to the United States, officials said Tuesday.
Ahmed Ibrahim Bilal was one of six Muslims indicted last week in what Attorney General John Ashcroft called a suspected terrorist cell. Four of the suspects were arrested in Oregon and Michigan. The sixth is thought to be abroad.
Bilal faces deportation within days, Deputy Prime Minister Abdullah Ahmad Badawi was quoted as telling Malaysia's state-run Bernama news agency.
"I have been informed that he has been arrested for no longer having valid travel documents," Abdullah was quoted as saying. He did not elaborate.
The U.S. Embassy issued a statement thanking Malaysia for arresting Bilal and seeking the government's assistance in returning him to the United States. Details on the deportation process remain to be worked out.
"The U.S. Embassy is extremely pleased that Ahmed Ibrahim Bilal is in the custody of the Royal Malaysian Police, and we extend our gratitude to the government of Malaysia for their assistance in his arrest," the statement said.
Earlier two police officials told The Associated Press that Bilal had been in hiding but turned himself in to security officials at an Islamic university where he had been studying.
The university handed him over to Malaysian authorities, the police officials said, speaking on condition they not be identified by name.
"He is now being held at an undisclosed location for questioning," one official said. One of the officials said Bilal turned himself in and was arrested Sunday while the other said it happened Monday.
A criminal extradition of Bilal would have been problematic because the United States and Malaysia have no treaty providing for that, but deportation under Malaysia's immigration law is more straightforward.
"The Malaysian government position is very clear," Malaysian Foreign Minister Syed Hamid Albar told reporters. "He is a U.S. citizen — therefore Malaysia will deal with U.S. authorities and take action as necessitated by the U.S."
The U.S. government has charged Bilal with conspiring to support al Qaeda, the network run by bin Laden and blamed by Washington for the Sept. 11, 2001 attacks.
The charges filed in U.S. courts against the six alleged militants include conspiracy to levy war against the United States, conspiracy to provide material support and resources to al Qaeda, conspiracy to contribute services to al Qaeda and Afghanistan's former Taliban regime, and possessing firearms in furtherance of crimes of violence.
FBI officials say four of the six began weapons training days after Sept. 11, 2001, and five of them tried unsuccessfully to get into Afghanistan to join up with al Qaeda and the Taliban in October, as the U.S. began bombing.
Bilal enrolled in a course at the International Islamic University, near Kuala Lumpur, earlier this year. He was seen on the campus Saturday, but dropped out of sight after news of the arrests in the United States, The New Straits Times newspaper reported.
The acting rector at the International Islamic University, Ismawi Zen, said Bilal's father phoned an official at the university on Saturday, asking him to tell his son to turn himself in.
"The official met the student on Saturday and relayed the message," Ismawi told the AP. "The official told the university that the student agreed to surrender."
Another official at the university, speaking on condition of anonymity, had previously told the AP that Bilal had enrolled to attend a course called "Islamic Revealed Knowledge."
The official said university records showed Bilal had taken an exam in May but did not register for the current semester.
A university lecturer, who also spoke on condition of anonymity, said earlier she knew Bilal as a "very religious student with a deep knowledge of the Quran."
Thanks for reading CBS NEWS.
Create your free account or log in
for more features.