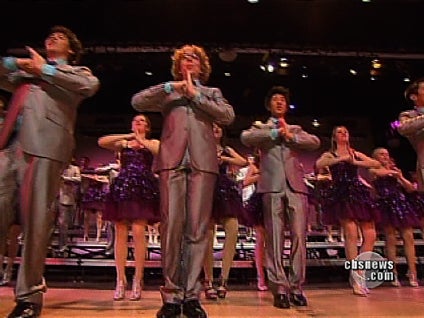 American high schools catch 'Glee' effect
At John Burroughs High School in Burbank, California, the hallways are pretty quiet. Until you get to the auditorium, reports CBS News correspondent Ben Tracy.
Because these days there is nothing classical about the choir.
Victoria Goins is one of the 54 students who make up the show choir called Powerhouse.
"It's incredibly fun, but it's also a lot of hard work," said Goins.
Ben Tracy: "Glee" effect makes high school choir cool
They practice for at least two hours a day but are not exactly too cool for school.
Not everybody at school thinks that show choir is cool.
"Um, it depends on who you're talking to," said Goins.
Hip-hop dancer Nathan Macaranas thought the choir kids were losers. Then he became one.
"Me and my friends -- we're all the same -- so they thought it was lame too," said Macaranas. "And I was like OK, well, just watch -- it's going to be awesome."
It's awesome now thanks in part to a little song and dance number called "Glee".
Katie Couric on the set of 'Glee'
The show is now at the center of pop culture. Matthew Morrison, who plays Mr. Shue on "Glee", says some schools are having to change their tune about music programs.
"Some schools can't cut the glee club, because it's glee club," said Morrison. "Like it's become such a thing now that it -- they -- they won't touch it."
It's called the "'Glee' effect." before the show there were an estimated 200 show choirs at schools across the country. Now there are about 600. The choirs are often supported by their own fundraising, or if they're lucky, they get paid to perform.
And glee clubs are now in demand at major events.
The kids of PS 22 in New York were shocked when actress Anne Hathaway invited them to perform at the Oscars this Sunday.
"I was psyched. I was screaming my head off," said 10-year-old Ryan Canter. "Actually at one point I fell down to the ground."
As for Powerhouse, they've already taken their act onto "Dancing with the Stars".
And they were just in Hong Kong -- hired to sing in the Chinese New Year.
"I'm getting calls all the time. I got a call from Japan because they've just started to show 'Glee', and they've already found us," said Brendan Jennings, vocal music director of Powerhouse.
And these kids who were once made fun of -- now have reason to be gleeful.
"It's so amazing that finally I can be like yeah, I'm in show choir," said Goins. "And be proud of it."
Thanks for reading CBS NEWS.
Create your free account or log in
for more features.