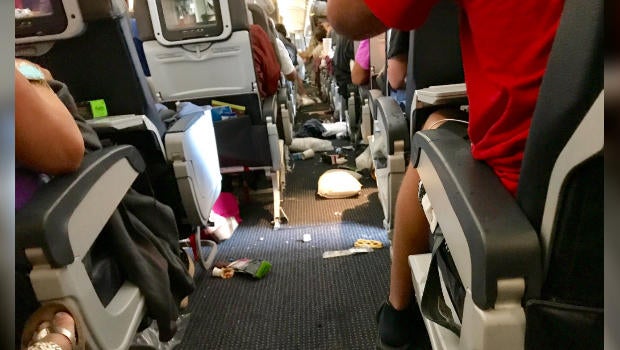 Images show aftermath of airliner hit by severe turbulence
PHILADELPHIA -- Passengers who were on board a turbulent American Airlines flight, which injured 10 people, have shared photos of the aftermath on social media.
The airline says Flight 759 was heading to the city from Athens to Philadelphia with 287 passengers and a dozen crew members Saturday when it briefly encountered severe turbulence shortly before landing. American says the fasten seat belt sign was on at the time.
CBS Philadelphia reports the flight landed just before 3:45 p.m. at Philadelphia International Airport.
Three passengers and seven crew members were taken to a hospital for evaluation. There was no immediate word on their injuries or whether any would be admitted.
In a written statement, the airline thanked their "team for taking care of our customers."
Several passengers documented the aftermath of the turbulence on Twitter.
Jessica Huseman, a reporter who was on board, tweeted: "No warning at all. Plane lurched thru the air. Honestly, terrifying."
Photos showed passengers' belongings tossed all over the floor of the plane, while drinks splattered the walls and ceiling.
Passenger Ervin Fang wrote: "Passengers disoriented and relieved, after turbulent American flight from Athens to Philly. #americanair #TURBULENCE #injured #alive"
In another post, Fang, a doctor based in Los Angeles, said, "I provided medical help (shoulder relocation mid-air)."
The incident remains under investigation by the FAA.
Thanks for reading CBS NEWS.
Create your free account or log in
for more features.